OHSU Ranked Fifth Most Expensive Public Medical School in the Country
Officials attribute spiraling costs to decreased state support – but note a high number of grads still choose to go into primary care
June 1, 2012 -- Oregon Health & Sciences University is the fifth most expensive medical schools in the country, according to rankings released last month by U.S. News and World Report – a distinction school officials say isn't good news, but isn't surprising either.
According to the OHSU Factbook, in-state students in their first year of medical school pay 66 percent more than they did 10 years ago in real dollars ($30,000 in 2011-12 versus $20,001 in 2002-03). Tuition for out-of-state med students rose by 62 percent in the same period – $48,545 in 2011-12 versus $30,000 in 2002-2003.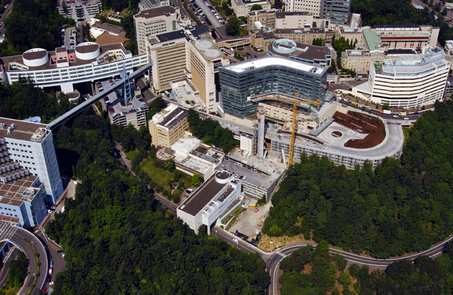 "If you were to look at the single most important factor, it's [that] out of the 50 or so states, we're 49th in the amount of state support that we receive for that educational mission," said Dr. Mark Richardson, dean of OHSU's School of Medicine. In the 2009-11 biennium, the school appropriated $80 million dollars from the state's general fund – down from $110 million in the 1999-01 biennium. The school receives half a percent of the state's general fund – down from 2.5 percent 10 years ago.
"This isn't just a medical school issue. It's a higher ed issue in general. Although it's of particular importance to me and to OHSU in general, the rates are climbing at all of the public universities as a result of diminished state support for higher ed," Richardson said.
Spiraling costs are also not unique to Oregon. Other medical schools are feeling the pinch as well.
According to numbers released by the Association of American Medical Colleges, median tuition rates for first-year medical students climbed from $12,399 to $28,000 for in-state students at public schools in 2010-11, and from $27,297 to $49,552 for out-of-state students. (The AAMC data gives both real dollars and consumer price index-adjusted dollars. The Lund Report has used the real dollar figures for the sake of easy comparison with data released by OHSU, which did not include CPI-adjusted tuition rates.)
But debt loads for graduating students have actually leveled off in the past three or four years, according to Julie Fresne, director of student/financial services for AAMC.
Fresne also noted that the consequences of escalating med school tuition rates are not what they are sometimes assumed to be. While it's often suggested that there's a link between escalating debt loads
and a national shortage of primary care providers, Fresne said the available data don't support that. According to survey data collected by the AAMC, new doctors are more likely to cite a relationship
with a mentor, the type of patients they want to work with, the type of work they want to do and the work-life balance offered by a specialty field more often than the opportunity for increased income.
"To say that people are choosing a specialty because of their debt level, it just isn't supported by the data," Fresne said.
At OHSU, 55 percent of new graduates go into primary care, and about one-third of Oregon physicians completed all or part of their training at OHSU. The school places a heavy emphasis on primary care in its curriculum and its primary care program is ranked third in the nation.
Fresne added that default rates for medical school loans are still very low, suggesting that while some areas of medicine don't compensate as well as others, doctors are still able to make their loan payments.
But the increasing cost of medical education may be prohibitive to some students.
"Rising costs discourage some people from going to medical school, and they're people that we want, people who would make good physicians, people who would provide diversity to the medical field," Fresne said, including people of color and students from low-income backgrounds.
Matthew Shick, AAMC's senior legislative analyst in government relations, said on a national level, AAMC is advocating for a streamlined federal loan application system, lower interest rates and more loan repayment programs for doctors working in underserved communities.
OHSU officials know they won't be getting more money from state coffers any time soon, Richardson said. The school has increased the amount of scholarship money it provides to students, and looked at
delivering education in a more cost effective way – by increasing the number of teaching sites in the community as well as increasing support for distance learning programs, which Richardson said he hopes will at least slow the growth of educational costs.
"This isn't [just] an OHSU problem. We're actively engaged in trying to self realize that our tuition is high, and what are you going to do about it?" Richardson said. "We can't rely on the state to solve the
problem. We've got to be proactive about it."
Image for this story appears courtesy of The Oregonian.