One of the volunteer students was singled out and arrested while filming the police, the students said.
Image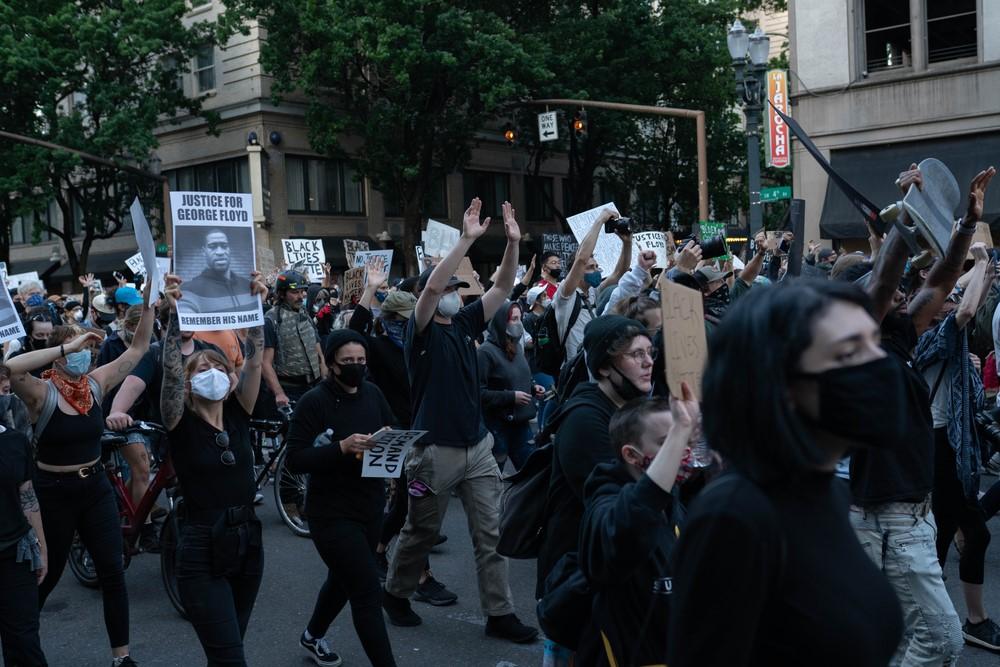 June 16, 2020
Medical students at Oregon Health & Science University who've treated people injured in Portland protests over the death of George Floyd said police swiped their supplies during a protest on Saturday.
The students set up a medical tent with snacks, water, face masks, hand sanitizer and basic First Aid supplies near the Justice Center in downtown Portland, Michelle Ozaki, a graduate student in the OHSU School of Medicine, told The Lund Report. 
About 10:30 p.m., police told them to move after declaring the protest unlawful. Ozaki said they started packing up as police approached. One of the volunteers, Michael Martinez, a graduate student in OHSU's School of Medicine, grabbed his phone and started filming the officers.
"He said 'I'm going, I'm going,' Ozaki said. "He was literally singled out. All of a sudden a police officer points to him and says you're under arrest."
He was charged with interfering with a peace officer, Ozaki said. 
The tent is sponsored by OHSU, Ozaki said, but the students spoke on their own behalf, not as representatives of the university.
Dr. George Mejicano, senior associate dean for education for the OHSU School of Medicine, acknowledged Martinez arrest. "Although we cannot comment on the specifics of the case, he and his attorney are working to resolve this matter in a just manner. We applaud and support Michael's effort to serve our community during these tumultuous times."
Mejicano added: "OHSU firmly stands with communities calling for an end to the trauma and anguish people of color are suffering as a result of systemic racism. We recognize the important role our students, faculty, residents and staff play as members of the broader community and support their right to be involved in lawful civic and community activities."
While gathering up their gear, the volunteers told police they didn't want to leave the masks, sanitizer, Band Aids, ibuprofen and other supplies worth hundreds of dollars unguarded at the tent. Ozaki said police assured them the supplies would be fine. But when they went back to retrieve them at 3:30 a.m., they were gone.
According to Ozaki, a police officer told them: "This is a war zone. You knew the risk of coming out here." 
"An officer said we should have known theft was possible," Adrian Baris, a fellow graduate student in the OHSU School of Medicine, said in a release by American Federation of State, County and Municipal Employees Council 75, which represents the students. "Police officers were the only people allowed anywhere near our tent and supplies, so the only explanation is that our medical supplies were stolen by the police, which was confirmed when other volunteers were eventually able to retrieve some of the supplies."
They managed to recover some of the supplies when an OHSU faculty member later went to the Justice Center and demanded that they be returned.
The students contacted the National Lawyers Guild. Volunteer lawyers arranged for Martinez to be bailed out of jail through a defense fund, Ozaki said. 
He blasted the police action.
"Across the country, we've seen countless examples of medical personnel and journalists violently beaten and arrested by police officers," Martinez said. "Even in actual war zones, medics and journalists are not to be engaged, yet here we are, having our rights' violated by police officers time and time again."
Ozaki said the students won't be deterred by the police action.
"We don't want to be intimidated," Ozaki said. "We know that those protesters out there need us. We will continue to go out there every day."
You can reach Lynne Terry at [email protected] or on Twitter @LynnePDX.