The vaccine, the brainchild of Dr. Louis Picker and Dr. Klaus Frueh, has been two decades in the making as the scientists have toiled to come up with a drug to fight the tricky virus.
Image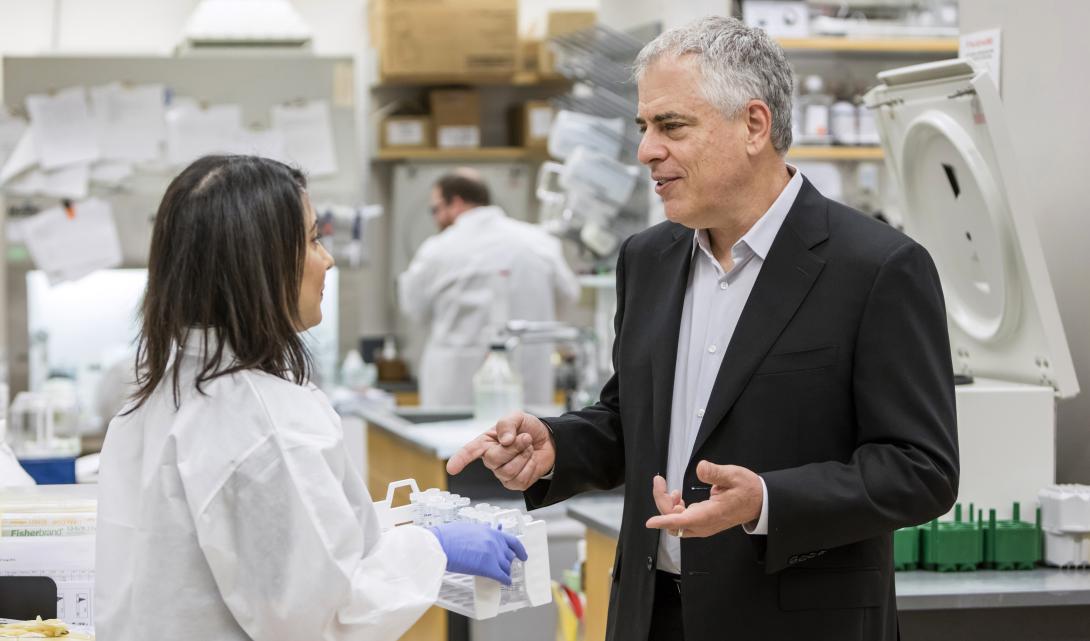 January 6, 2021
In a simple announcement, a San Francisco, California-based technology company announced that it had started tests in humans of an HIV vaccine.
The announcement by the company, Vir, was notable: Much of the HIV research worldwide has failed to develop a drug to stop HIV in its tracks. The virus mutates quickly and knows how to evade the human immune system -- unlike the novel coronavirus. But this vaccine has shown repeatedly that it protects more than half of monkeys from their version of HIV.
It is the brainchild of two Oregon scientists who have been toiling for two decades to produce a viable vaccine that protects people from a virus that has infected more than 1 million in the United States and nearly 40 million worldwide.
They still have a long ways to go, but Wednesday's announcement marked a milestone for Oregon Health & Science University's Vaccine and Gene Therapy Institute where the two scientists, Dr. Louis Picker and Klaus Frueh, work. The institute was developed around their work, Frueh said, and this is the first time that a vaccine entirely developed there has moved to a human trial.
'This is what we've been working on for years," said Frueh, a professor at the institute. "We're very excited to see this move forward."
The trial of their HIV vaccine started in December in Wisconsin but a Vir spokeswoman said the company plans to hold trials in Massachusetts and Washington state as well. Only 26 people will be enrolled initially, she said. There are no plans for a trial at OHSU, which sold its HIV vaccine technology to Vir, though the scientists continue to work on the project.
The trials will be blinded so that no one directly involved will know who gets the vaccine and who gets the placebo. The immediate goal will be to test the safety of the vaccine, to ensure that it does not cause harmful side effects, and check whether it provokes the appropriate immune response. The trials also aim to validate the concept behind the vaccine, Frueh said. Volunteers who are injected will receive a prototype vaccine. If the results are good, the scientists will tinker with the technology to come up with a final product to be tested in people. If all goes well, Vir could seek federal approval from the Food and Drug Administration.
The Gates Foundation is financing the trials and the scientists' work. Frueh said it's spent tens of millions of dollars on the project. The foundation was not immediately available for comment.
The trials were supposed to start at the beginning of last year, but then the pandemic hit, shutting labs and offices involved in nonessential projects. The two scientists are back at work now but they wear masks and maintain social distancing rules.
Picker is not impatient. He's been working on the concept much of his career, enjoying slow progress and enduring many setbacks.
The pace of his work contrasts with the mere months it took researchers to produce viable vaccines against the novel coronavirus that causes COVID-19. But HIV is a much more difficult virus to tackle. Data shows that most people's immune systems can destroy SARS-CoV-2 and clear it out of the body. That's not the case with HIV.
"HIV has evolved as a completely different kind of virus," said Picker, associate director of the vaccine institute. "It's designed by evolution to evade the immune system and cause a chronic infection. With very few exceptions, all the millions of people who have been infected with HIV remain infected for the remainder of their life."
So to tackle it, a vaccine has to be better than the natural immune response.
This vaccine involves a novel concept. It is based on a common pathogen, cytomegalovirus, that's present in the majority of people in developing countries and more than 50% of Americans, according to the Centers for Disease Control and Prevention. The virus can cause symptoms, like fever, swollen glands and muscle pain, that generally go away in two weeks, but usually people don't know they've been infected. Once they have the virus, though, it sticks around for life: It's a herpes virus.
Besides being common, cytomegalovirus also generates a strong immune response. That's what attracted Picker's interest in the early 1990s when he was studying the reaction of the immune system to HIV and other viruses at the University of Texas Southwestern Medical Center in Dallas. He discovered that cytomegalovirus keeps the body's stormtroopers -- a type of T cell -- on high alert. Picker envisioned using CMV, as cytomegalovirus is called, to fire up the immune system to stop HIV.
"It has a very potent immune response," Picker said. "There is no other agent that can elicit this type of response."
It was considered a loony concept at the time. In fact, other researchers didn't think a CMV-based vaccine would ever succeed.
But the results in monkeys have been consistent. The two scientists have shown in dozens of trials at OHSU's primate center in Beaverton that a monkey version of the vaccine protects about 55% of the animals from their version of HIV. Called SIV, it's a much more virulent virus than HIV, multiplying 10 times more and progressing to disease 10 times faster, Picker said.
If the human vaccine is safe and effective, it could produce even better results than the studies in monkeys, Picker said.
Vir is recruiting volunteers between 18 and 50 years old who are already infected with CMV. The doses of the vaccine will start out small and gradually be increased. 
Picker said it will take a few years to show that the vaccine is safe and effective. When and if that happens, he said his life's work will be complete.
At that point, I will be very very pleased," Picker said.
You can reach Lynne Terry at [email protected] or on Twitter @LynnePDX.