OHSU Food Services Worker Ready To Retire Dies Of COVID-19
A longtime employee of Oregon Health & Science University who was planning on retiring this year died last week of COVID-19.
Paul Odighizuwa worked in food and nutrition services at OHSU. The Lund Report revealed in April that the department had been hit by an outbreak of COVID-19. Odighizuwa's death was first reported by The Oregonian/OregonLive.
He was planning to return to his native Nigeria by the end of the year, friends said, after working about three decades at OHSU. 
"He was outstanding, hard working and he loved his daughter," said Promise King, a fellow Nigerian in Portland and a member of the same Edo tribe. About 40 members live in the Northwest between Portland and Seattle, and they meet about once a month in someone's house to eat and share stories.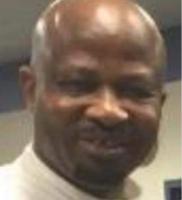 Odighizuwa, who was in his 60s, was a leader in the group and a force in bringing people together.
"He liked to make people laugh," King said. "He was always smiling."
Colleagues at OHSU remembered him as the cheerful face they saw while buying food in the main hospital cafeteria. Odighizuwa, who lived in Portland, is survived by a daughter, who is angered and grieving her father's death, friends said. Odighizuwa's ex-wife also lives in the area. They'd been divorced for some time, friends said.
Odighizuwa's brother also lived in the Portland area for a time but returned to Nigeria about a decade ago. Odighizuwa had just finished building a house in Benin City, the capital of Edo State in southern Nigeria, King said. He planned to retire there -- in part to escape the stress of racism in the United States, King said.
Benin City was once the main city of the Edo kingdom of Benin. Nigeria was colonized by the British for about a century until 1960, suffered military coups, a civil war and is now in its fourth republic, but tribal culture remains strong.
King said Odighizuwa's death deeply saddens his fellow tribal members.
In a statement, the American Federation of State, County and Municipal Employees Local 328, which represented Odighizuwa and other workers in the food and nutrition department at OHSU, called his death "tragic.".
"This sacrifice is more than any worker should bear, and we are heartbroken by this loss," said Michael Stewart, vice president of the local.
OHSU's president, Dr. Danny Jacobs, informed staff of his death, but said he could not release details without the family's permission. He said: "Please join me in keeping the employee's loved ones in your thoughts as we mourn the loss of this valued member of our community."
At least 45 OHSU employees have contracted the virus, including 11 who worked in food and nutrition services, the union said. It learned of the first illnesses in late March, about a week or two after OHSU modified its operations in response to the pandemic, asking many people to either go home or work from home. The food department closed all of the cafeterias except one on the third floor of the main hospital. Workers said that staff were forced to huddle for meetings and that cooks were crowded in the kitchen.
That's where Odighizuwa worked.
It's not clear when he got sick. His daughter, who was not available for comment, asked her Facebook friends at the end of March whether they knew of coronavirus treatments but the post did not mention her father.
Another food and nutrition services worker was hospitalized for COVID-19 but that person has recovered, an OHSU spokeswoman said. Others who were sickened and were quarantining at home have since been cleared to return to work, she said.
COVID-19 has hit African Amercians and minorities such as Hispanics in Oregon particularly hard. The disease has also sickened and killed many health care workers.
Odighizuwa did not work with patients, OHSU said.
King said his fellow tribal members in the Northwest will pay tribute to their friend when pandemic restrictions are lifted.
"We will have a memorial for him," King said. "We will talk about his life and send him off with respect." 
You can reach Lynne Terry at [email protected] or on Twitter @LynnePDX.