After a successful launch, the program will expose more students to meeting the complex needs of people experiencing homelessness in Jackson and Klamath counties.
Image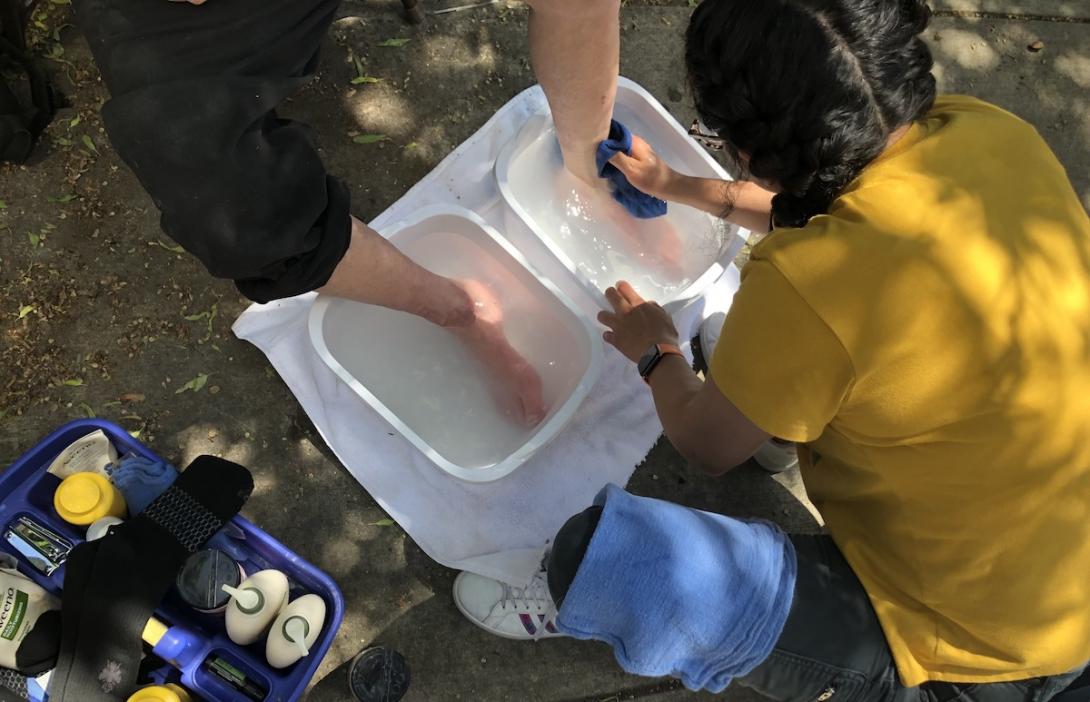 September 15, 2022
Rachel Richmond, a registered nurse who leads a team of nursing students in southern Oregon, sees a lot of ailing feet.
It's not uncommon for someone who is unhoused to walk 5 to 20 miles per day, usually in ill-fitting shoes, so as part of a street outreach program, she and the students treat them. 
"They can wear through a pair of socks in a day or two, and so we meet a lot of people that aren't wearing socks," Richmond told The Lund Report. "We see abrasions, we see blisters, we see what's called trench foot or immersion foot, which is just a foot that never dries out, fungal infections."
Since January, undergraduate nursing students at Oregon Health & Science University's Ashland campus have ventured out to offer care to unhoused people onsite at encampments near Ashland and Medford. 
Now, thanks to a four-year federal grant of $3.9 million, the program will expand within Jackson County and, by the end of 2023, spread to Klamath County as well. It's estimated that about 300 undergraduate and graduate students will participate in the program within the next four years, completing more than 1,000 onsite visits.
The students distribute hygiene items such as socks, offer foot soaks and overdose prevention education, and facilitate telehealth visits with a partnering provider, La Clinica, through their smartphones. They treat soft tissue wounds and minor infections, and help patients access their prescriptions. They also help unhoused people attend in-person medical appointments and serve as a connection to other resources, such as social workers, mental health care and addiction services, said Richmond, who serves as the team's project manager and teaches clinical nursing at the Ashland campus.
Image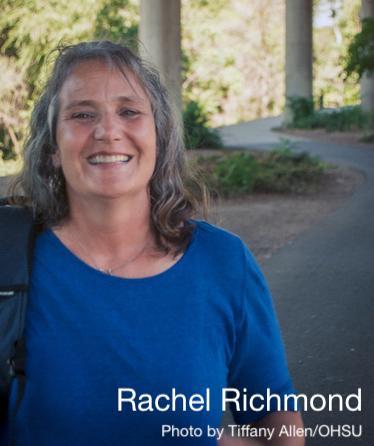 Outreach can be challenging, but it's not without its victories. Richmond said a big win came recently when La Clinica's mobile health unit began to offer medication assisted treatment for opioid use disorder. While it is typically a lengthy intake process for patients to access medication that helps ease opioid cravings, she said, the street team can now immediately connect people to treatment when the clinic's medically outfitted RV is nearby.
The project's organizers say the Street Nursing Team not only provides care in the community, it teaches students about the complex needs of unhoused patients, and helps foster a culture of empathy among Oregon's next generation of nurses.
Lessons In Empathy
Getting to know people who live outside can lead to frustration and grief for the students, Richmond told The Lund Report.
Recently, a student who is a veteran performed outreach with her and attended to several veterans. "And that student later told me they just had a flood of grief and emotion on the drive home realizing how these fellow veterans were living," she said.
One of the most common conditions students see is a history of traumatic brain injury, which makes it hard to navigate the medical system, and that was "particularly poignant" for this student, she said.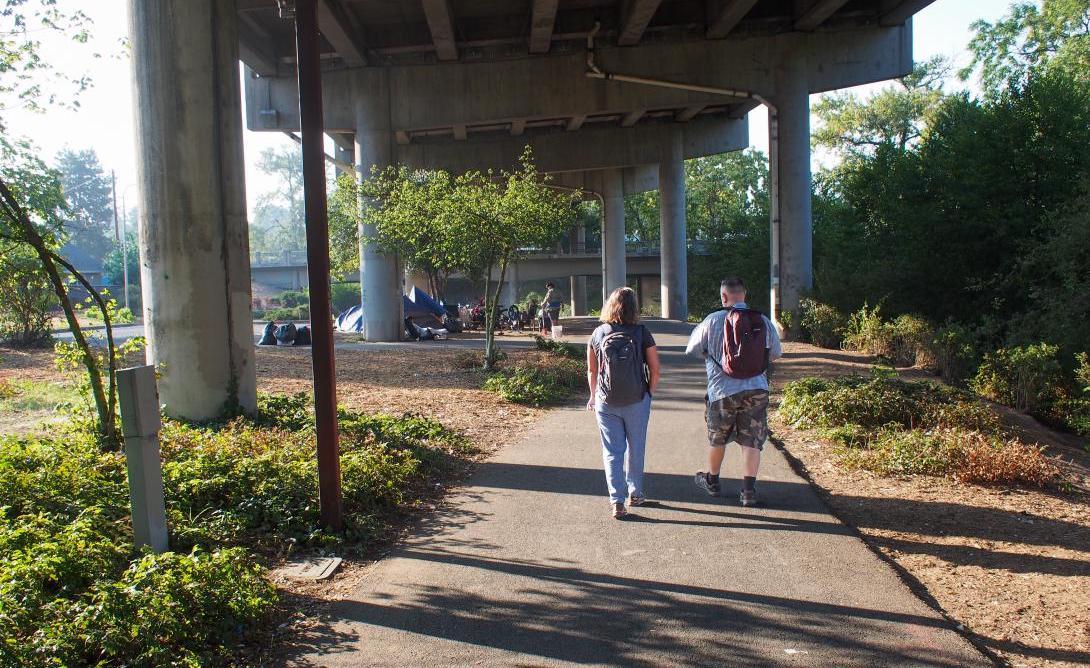 A study of the Street Nursing Team's foot soak clinics in 2020 showed that participating reduced students' negative bias toward unhoused people.
At these foot soak clinics, explained Richland, who co-authored the study, "we're very purposeful about … reversing the power structure."
She said students sit on a milk crate or small chair so that they are lower than the client. They often massage patients' feet and treat their foot ailments for a half hour, making the foot soak an intimate act that can make some students a little hesitant. But, Richmond said, "we have many students that keep requesting to come back because they love the humanistic approach that we're taking."
Patients often seek advice about other health concerns or share personal experiences during the foot soak, giving students a glimpse into their lives and the hardships they face.
The study found the foot clinics increased student empathy, helped them develop communication skills and changed perceptions. One student noted their surprise at having two clients who were employed. "My assumption was that homeless people do not have jobs," they noted. For the clients experiencing homelessness, the foot soak helped reduce stigma and build trust and provided a connection to resources.
Every Student Can Engage
Through the OHSU School of Nursing Ashland campus, Richmond has organized foot soak clinics out in the community for unhoused people since 2015, and she recently expanded that student-provided service to Medford.
When the Street Nursing Team's homeless outreach began earlier this year, it was a pilot project intended to extend the foot soak and additional services into camps.
As the program builds upon the pilot's success, opportunities to engage with people experiencing homelessness in the community through the Street Nursing Team will soon be offered to every student at OHSU's Ashland and Klamath Falls nursing schools, said Richmond.
About five to eight undergraduate students will perform street outreach in small teams with faculty throughout each quarter, along with two psychiatric mental health nurse practitioners from the graduate program. They'll learn concepts in the classroom, and then take them to the street two days per week. 
Sophomore and first-year students will rotate through foot soaking clinics set up at partnering organizations' facilities in the community, said Heather Voss, the project's director and a registered nurse. Others might participate in events such as a resource fair offering homeless services.
Image
"We wouldn't put our brand new students out on the team to go out to the park (where people live outside), but we do want to start having them engage in conversation with people who are experiencing homelessness right off. And then by the time they get into their junior year, their senior year, they'll be ready to more fully engage in the street nursing team," she said.
OHSU plans to continue the Street Nursing Team beyond the federal grant's four-year timeline and eventually expand parts of the program to its other three nursing schools, located in Portland, Monmouth and La Grande. Voss said OHSU won't duplicate services already offered in those communities. In Portland, Portland Street Medicine and University of Portland's nursing school already perform medical street outreach.
As part of the federal grant, OHSU plans to recruit nursing students from varied backgrounds, including people who have experienced homelessness. The school is offering $660,000 in scholarships through its "street nursing teams scholars program," Voss said, for students who have experienced housing insecurity or are from other disadvantaged backgrounds.
A Growing Need As Homelessness Increases
Point in Time Counts in 2020 and 2021 put the homeless population between the two counties at about 1,000 individuals, though these counts are widely recognized as incomplete.
A recent poll found 66% of those living in Jackson and Klamath counties reported seeing more homeless people today than they did a year ago. The survey, conducted in August by Moore Information Group on behalf of three coordinated care organizations in the region, also found that 70% of residents in those two counties see someone experiencing homelessness every day, and 95% said homelessness was an important issue facing their region of the state.
Richmond said homelessness in the area has been increasing in part due to housing unaffordability and climate change-related disasters.
"Not only are we seeing people that became homeless from the fires in 2020, we still see people that became homeless from the Paradise fires in California," she said, referring to the Camp Fire in the Sierra Nevada foothills that quickly spread on November 2018, killing 85 people and nearly leveling the small town of Paradise.
When someone asks for help finding housing, students can connect them with the social worker at the local library. 
"A lot of the folks that we see have been on housing lists for years," Richmond said. "I think that's another good learning point for our students."
Richmond said the program tries to address the harsh reality of he U.S.health care system: It's not prepared to deal with the complex needs of a patient that is unhoused. They may have co-occurring physical, mental and substance use-related health issues, and difficulty traveling to medical appointments at different locations — all while lacking a phone or address.
"It's really difficult to be a good patient when you have maybe two or three really complex medical conditions" under those circumstances, Richmond said. "So people tend to postpone care until they're really ill. And then there's an over utilization of the emergency department because of that. 
"So the students really grow in their awareness of what it is like from the outside of the medical system," she added. "And then once they go in as nurses, they can understand some of those complexities better."
You can reach Emily Green at [email protected] or via Twitter at @GreenWrites.