OHSU Braces for Less Research Funding, Flattened Spending, Leveled-Off Tuition
Its fiscal year 2013 budget calls for a 2.5 percent tuition hike – down from 4 percent in recent years – and promises incoming students their tuition rates will stay the same throughout their education at OHSU.
July 1, 2013 – Oregon Health & Science University's Board of Directors approved a budget last week that calls for an operating income of $60 million in fiscal year 2013, touting a financial strategy that will emphasize non-governmental sources of scientific research funding, continue a hiring freeze for non-clinical positions and targets slowed healthcare spending in connection with federal and state reforms.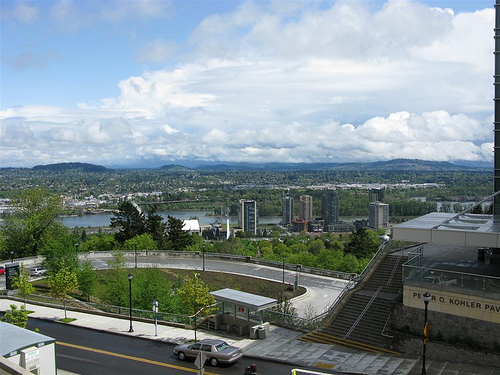 Chief Financial Officer Lawrence Furnstahl said the budget takes into account a 2 percent cut in Medicaid spending, an 8 percent cut in funds from the National Institutes of Health (which funds research at OHSU) and the fact that nationwide, healthcare spending grew by only 4 percent last year – its slowest growth in 40 years.
"We're trying to get lift on a plane to clear these mountains as we move forward against this downdraft of national spending," Furnstahl said.
Provost Jeanette Mladenovic, during a separate presentation on OHSU student indebtedness, announced what the university is calling a "tuition promise": starting next year, students in clinical programs will pay the rate of tuition that was advertised when they were admitted. In addition, the board approved a tuition increase of just 2.5 percent for the coming fiscal year – where historically, the school's tuition increases have averaged closer to 4 percent.
"Among public US medical schools we are ranked third most high tuition," Mladenovic said. "You may think that's horrific as we all do but it's not so long ago that we were number one." The average graduate of the OHSU School of Medicine is just under $200,000 in debt upon graduation, compared to the median rate; graduates of the School of Dentistry have the fourth highest rate of indebtedness, where graduates of the School of Nursing graduate with a debt that's comparable to the national median for nursing graduates, though lower than debt loads faced by students elsewhere in the Northwest.
One problem with the high rate of indebtedness is that it may keep students from choosing less-lucrative career tracks like family medicine, Mladenovic said, and make them more likely to focus on "high-tech, high-reward" medical specializations. That point has been disputed by the American Association of Medical Colleges, which says doctors report other factors are more likely to lead them to specialize.
Still, that association, along with stakeholders like Mladenovic, are concerned that high student indebtedness creates a barrier for students with less advantageous backgrounds who want to enter the healing professions.
"We also tend to propagate the kind of student who can manage that debt," Mladenovic said, noting that graduates from more affluent backgrounds have families that can assist them in managing their debt uring their first years out of medical, dental or nursing school, where students from less advantageous backgrounds lack that cushion, and, she noted, some may have too much unmanaged consumer or undergraduate debt to even consider taking on more. "That is not what we need for our future work force."
Mladenovic also mentioned the Healthy Scholars Program, created by the Legislature this year. The school is touting Healthy Scholars not just as a debt forgiveness program for doctors with an interest in practicing in rural communities, but one that actively recruits students at high schools and undergraduate schools who come from rural communities and have an interest in science or health careers – what OHSU President Dr. Joe Robertson called a "three-legged stool of personal opportunity."
"It's an important factor, but [the tuition cap] alone will not solve the problem," he said.
The board also heard a presentation on OHSU's Diversity Action Plan. Dr. Norwood Knight-Richardson, OHSU's chief diversity officer, said the plan includes five goals – increasing recruitment, strengthening retention, improving inclusion, building community partnerships and creating benchmarks for excellence – but is intended to be flexible, with the idea that different departments will use it as a template to create their own tailored diversity action plans.
Recruiting minority students is a challenge, Knight-Richardson said, adding that when he was an admissions officer at the medical school, "I spent many an awkward meeting talking about how to talk around the issue of a student's minority status." But recruiting diverse faculty and ensuring minorities have the opportunity to advance into management are bigger problems, he said.
"You can have successful programs in bringing people but how do you actually repay them and maximize their potential?" Knight-Richardson said. "Inclusion is an important part of what we have to do here beyond recruitment."
Image for this story by Brendan Gates (CC BY-NC-ND 2.0) via Flickr.
Christen McCurdy can be reached at [email protected].