OHSU and Salem Hospital Lead State in Infection Rates
Providence St. Vincent Medical Center and Sacred Heart at Riverbend report the lowest rates of the bacterial contagion among Oregon's eight largest hospitals.
October 3, 2013 -- Oregon Health & Science University and Salem Hospital lead major Oregon hospitals in hospital-acquired infections of a bacterium that's come to plague American hospitals — Clostridium difficile, often abbreviated as C. diff.
Most hospital-acquired infections are declining nationally, but C. diff remains on the rise. According to the Centers for Disease Control & Prevention, the illness has symptoms such as diarrhea and kills 14,000 Americans annually, many of them seriously ill with a separate diagnosis. The CDC says that hospitals can help reduce infections through better disinfectants and more transparent reporting.
The Lund Report gathered 2012 data for Oregon hospitals from a recently released Oregon Health Authority report on hospital-acquired infections, which only measures patients diagnosed with the disease who spend at least three days in the hospital.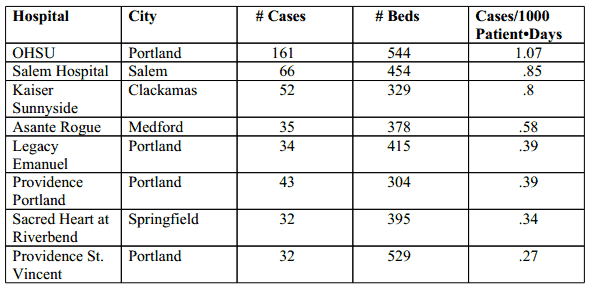 OHSU, which treats many of the sickest patients who require extended hospital stays, was the only large hospital to have more than one case per 1,000 patient-days. Among all hospitals, the small, Vibra Specialty Hospital in Portland, which treats long-term care patients, had by far the highest rate of C. diff infections in 2012 at nearly 14 cases per 1000 patient-days.
Among Oregon's eight hospitals with more than 300 beds, Salem Hospital had the second-worst rates of infection at 8.5 cases per 10,000 patient-days, followed closely by Kaiser Sunnyside Medical Center in Clackamas, which had 8 cases per 10,000 patient-days.
These hospitals not only had the highest rates of infection when measured in patient-days, OHSU, Salem and Kaiser also had the highest number of cases in raw numbers. Providence Portland Medical Center ranked fourth in the number of cases, but its rates per patient-days were well below the state average.
Oregon hospitals have been required by law to self-report hospital-acquired illnesses since 2009, although C. diff reporting began only last year.
The report lists infection rates for C. diff and surgery-related infections for individual hospitals, but does not provide tables to compare the rates at each hospital with other Oregon hospitals. The Lund Report entered the rates at each hospital into a database for analysis.
House Health Chairman Rep. Mitch Greenlick, D-Portland lambasted state officials at an interim legislative hearing earlier this month, saying that the relevant consumer information was buried in the report "for the fourth year in a row." If consumers could quickly read which hospitals had the lowest infection rates, he said, they would select those hospitals and force the others to improve patient safety.
State epidemiologist Dr. Katrina Hedberg responded that comparing hospitals is difficult because infection rates can vary depending on hospital specialty and setting type.
"I understand risk-adjustment. I've been hearing this nonsense from the beginning," Greenlick told the committee via speaker phone from California. "You don't hide restaurants when they have an infection."
Providence Medford Medical Center, McKenzie-Willamette Medical Center in Springfield and Good Samaritan Regional Center in Corvallis also had infection rates significantly higher than the state average.
Sacred Heart Medical Center at University had the lowest rate of C. diff outbreaks of any hospital with more than 100 beds. Just one patient reportedly acquired the bug at Sacred Heart's Eugene hospital in 2012.
The Oregon Health Authority checked the hospitals' self-reports, in 2009, and found them to be honest: "Our validation studies show it's very good," Hedberg said.
Bay Area Hospital in Coos Bay and Adventist Medical Center in Portland also had rates of about 1 per 10,000 patient-days.
Oregon has eight hospitals with more than 300 beds. Providence St. Vincent Medical Center in Portland and Sacred Heart Medical Center at Riverbend in Springfield had the lowest rate of C. diff infections among these hospitals.
The Legacy Health System hospitals all fared better than the state average as well.
Eighteen, mostly small hospitals reported no cases of C. diff infection. The largest hospitals with no outbreaks were Mid-Columbia Medical Center in The Dalles and St. Alphonsus Medical Center in Ontario, each with 49 beds. By contrast, OHSU has more than 500 beds.
Christopher David Gray can be reached at [email protected].