With the first round of funding under the drug-decriminalization law out the door, they say Oregon will begin to see greater impacts.
Image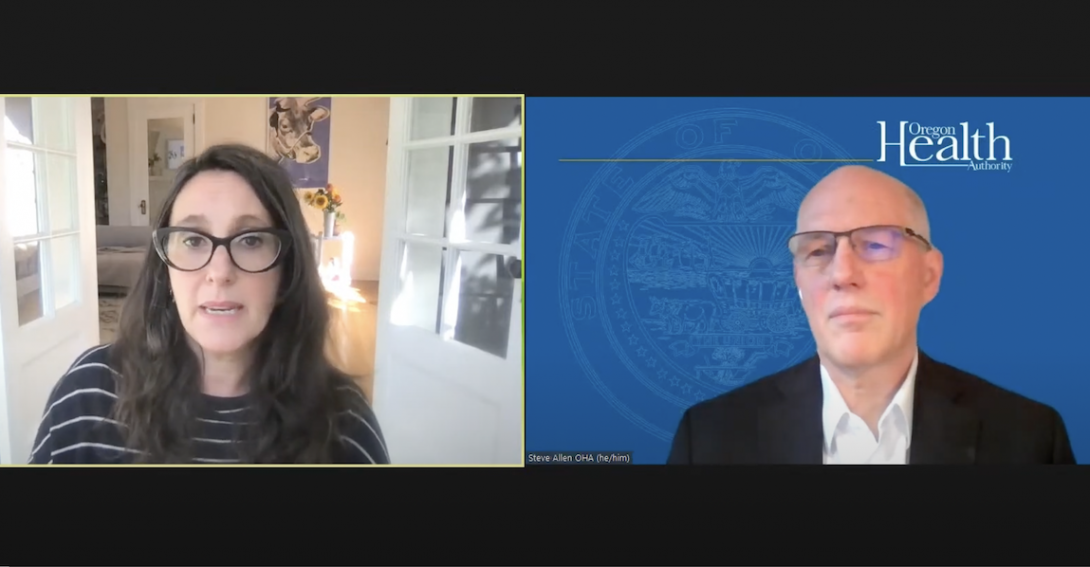 September 20, 2022
State officials and proponents of Measure 110 on Tuesday marked completion of the first round of funding distributed for addiction services under Oregon's drug-decriminalization law. 
In an online press conference, Steve Allen, who oversees Oregon's behavioral health system for the Oregon Health Authority, acknowledged criticism of the measure's roll out, including his agency's failure to adequately support members of the appointed council overseeing the distribution of funds, leading to delays and friction.
"When you do something for the first time, you're gonna make mistakes and often learn hard lessons," Allen said. "And at OHA, we've learned that we need to give our partners on the Oversight and Accountability Council more support."
But with the money reaching providers, "Now is the moment that Measure 110 truly begins," Allen said. "It's going to take time before we see dramatic changes in the quality of life. This is a critical first step."
To date, $302 million has been distributed to providers and agencies in each of the state's 36 counties to fund treatment and recovery services. It primarily funds programs that Medicaid does not, such as low-barrier treatment for uninsured Oregonians, housing, outreach and harm reduction, such as syringe exchanges. About $31.4 million was distributed in "access to care" grants last year, but the allocation of the lion's share — $265 million used to fund behavioral health resource networks around the state — was completed on Sept. 2. The slow distribution of those funds, which was originally slated for this past January, drew outcry from providers and recovery advocates. While the funds sat unused, advocates said, people were dying. According to federal data, Oregon has the highest rate of illicit drug use disorder in the nation while also ranking dead last for access to addiction treatment.
An additional $11.2 million was set aside for tribes. As of this writing, Oregon Health Authority had not confirmed whether that money had also been fully allocated.
Allen said Measure 110 spending is part of the state's larger strategy for transforming its behavioral health system. The effort includes $1.35 billion in additional spending by the Legislature. Allen said by the end of September, his agency will have spent or obligated 84% of those funds. The focus, he said, has been on bolstering the workforce and includes expanding residential settings for people with "serious and complex behavioral health conditions."
Much of the spending, however, is going to the state's mental health system, which continues to be somewhat siloed from addiction services.
Allen acknowledged that gaps in drug and alcohol treatment programs still remain throughout the state, but said "services will become greatly strengthened over the course of the next 18 months" as providers receiving funds from the state provide additional services. 
Some counties continue to lack an adequate number of residential drug treatment and medical detox beds, with no funding or concrete plans for meeting demand in sight. 
Measure 110 funds come primarily from marijuana taxes that the law diverted to pay for addiction services when voters approved Oregon's landmark drug decriminalization law in 2020. It amounts to about $300 million every two years. The law also made possession of small amounts of hard drugs such as heroin, fentanyl and meth, a violation instead of a crime. The penalty is a $100 fine that can be averted if the person receiving the citation calls a hotline and goes through an addiction screening.
Early on, the measure drew criticism for the lack of tickets issued and lack of treatment provided under the measure, despite a campaign that stressed treatment funding to voters.
During Tuesday's press conference, Oregon Health Authority officials and Measure 110 proponents were not prepared to answer questions about the number of citations that have been issued or how many people sought treatment because of them. 
Tera Hurst, director of a coalition of Measure 110 proponents, the Health Justice Recovery Alliance, said their intent was to put a connection to services in the hands of community providers and away from police.
"The reason the voters wanted to get it away from a criminal justice approach to a health care and health-based approach is because law enforcement has not always been the most effective way to help people get connected with services," Hurst said.
According to Oregon Judicial Department data, more than 3,000 citations have been issued between Feb. 1, 2021 and the end of last month. More than half, 1,716, resulted in failures to appear. A spokesperson for Oregon Health Authority, Tim Heider, told The Lund Report he did not have data on how many citations resulted in enrollment in or referrals to treatment.
Hurst said problems with the citation itself may still be impacting whether people call the hotline to get a screening.
"We still don't have a uniform citation," said Hurst, adding that some people receiving citations don't know what number to call or why.
Allen said implementing the measure will continue to be a learning process as the state's behavioral health system recovers from the COVID-19 pandemic and struggles with challenges posed by fentanyl and methamphetamine. "But with Measure 110, Oregon is once again leading the nation by forging ahead with an innovative community-driven approach," he said.
"Today," said Hurst, "we celebrate that thousands of Oregonians struggling with drug use will now be able to get help without fear of arrest and without fear of criminal records that make it harder — even years into recovery — to secure housing, employment, education and many more. We're creating a system of care that's rooting for you, instead of against you."
We're closely tracking the implementation of Measure 110 and its impacts on the behavioral health care system in Oregon as part of a reporting fellowship sponsored by the Association of Health Care Journalists and supported by The Commonwealth Fund. If you have a tip or comment that you think would be helpful, please contact Emily Green at [email protected].