The pandemic led Oregon Rural Action to coordinate Latino-focused vaccination drives, but their ambitions go further.
Image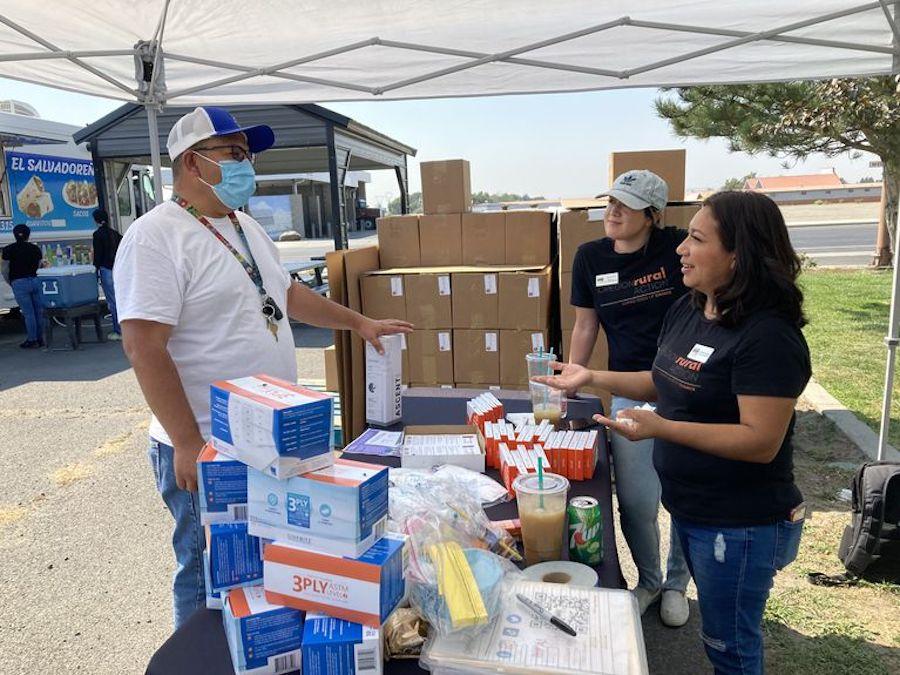 October 6, 2022
This article was republished from Oregon Public Broadcasting.
On an early September afternoon in Boardman, the epicenter of Latino community organizing was in a small parking lot buttressed by taco trucks.
The temperature was already starting to creep toward its 104-degree high when a woman stepped up to Oregon Rural Action's booth.
Community organizers Ana Maria Rodriguez, Rafael Romero and Zaira Sanchez quickly engaged her in Spanish, as they did with nearly every other person who stepped near their booth. It's a familiar routine: Oregon Rural Action has planted itself in this same parking lot, the thrum of Interstate 84 in the background, once a month for the past year and a half.
The trio confirmed that the woman was fully vaccinated for COVID-19 and switched up their pitch to talk about the bivalent booster approved by the Federal Drug Administration in August. The organizers explained why the latest booster was worth another jab.
"Con mas power," Rodriguez said in flawless Spanglish.
Already inoculated against the virus and with no need for another shot, the woman left with a food box and a handful of the assortment of masks, COVID-19 tests and thermometers the nonprofit offers to everyone for free.
Over the five hours they were there with the Morrow County Health Department, the group only vaccinated six visitors.
It's a far cry from the dozens of Morrow County Latinos who braved the snow and rain to get vaccinated in the months after ORA set up shop in the parking lot. With the help of other organizations, ORA has vaccinated more than 1,000 people since June 2021, according to executive director Kristin Anderson Ostrom.
The group of organizers is serving a county where two out of every five residents are Latino, a statistic not out of line for large swaths of Eastern Oregon. The nonprofit may have stepped up its efforts to respond to an emergency, but leaders are hoping to play a part in building an expanding support system for one of the brownest parts of the state.
From The Fields To The Front Lines
During a lull, Rodriguez pulls out her phone and plays a video.
She shows the work she used to do. It wasn't her in the videos but the work was the same: planting and harvesting onions.
The money was good but years of hard labor were taking a toll on her body. Some days she couldn't go to the bathroom because her joints ached too much.
Rodriguez's roots in Boardman went deep, and ORA recognized her experience as an active farmworker when staff recruited her to the board in 2020. A year later, they transitioned her to a staff position, where she says she can use her mind in addition to her physical abilities.
Hiring people like Rodriguez has become more critical to ORA as it has seen its focus shift since 2020.
Ostrom says the organization was founded in 2000. While it's always been focused on community wellbeing and the environment in the region, its Hispanic members helped spur an increased focus on Eastern Oregon's Latino community.
For Rodriguez, they're serving a population that serves Morrow County.
At 40%, Morrow County has the highest proportion of Latinos in the state. Morrow County neighbor Umatilla County and far eastern Malheur County are also in the top five.
Whether it's working the fields or the factories, Morrow County has relied on Latin American immigrant labor to power its surging economic growth. The Port of Morrow, where a lot of the region's agriculture is processed and shipped out to market, is connected to half the jobs in Morrow County and responsible for $2.5 billion in economic output, according to a 2021 economic analysis.
Romero and Rodriguez have spent their lives working in the fields rather than in traditional nonprofit work, but Romero said that is their strength. The people they serve are not only their clients but also their former coworkers, friends and neighbors.
"I feel happy every month when I come here to the taqueria because I feel like family," she said.
How to sell a vaccine in K'iche'
Romero rarely stood still at the vaccination drive.
He and the other organizers didn't just wait for potential patients to approach, but worked the line to the taco trucks or flagged down a person walking by to gauge their interest.
"I like to work with people," he said. "I like to be connecting to the people and to help (build) connection with our community. Because it's a lot of resources they don't know. Even me, I (didn't) know about those resources."
Romero estimates he only sleeps about four hours per night, spending his nights working security at a farm across the Columbia River in Paterson, Washington. On the weekend, he DJs for La Ley in Hermiston, hosting a radio show called Accion Rural Hispana, where he talks with health experts about COVID-19 and vaccine information.
Romero and the other organizers have noticed changes in the population they serve through their work on the ground. More immigrants are coming to the Northwest from southern Mexico and Guatemala. Some of this group of newcomers speak neither English nor Spanish but Indigenous languages like Mam and K'iche'.
Among Romero's proudest moments in ORA came during a door-to-door vaccine drive at an apartment complex in Boardman. The organizers, including Romero and Sanchez, had been handing out paletas to kids at the complex, and when one boy requested ice cream for his siblings, they used it as an opportunity to meet his mother.
When they started making their vaccine pitch, they quickly realized that there was a language barrier: She spoke only K'iche'.
But the language barrier didn't hold.
"Rafael has a list of people who he's talked with who speak Spanish (and K'iche'), and are available. They've expressed interest in helping us with interpretation when needed," Sanchez recalled. "So right away, he pulls up his list, and is able to call one of those contacts and say, 'Hey, are you available for a quick interpretation?'
By the time they left the complex, the woman was vaccinated.
After the COVID-19 vaccine became widely available, a 14-point gap opened between the number of Latino Oregonians who got vaccinated and their white counterparts. But over the course of 2021, that gap narrowed to four points, a trend state health officials attributed to their work with community-based organizations like ORA.
'What can we utilize to make this work?'
One of the people who was vaccinated at the September clinic was Jose Figueroa.
Figueroa had tried getting vaccinated in Mexico but ran into bureaucratic hurdles and never secured it. COVID-19 had already put him on oxygen once before, so when he returned to the U.S he sought out Oregon Rural Action.
ORA referred him to the staff with Morrow County Health to get the shot, and with no line, it was over quickly.
Afterward, Figueroa and his family lingered to chat with Sanchez and the other organizers. Like so many kids in rural America, Sanchez's dreams for the future were supposed to take her away from her home in nearby Hermiston.
"I grew up here, born and raised. And I was eager to leave. I went to Portland. I loved living in Portland. But there came the day where I was like, 'I'm ready to go back. I want to go back to my roots and I want to help transform my community,'" she said.
Sanchez already had experience working in farmworker nonprofits by the time she accepted a position as ORA's director of community organizing.
Ostrom and Sanchez said their services to the Columbia Basin's Latino community have changed as they started getting feedback.
The taco truck parking lot was settled on when their initial site at a port museum didn't work with the community's needs. When visitors started voicing concern about how the food boxes donated by the Oregon Health Authority didn't contain many ingredients they would cook with — pasta and tomato sauce, canned pork and beans, peanut butter — OHA started packing more culturally relevant foods like beans and rice.
As ORA continues to progress through the current stages of the pandemic, the organization is beginning to plot out its next steps.
Among those is their work on local nitrate contamination, which is affecting residents in Morrow and Umatilla counties. The nonprofit recently hosted a community meeting in Boardman where residents spoke about the lack of clean water in front of state and federal officials.
Ostrom said they're listening to community members to determine their future direction. Other issues they're exploring include mental health and transportation.
Eastern Oregon may boast some of the highest shares of Latino populations in the state, but the infrastructure to support them is still relatively small. But as ORA staff tore down their booth and packed up their supplies, Sanchez said the region's small population also brings an advantage.
"We're resourceful," she said. "And I think the beautiful thing (about) rural Eastern Oregon is we're also good neighbors. We're not afraid to talk to one another to figure out, what can we utilize to make this work?"