Image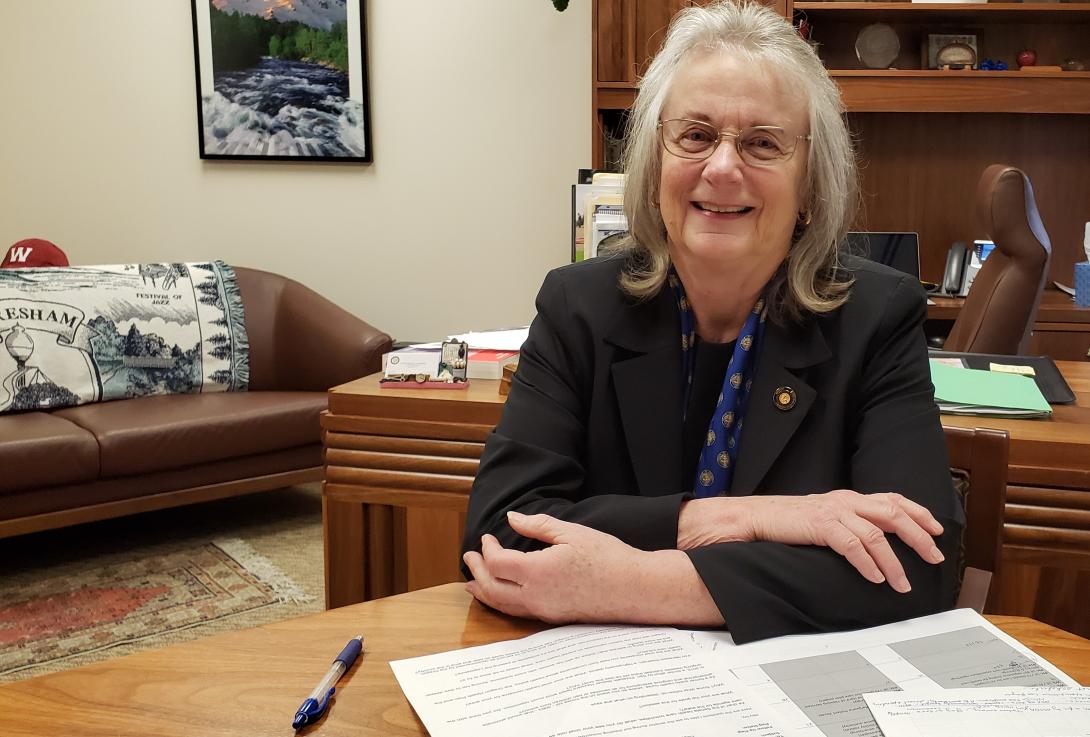 March 6, 2019
The Legislature this year is considering a slew of health care bills that span everything from prescriptions drugs to mental health to long term care. One of the big items on the agenda is funding the Oregon Health Plan which serves nearly 1 million Oregonians.
Oregon's Medicaid system faces a $950 million gap for the next two-year budget cycle. The House and Senate have passed a bill taxing hospitals and insurance plants that's expected to raise about $380 million. That bill is on its way to the desk of Gov. Kate Brown, who will sign it.
But plugging the rest could be difficult, according to Sen Laurie Monnes Anderson, D-Gresham. She'd like to see the Legislature pass an increase in the tobacco tax -- Brown proposed a $2 per pack increase on cigarettes and other tobacco products. But she says marshalling the votes could be tough.
The Lund Report sat down with Monnes Anderson, who's spent much of her professional life working in health care. She began her career as a public health nurse in 1980, helping drug-addicted mothers and babies, victims of the AIDS epidemic and at-risk seniors. She was elected to the Oregon House in 2000, and since 2004 she's chaired the Senate health care committee, where she's in a good position to shepherd through her priorities.
The interview has been edited for clarity.
As chair of the Senate health care committee, what do you see your chief role as being?
Monnes Anderson: My role has been, basically, to make sure that we're going to get as many people covered under health care as possible, and that's what we've been working on. Better access, quality care. And that's why I've been a strong advocate for expanding scopes of practice. I've been very much in favor of that type of legislation and shepherding that through. I know that there are people here that would love to have health care for all. I believe that health care is a right, and I believe that everyone should get health care, but because of the amount of money involved in doing health care for all just for the state of Oregon, we have to have a funding mechanism first and we have to have strong leadership that can balance both. If the state of California, the state of Washington and Oregon would get together, we could maybe have a health care for all, but we need more people than the number of people here in the state of Oregon.
What are your goals for this session?
Monnes Anderson: This year we have a number of issues. I've been working with (Rep.) Andrea Salinas (D-Lake Oswego, House health care committee chair); they want to do all of the prescription drug bills, so I'm working on the health care financing piece, total medical expenditures, health care expenditure reporting, we've had a task force working on this. I don't like to make big changes to our (coordinated care organization) model, even though we're going to have a transparency bill on CCOs. But we're still in the teenage phase --  it hasn't matured yet -- and we really need to let those CCOs work a little bit longer before people come in and want to change it. So I'm just shepherding things in that will enhance CCOs but (I) certainly don't want to make major changes.
Are there any prescription drug bills that you would like to see passed, specifically?
Monnes Anderson: I would love the drug importation (from Canada), but again, the House is going to take all of the drug bills. I would love to get pharma involved, but I have stayed out of that because (Sens.) Lee Beyer and Elizabeth Steiner Hayward have been taking the lead on that with a couple of the members from the House side. I've sort of been out of the conversation on prescription drugs.
You referenced Medicaid funding. Where do you stand on the tobacco tax and what do you think its prospects are of passing?
Monnes Anderson: I want the tobacco tax this session. Getting 18 votes may be hard in the Senate. My priority is first, a revenue package for education. We need a billion dollars for that, and we need 18 votes for that. If we get that, we should do the cigarette tax too, but that may just be too heavy of a load for the Senate. But if we're not going to get a revenue package -- I will die if we don't -- but I think we should go for the cigarette tax because the polling, from what I've heard, is extremely good.
Why not raise beer and wine taxes to 10 percent, as the Oregon Health Authority suggests?
Monnes Anderson: I'm in favor of all of that, and always have been. But our wine industry lobby is very strong, and we love our Oregon wine. There's just that conflict.
What do you think needs to be done to make Oregon's Medicaid funding stable?
Monnes Anderson: Whether it's a gross receipts tax or an added-value tax, I think the appetite in this building is to get that for education, and then maybe that will free up money for health care. At this point, I don't see a health care package, unless we would go for the cigarette tax.
Going back to your career as a public health nurse, where do you stand on House Bill 3063, which would eliminate philosophical and religious exemptions for vaccines or ban children from schools?
Monnes Anderson: I would vote for it. It is so controversial, but of course when I grew up, I was a polio pioneer. When I was in second grade, that's when the polio vaccine first came out and they gave us the sugar cubes and so I had people in kindergarten that had polio. I know what it's like, and the fact that my sister is deaf because my mother had German measles when she was pregnant, I'm from that generation that has seen what it's like.
If there are certain medical conditions for why a person shouldn't have a vaccine, the parents really need to work with their provider. But I would vote for it.
A few years ago Elizabeth Steiner Hayward withdrew a similar bill amid a lot of opposition. Do you think with the measles outbreak in Clark County, things have changed?
Monnes Anderson: I think that the environment is ripe to do it because of the outbreaks, but it's very difficult to get it through. Now that people are seeing how contagious measles is, and then if we go with whooping cough or tetanus problems or diphtheria, that can happen too, they'll come back if we don't have our kids immunized.
You represent Gresham, a high poverty district. What are your chief health concerns for your area?
Monnes Anderson: Using social determinants as part of the health care delivery system. So, housing. When you have safe housing, affordable housing, that's key. That's why I'm a strong supporter of tenant protections as well as increasing the supply of affordable housing, tiny homes, all of that. And then looking at health equity, we have populations that aren't getting quality care. When there are mistakes that happen with people who don't have English as their first language, those are the types of bills I'm going to support.
What are some of the chief complaints you hear from your constituents about health care policy, the Oregon Health Plan, or the industry as a whole?
Monnes Anderson: You know, in my district, I don't hear a lot of complaints. It's housing that I hear complaints about. And then, of course, minimum wages. And child care.
And you've addressed housing this year?
Monnes Anderson: For tenant protections, we have addressed (it), but (for) the housing supply we haven't yet. And that'll take money. And there are lots of different possibilities there to increase the housing supply.
What do you think needs to be done in the state with mental health care? Oregon is near the bottom of the country.
Monnes Anderson: We're one of the worst in the country, and that's really unacceptable. We need to promote more people to go into that industry. They're not reimbursed very well, so we need to be addressing the reimbursement rates for these people, and there are a number of bills that are being put forward to help behavioral health. There's an SEIU one regarding training, and the CCOs doing better assessments and having better metrics in behavioral health. Talking about a mental health crisis support line that came from the hospitals. So there are a number of behavioral health issues, and I think it's just going to take us time. And it's not like we haven't been doing anything, but it's a very complicated issue.
It seems like this year there have been a lot more bills on that subject than in past years, especially related to suicide. Do you feel that this year the state has a renewed focus in that area?
Monnes Anderson: Well people are getting tired, even with the gun control issues, the mass shooting, etcetera. But when our veterans are killing themselves off and when our teen suicide rate is so high, doing a little bit here can only help the system. It just seems like we're not moving fast enough.
You've been a lawmaker for almost 20 years now. What would you say you're most proud of?
Monnes Anderson: What we've done with health care, totally. I'm extremely happy that we have 94 percent of the population now covered by health care. And we've expanded scopes for our naturopathic physicians, for nurse practitioners and for dental hygienists. All are expanding the scope of access for patients. I'm just really excited about what we've done for health care.
What would you like to say by the end of the session you've accomplished?
Monnes Anderson: The governor's revenue package is a top priority. We've already passed the hospital assessment and the insurer assessment. And then, going with a cigarette tax and an employer assessment. Those are the more controversial parts. If we can get those four done, that will be truly exciting. That will really help.
Have a tip about health care of the Legislature? You can reach Alex Visser at [email protected].
Comments
Submitted by

Roger Warren

on Fri, 03/08/2019 - 07:33
Permalink
Is there a Grand Bargain in a sales tax and universal healthcare IF PERS reform is included?  Maybe the public would support a sales tax if they got those last six percent of the population covered and much less cost to operate schools.