NARAL Pro-Choice Oregon Steps Up Focus On Minorities
NARAL Pro-Choice Oregon has a new leader: She's the first woman of color to lead the abortion rights advocacy group since it was created in 1977.
The organization's board of directors chose Christel Allen, who has a Latina and white background, as its executive director in June after a four-month search. She replaced Andra Stoll Carrick, who served in an interim role after Grayson Dempsey stepped down this past January.
Allen is the organization's former political director. She told The Lund Report that her background has affected her outlook and the value she puts on the need for all women, especially women of color and of low income, to have access to reproductive health care.
As one of her first decisions, she hired Jeanine Morales as her deputy director. Morales, who is Black, has experience advocating for Black women and marginalized communities.
Together they are likely to sharpen the organization's focus on ensuring reproductive rights for minority women in Oregon.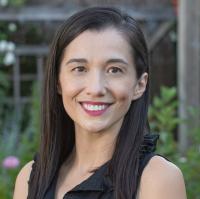 Allen comes from a family that bridged two worlds. Her grandmother moved to the United States from Mexico as a single mother with four children, to escape an abusive relationship. Allen's father was 7 at the time. He met Allen's mother, who is white in San Jose, California. They moved to Salem when Allen, now 36, was 5 years old.
She still remembers the difficulty her mother faced raising a family and getting an education. When Allen was in third grade, her mother, who is white, earned her college diploma. She said she's benefited from her family's struggle and sees the advantages she's enjoyed in being able to steer her economic destiny as a privilege. 
"It's not lost on me that people still lack those freedoms," Allen said.
Next week, Naral Pro-Choice Oregon is holding its biggest fundraiser of the year. The online event next Wednesday, which will include meals delivered to people's homes, features Portland Commissioner Jo Ann Hardesty, nurse practitioner and state Rep. Rachel Prusak and Reynolds School Board member Ricki Ruiz.
Allen, who's 36 and earns $93,000 a year, recently spoke to The Lund Report about her plans as executive director and challenges that the abortion rights movement has faced. The interview has been edited for brevity and clarity.
Q. What are your immediate goals as the new head of NARAL Pro-Choice Oregon?
A. What I hope to be is the leader of an actively anti-racist organization, but to do that, we need to be doing deep listening. We need to be doing deep relationship-building and we need to be attending to our home first. I want there to be a process of deep reflection. It may not sound sexy, but we need to make sure that we are creating an environment through things like the employee manual and our board guidelines and our hiring practices to ensure that we are (creating) a place where people from all backgrounds are welcome and heard, and we are bringing (together) rich community expertise and lived experiences.
Q. What about reproductive rights?
A. (We need) to shift our perspective on the remaining barriers to access. When you look at Oregon and where we are, I would say in terms of rights, we've remained the only state where there are zero legal restrictions. Through the Reproductive Health Equity Act, we've created programs that are available to people who (lack immigration documents to) qualify for the Oregon Health Plan. And yet we are seeing a chronic under utilization of those programs because of (fears of immigration authorities) and the potential of family separations. Then when you place COVID on top of that, we're not reaching many people.
Q. What are some of the barriers?
A. We need to be sure that we are making programs available no matter where people are. We have access desserts in the state of Oregon. There (are) options like telemedicine but technology gaps exist. So that's an opportunity for growth. 
There are (also) places in our state where the one hospital system in town (can) be a barrier to getting the reproductive care that you need. (On) the West Coast we have some of the highest percentage of Catholic hospital beds. That can have an impact on care, even though we have done tremendous work in making sure that the majority of private health plans must provide the full spectrum of reproductive care. But there was one health system that was left out and that system was Providence. When health care entities grow so large, they can throw (their) weight around in the ability to shape public policy. That's a problem. So there are existing gaps, and there are also things that just need more attention. 
Q. How has the pandemic affected reproductive rights in Oregon?
A. When there were orders to delay "non-essential" health services, we knew immediately that we needed clarification. So with groups like Planned Parenthood, Advocates of Oregon, ACLU, APANO (Asian Pacific American Network of Oregon), Western States Center and Forward Together, we worked closely with the governor's team (to ensure) there was official language that clarified that reproductive care, birth control, abortion and also gender affirming care were absolutely essential health services that were exempt from any of the restrictions that were being imposed on non-essential services. Getting that clear language was important but we need to make sure that those providers are part of the safety net we have in Oregon. We all need to be doing our part to ensure that we are not doing anything to impose further barriers and deepen disparities that already exist. When someone is denied or delayed access to reproductive services, it can have a profound impact on their ability to be economically secure. 
We (also) need to be supporting families who are choosing to have children or who will have children to make sure that those families are stabilized.
Last year, the Trump administration pulled funding from providers like Planned Parenthood that have continued to provide abortion. What has been the impact of that on Oregon?
Thanks to our governor and our partners at Planned Parenthood we have been able to mitigate much of that harm. But I would just say that this has been a long four years. When (they) impose further abortion restrictions in DC, it has an impact on states like Oregon because that federal funding piece isn't available. 
Q. Oregon Right to Life filed a complaint in January challenging Oregon's Reproductive Health Equity Act which requires all health insurers but Providence to provide abortion coverage. Are you concerned about the complaint?
A. In general, I would say this is an area where I would choose not to comment. It is not impacting our ability to provide care. We've passed strong laws that should stand the test of any sort of complaint. 
Q. In June, the U.S. Supreme Court handed reproductive rights groups a victory by deciding against a Louisiana law that would have made it harder for doctors there to perform abortions. Were you buoyed by this decision?
A. I was relieved by the decision for people in Louisiana who need abortions. I was underwhelmed by the way that the actual decision was worded. It will not be able to protect us from any further challenges to Roe versus Wade or TRAP laws (targeted restrictions on abortion providers). There's more than two dozen cases that are in the queue that could potentially gut the protections of Roe versus Wade. I'm 36 years old, and I am leading an organization where Roe versus Wade has absolutely been (our) foundation. The need to play defense is essential to the work that I do and yet the constant need to play defense means that we're not giving attention  to issues like the Hyde Amendment (which bars using federal funds for abortions).  A right isn't a right if you can't afford to exercise it, and that's what the Hyde Amendment does across the country. 
Q. That Supreme Court decision was followed with another one in July that said companies can opt out of the Affordable Care Act's requirement that they cover contraception. Do you see this as having any impact in Oregon?
A. I am angry that our Supreme Court, in a seven to two decision, put more weight on the personal beliefs of employers than the life decisions of employees who are the  majority of Americans. That is incredibly disappointing. (But) in Oregon, some amazing coalition partners were thinking ahead of the game when we passed the Reproductive Health Equity Act in 2017. We were able to make sure that the vast majority of private health care plans have to provide the full spectrum of reproductive health care. So I feel very confident that the vast majority of Oregonians will not be impacted. 
Q. Obviously, the next big decision will be the election.
A. Federal elections really matter. I want to encourage everyone to chase opportunities to really get involved with the issues that matter to you. And all of this can be done from home this year.
For more information about Allen and NARAL Pro-Choice Oregon check out their website.
You can reach Lynne Terry at [email protected] or on Twitter @LynnePDX.
×
This article is for premium subscribers. If you are one, please sign in below.
You can see
two
more premium stories for free. To subscribe,
click here
. We depend on premium subscriptions to survive, and they are tax deductible.