Tuesday is expected to bring the hottest temperatures during this heat wave, when several places in the Willamette Valley could hit triple-digit temperatures.
Image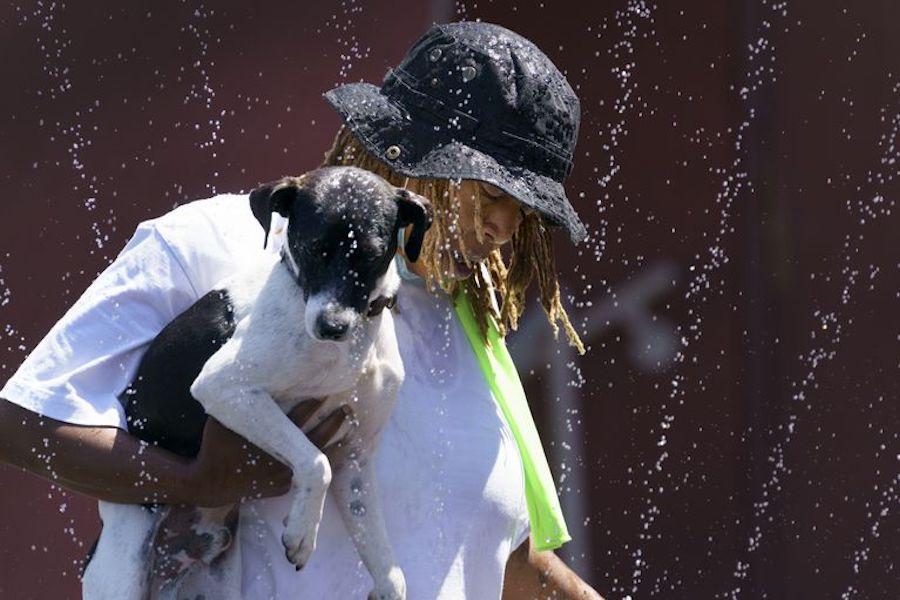 July 26, 2022
A heat wave is forecasted to bring temperatures in the high 90s to much of the Willamette Valley this week, with some areas potentially reaching 100 degrees.
Local health officials are warning people to prepare now ahead of the heat.
Multnomah County and the city of Portland issued emergency declarations ahead of the high temperatures, which allows officials to open cooling shelters.
In a press release, officials say those shelters will be open on Tuesday. More specific information about when and where they'll be open should become available by Monday morning, according to Communications Coordinator Denis Theriault.
"Staff are prepping spaces, and we're planning to have some more specific info about overnight spaces and daytime spaces, including libraries with extended hours, shared out by then," Theriault said.
That information will be published to the county's heat resources webpage at multco.us/hot. There, people can find an interactive map of air-conditioned public spaces.
Some air-conditioned libraries will remain open until 8 p.m. on Monday, including these branches: Albina, Capitol Hill, Fairview-Columbia, Gregory Heights, Kenton, North Portland, Northwest, Rockwood, Sellwood-Moreland, St. Johns, Troutdale, and Woodstock.
Starting Monday, Trimet won't deny public transportation to anyone trying to reach a cool place who can't afford the fare. There may be heat-related delays in service. Updates can be found at trimet.org/alerts. People can also call 2-1-1 for help with transportation.
Areas under excessive heat watch
The National Weather Service says an "excessive heat watch" will be in effect starting noon Monday; such an alert goes into effect when officials expect daytime temperatures to exceed 105 degrees, along with nighttime lows of 80 degrees or more, over the course of two consecutive days.
Tuesday is expected to bring the hottest temperatures during this heat wave, when several places in the Willamette Valley could hit triple-digit temperatures.
"Several temperature records will be threatened on this day, most of which were set back in 2020," the NWS Sunday morning forecast reads.
Come Thursday, there's a slight chance of thunderstorms over the Lane County Cascades, but they likely won't bring much rain, forecasters say. But they may decrease some temperatures in the valley.
Still, in the Portland area, temperatures in the high 90s are expected to last from Monday to Thursday, with nighttime lows in the 70s.
Check in with elderly friends, neighbors
The county is calling on people to check in with elderly friends and neighbors ahead of time, especially those who live alone or lack air conditioning.
"Consider inviting them to a matinee or a trip to the mall, spend an afternoon in a library or dip in a community pool," the release reads. "Offer a spare bedroom or a mini-vacation to the beach."
A massive heat wave last summer, in which temperatures reached 116 degrees in some areas, killed 72 people in Multnomah County. Of those who died, 78% were 60 or older and 71% lived alone. Almost all lacked a working air conditioner.
As a response, the county purchased about 180 air conditioning units this spring to help low-income residents who live in high-heat neighborhoods called "heat islands." As of Friday, 78 people had received units, with more being installed over the weekend. Up to 1,000 units can be installed over the 2022-23 fiscal year as part of a one-time program approved by the Multnomah County Board of Commissioners last month.
Free air conditioners from the county are only available to clients of the county's Aging, Disability and Veterans Services and Developmental Disabilities Division offices.
There are almost 11,000 people aged 65 years or older who are at or below poverty level in Multnomah County, according to U.S. Census survey estimates, and more than 36,000 people who are 65 years or older with a disability.
This story was originally published by Oregon Public Broadcasting.