Commissioners will consider policy language for new restrictions on the products in September.
Image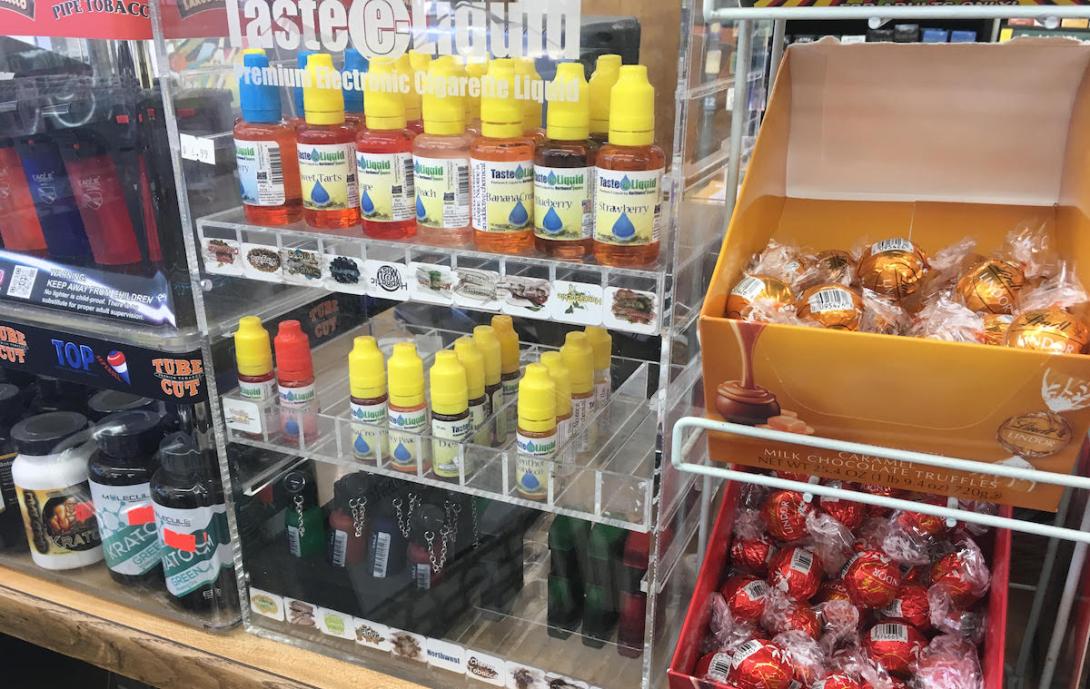 August 18, 2022
Multnomah County is reviving a proposal to ban the sale of flavored tobacco and vaping products.
"For decades, big tobacco has used sweet, minty and specialty flavors to hook young people into trying products that will addict them for life," said county chair Deborah Kafoury at a board briefing Tuesday, Aug. 16.
Ending nicotine dependence will continue to be difficult, and a lot of local businesses make money selling products that contain the addictive chemical, Kafoury said.
"But at some point, we need to say 'enough is enough.'"
She directed health department officials to bring policy language to the board in September to prevent retail sales of flavored products containing nicotine.
Multnomah County Health Officer Jennifer Vines said the briefing picked up where the county left off before the onset of the COVID-19 pandemic.
In 2019 and early 2020, the county held a series of public hearings and meetings about the dangers of flavored tobacco and nicotine products amid skyrocketing rates of vaping among youths. The board considered several policy options, including passing an ordinance to restrict sales of the products.
Vines distinguished between combustible tobacco and products that use liquids to deliver nicotine through e-cigarettes or vapes.
One of the county's main public health goals is to minimize youth initiation of the products, Vines said.
"This is an industry and addiction that relies on the recruitment of new users, and flavored tobacco plays a key role there," Vines said.
While tobacco's carcinogenic and other health impacts have long been known, nicotine consumption has been linked to cardiovascular problems and impaired brain development, Vines said.
"Who uses flavored tobacco and nicotine products?" Vines asked. "No surprise, it's kids."
According to the most recent data available from the Oregon Health Authority, 57% of eighth-graders and 65% of 11th-graders reported using flavored tobacco or vaping products in 2017. That's compared to 21% of people age 25 and older who reported using the products in 2016.
Illustrating how the products can appeal to children, Vines brought candies and flavored tobacco and vaping products, pressing people to notice the similarities in packaging.
It's easy for kids to illegally buy tobacco and vaping products, Vines said, even after Oregon raised the age to purchase the products to 21 in 2018, and Multnomah County started requiring all retailers to be licensed and submit to routine inspections two years earlier.
Underage youth inspectors in Multnomah County are able to buy tobacco products 17% of the time, data shows.
Nearly all of the county's 800 licensed retailers sell at least one type of flavored tobacco or vaping product, according to the county.
In response to a question from Commissioner Jessica Vega Pederson, Vines said there's no question vaping is less harmful than smoking tobacco. The U.S. Food and Drug Administration has not endorsed vaping as a nicotine cessation aid, however, she noted.
A big question for young people who vape is whether they smoke tobacco later in life. Vines said the research on the topic is inconclusive.
"My bottom line is that nobody wins when a bunch of young people are drawn into nicotine addiction, whether they're vaping it or whether they go on to smoke combustible tobacco," Vines said.
Although adult tobacco use has been declining nationally for years, "that public health win has not been shared equally," Vines said.
The LGBTQ community, people with low incomes and people of color use tobacco and nicotine products at higher rates because of successful marketing campaigns targeted at those groups, Vines said.
Many of those marketing campaigns focus on flavored products, including menthol cigarettes and more than 15,000 available flavors of vaping products, she said.
The data is especially stark for African American smokers, who used menthol cigarettes at a rate of 85%, compared to 47% for Hispanic/Latinos and 29% for white smokers, according to a study published in the journal Tobacco Control in 2016.
The two leading causes of death in Multnomah County — cancer and heart disease — are both illnesses driven by tobacco use.
Vines said she was there representing community advocates, the Multnomah County Public Health Advisory Board, and the county's Racial and Ethnic Approaches to Community Health program, which aims to reduce chronic disease disparities among the Black and immigrant communities.
"This is an issue that people would like to see movement on," Vines said.
Oregon's most populous county wouldn't be the first jurisdiction in the state to pass a law banning the sale of flavored tobacco and nicotine products.
Last fall the Washington County Board of Commissioners voted 3-2 to impose a ban on such products that was supposed to take effect in January. Washington County voters affirmed the ban in May after opponents led by convenience store retail executives gathered enough signatures to put the question on the ballot. But last month, a county judge issued an injunction preventing the ban from going into effect, saying the county had no immediate plans to enforce its ordinance.
Commissioner Susheela Jayapal asked whether new regulations would have an impact if underage people can get around existing laws to purchase tobacco and nicotine products.
The county needs to be clear that its policy would be directed at retailers, not users, she said.
"It also raises some questions about our communications strategy," Jayapal said. "For example, small businesses, particularly BIPOC-owned businesses, just making sure that the impact doesn't land on already vulnerable communities."
Vega Pederson asked whether data is available about online purchasing of tobacco and vaping products.
Vines said health officials would address the questions when they return next month.
Kafoury directed health officials to gather feedback from the community on potential new restrictions with an online forum.
Max Egener is a reporter for The Portland  can be reached at [email protected]. This article, published here in part, can be read in full at linkgoeshere. It is used with permission of the Pamplin Media Group. Read more from Oregon's largest source of independent local news at pamplinmedia.com.