LaKeesha Dumas claims management at the health department blamed her for not ensuring its grant got approval from a council on which she sits.
Image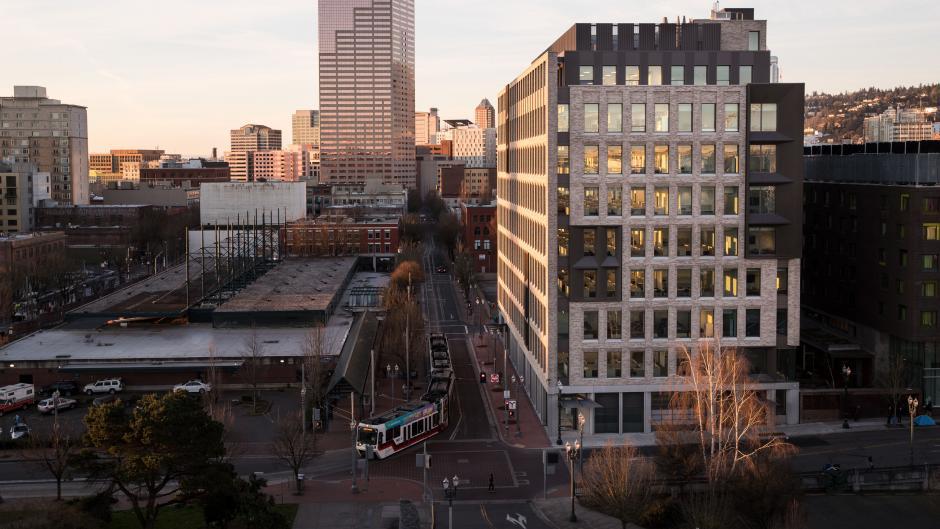 November 15, 2022
Prominent community leader LaKeesha Dumas has warned her employer, Multnomah County, that she is prepared to sue over what she says is retaliation related to her position on a state council that denied the county funding.
After the Measure 110 Oversight and Accountability Council denied the county's grant application seeking $4.8 million for addiction services, Dumas' supervisor blamed her for failing to ensure its approval, according to a Nov. 7 notice sent to the county by Dumas' lawyer.
A county spokesperson said it does not comment on pending litigation.
Dumas has for six years worked at the county's health department as the Office of Consumer Engagement Coordinator in its Mental Health and Addictions Services Division.
In addition to her work at the county, Dumas is vice president at MetroPlus Association of Addiction Peer Professionals, chair of the Traditional Health Worker Commission, and a steering committee member at PFLAG's Black Chapter is a former member of the board of Oregon Public Health Institute. Dumas is a peer support specialist and community health worker who leans on her experience in the criminal justice system and as a person in recovery from substance use disorder and mental health issues in her civic engagement.
But it was her position as tri-chair of the council overseeing the implementation of Oregon's drug possession decriminalization law that allegedly drew the ire of her supervisor.   
When voters passed Measure 110 in 2020, they diverted about $300 million in marijuana tax dollars to pay for addiction treatment and recovery services every two years. The Measure 110 council — which by statute must be composed of "individuals with experience in substance use disorder treatment and other addiction services" — awards that money to providers in the form of grants.
The county grant application referred to in Dumas's letter went before the council on May 12. It sought funds for a marketing campaign to address stigma and encourage people to seek help for substance use disorder, expand medication-assisted treatment as well as distribution of the overdose reversing drug, naloxone and fentanyl test strips, and support housing and new initiatives, among other items. It included $3.25 million in personnel costs for 33.6 full time positions, most of them at the county's Behavioral Health Resource Center in downtown Portland.
Each application is reviewed by two people before the council votes, and Multnomah County's came before the council with one recommendation to approve funding and one recommendation to deny. Dumas abstained from voting, citing a conflict of interest. 
A recording of the meeting showed that there was no public discussion before council member Hubert Mathews made a motion to not fund Multnomah County. It was quickly seconded by O'Nesha Cochran. After another tri-chair, Ron Williams, also "seconded" the motion, Cochran can be seen smiling and clapping as she exclaimed, "This gonna be quicker than I thought!"
Cochran was married to Dumas, though records show the two now live apart. The relationship has piqued interest among observers of the council.
Oregon Health Authority, which provides staff for the Measure 110 council, was aware of Dumas and Cochran's relationship, said spokesperson Tim Heider in an email earlier this year. He told The Lund Report "it was not considered to be a barrier to participation," and that "it is not up to OHA to ensure that (council) members are avoiding conflicts of interest."
In the meeting, Williams said he was voting not to fund Multnomah County due to "existing funding that supports the county" and "excessive salaries" that were proposed in its application. The decision was unanimous, with five votes not to fund.
According to the tort claim notice, the reasons for the application's denial were unrelated to Dumas. But it claims that one week later, Dumas' supervisor at the health department was "angry and hostile" when the two met, and blamed Dumas for the application's denial.
According to Dumas' lawyer's letter to the county, the supervisor suggested Dumas should have influenced others on the council to approve the application and told Dumas she was a disappointment to management at the county and her community.
Dumas claims that if she had tried to influence the vote, it would not have been ethical or legal, and she "left the conversation crying and feeling extremely overwhelmed," according to the notice, which also noted, "Dumas took her work and commitment to the public interest very seriously."
It claimed that the supervisor followed-up with an email stating the outcome of the grant was at least partially in Dumas' "control" and also raised other performance concerns that had not surfaced before.
Dumas' notice says she had to take time off to tend to her mental and physical health issues stemming from stress related to the retaliation, after which her supervisor told her to withdraw from the Measure 110 council completely, despite it having been a four-year commitment.
Dumas took her concerns about the retaliation to human resources, but they were not addressed, the notice says. The county allegedly scheduled a meeting to go over with Dumas a "pre-disciplinary letter of expectations" instead of addressing her workplace concerns and need for accommodations.
In that meeting, managers including the department's interim director, Julie Dodge, indicated to Dumas that her work on the Measure 110 council was interfering with her work at the county, the notice claims.
Before the grant application's denial in May, Dumas had received positive feedback about her work performance, the notice claims.
Interestingly, records show that Dumas did not abstain on May 17, when the council voted on an application for the Behavioral Health Emergency Coordination Network, a crisis stabilization center project that Multnomah County's Health Department is deeply involved in. Dumas voted against funding that application, as did Cochran, who raised several issues with the proposal. It, too, was ultimately denied Measure 110 funding. 
When The Lund Report asked Oregon Health Authority if this constituted a conflict of interest, spokesperson Heider said that was not his agency's jurisdiction. That agency said it had not received any complaint regarding a Measure 110 council member.
The application for the project was submitted by Cascadia Health, acting as fiscal sponsor. It's unclear whether the county would have financially benefited from the grant or if Dumas understood the county's level of involvement in the project. While the application stated the project involved 75 organizations, it did not list the organizations, including Multnomah County. Less than a week later, the county officially took over management of the project.
The Lund Report reached out to Dumas and her attorney. None responded with comment by press time. 
Read the tort claim notice .
This article was updated Nov. 18, 2022.
Correction and clarification: LaKeesha Dumas is no longer on the board of Oregon Public Health Institute as this article previously stated. We apologize for this error. The article also previously described a portion of the meeting in which a Measure 110 meeting moderator asked about conflicts of interest with "the entirety of the county." After press time, we learned this referred to a conflict with every organization in the county, as opposed to any organization, and hence was not relevant. That portion of the article has been removed. We regret any confusion.
You can reach Emily Green at [email protected] or via Twitter at @GreenWrites.