Mother Living In Hospital Finds A Way To Help During COVID Surge
It's one thing to hear about how COVID-19 has stressed hospitals.
It's another thing to live in it.
Southeast Portland resident Michelle Fullington has lived in a Portland-area hospital since July 19.
"To see the nurses and the staff to be under such incredible pressure and to be working under such conditions, it's heartbreaking," Fullington said. "They are so understaffed, underappreciated and overworked, it's not even funny."
A full-time caregiver to her 18-year-old daughter, Kira, who has been hospitalized with digestive issues, Fullington has seen some darkness in the last two months. But she has also been a source of light with an appreciation campaign she calls "Snack Attack."
It's support that nurses and other health care professionals could use more of right now as — more than a year-and-a-half into the pandemic — many are burning out or quitting.
"As a profession, we are so incredibly beat down right now," said Joshua Holt, a nurse and leader in the Oregon Federation of Nurses and Health Professionals, a union of about 6,000 Kaiser Permanente employees. "Health care is in a desperate state."
Holt said there are major federal, state and corporate policy improvements that need to happen to train and retain more nurses. The problem is big. Holt said in a survey of nurses in his union, 60% said they were seriously considering leaving their profession in the next two years. That survey included Kaiser Permanente nurses from Longview, Washington, to Eugene, Oregon, but Holt thinks it's a widespread sentiment.
"If you ask nurses throughout the country: 'How much do you have left in you?' — I think the data would be the same," he said.
So, what can the public do?
"Just even being asked that question almost brought me to tears," Holt said, referencing the trend that swept the nation in summer 2020: stepping outside and banging pots and pans each evening in thanks for caregivers. "We were seen a year ago and then life moved on. Thank a nurse. We're fighting for the very lives of our community."
Anything helps
As a parent, Fullington said she's terrified of the life-or-death risks of an overwhelmed system for Kira. "It's already happening that care options are being limited based on expected life expectancy. Our kids with special needs are very much at risk with that scenario."
With these sorts of scary thoughts in her head, Fullington was struggling. But in that dark place she asked herself: "Where is there a need and how can I do that?"
She heard that Costco delivered to the hospital, so she tried it. Sure enough. Soon, "Snack Attack" was born.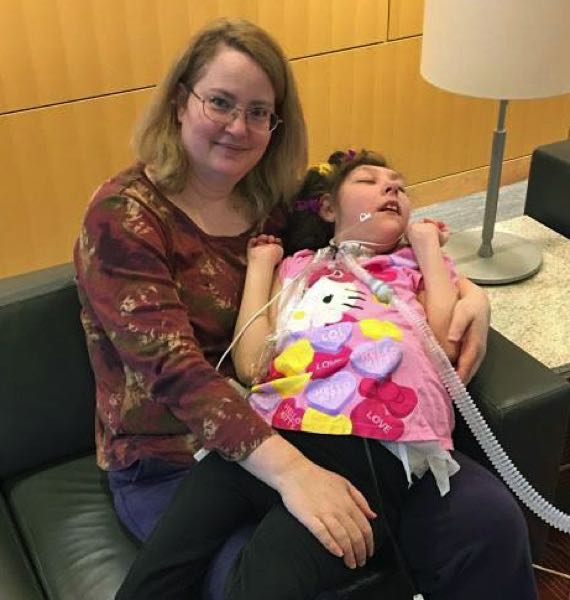 Fullington put out a call on Facebook and quickly gathered about $250. She ordered chips, cookies and other treats as well as Thank You stickers and baggies. Then she gloved up and portioned the snacks out to staff on her floor; a charge nurse helped to get them to the adult COVID-19 unit.
"You wouldn't believe the impact that tiny little bag of M&Ms has on someone who is running on fumes and feels like they are being stabbed in the back for everything they are doing," Fullington said.
She and her husband are full-time caregivers to three disabled family members. Even before COVID-19, cold and flu season was "germ-aged don" lockdown in their house. This year, it's worse. Fullington is ordering in food and doing laundry in the hospital room sink to avoid using communal spaces in the hospital. Those costs add up, but Fullington is undeterred from organizing her Snack Attacks.
"It doesn't matter, I'm going to keep doing it anyway," she said. "If people want to help me, that's great. I certainly won't turn it down."
Fullington accepts donations through Venmo and PayPal but also urged people to find their own ways of showing appreciation.
"Cut out hearts and write 'thank you' on them. It doesn't have to be expensive. It doesn't have to be food," she said. "Find a way to let your health professionals know that they are seen and they are appreciated. That will go a long way to sticking it out and doing what they can for our families, for our children, for our parents."
FURTHER READING | How To Thank A Nurse (And Other Health Care Staff)
This story was originally published by Medical Motherhood,a newsletter for people raising disabled children.