House Bill 2890 would expand access to behavioral health care in state-run corrections facilities, where 90% of prisoners are eventually released
May 8, 2023
When a prisoner wins a scarce spot in the treatment program for addiction at the Oregon State Correctional Institution in Salem, it's like getting "a winning ticket" in the lottery, said Ga lo Vann, a certified counselor who helps lead the program there.
Four miles away at the Oregon State Penitentiary, prisoners are "banging down the door" to get into an alcohol and drug program there, the Oregon Department of Corrections' behavioral health administrator, Devarshi Bajpai, told The Lund Report.
More than 4,000 people were released from Oregon prisons last year after being housed at a per-person cost of more than $50,000 annually. Of the nearly two-thirds who went into the system needing drug treatment, more than 80% were released without getting it. Statistically, more than half of the prisoners released in Oregon will be arrested again within three years, most of them having never received the tools and counseling that could help them fight addiction and change their lives.
For Rep. Maxine Dexter, D-Portland, not only do these numbers represent a wasted opportunity, they are a violation of prisoners' right to health care while in custody — as the U.S. Constitution guarantees. Her response is House Bill 2890, which requires that people in the custody of the Oregon Department of Corrections have access to mental health and substance use disorder treatment throughout their incarceration.
Passing the bill is one of her "top three priorities," said Dexter, a pulmonary and critical care physician, and a member of the House Behavioral Health and Health Care Committee.
The bill specifically calls for access to treatment that includes medication, which is considered most effective at reducing cravings and withdrawal symptoms from opioid use disorder.
Passage of the bill would bring Oregon into line with national trends. Other states, such as Maine and Rhode Island, offer the treatment in their state prisons. Many county jails — including in Oregon — already offer medication-assisted treatment to adults in custody. And, President Joe Biden has vowed that all 122 federal prisons in the U.S. will offer medication-assisted treatment by this summer.
In Oregon, where about 90% of state prisoners are eventually released back into the community, "the question that we have to ask," said Bajpai, "is what do we want that person to have been prepared with?" As it stands, he said, demand for treatment throughout the prison system "greatly outstrips supply." 
While treatment is scarce, drugs are not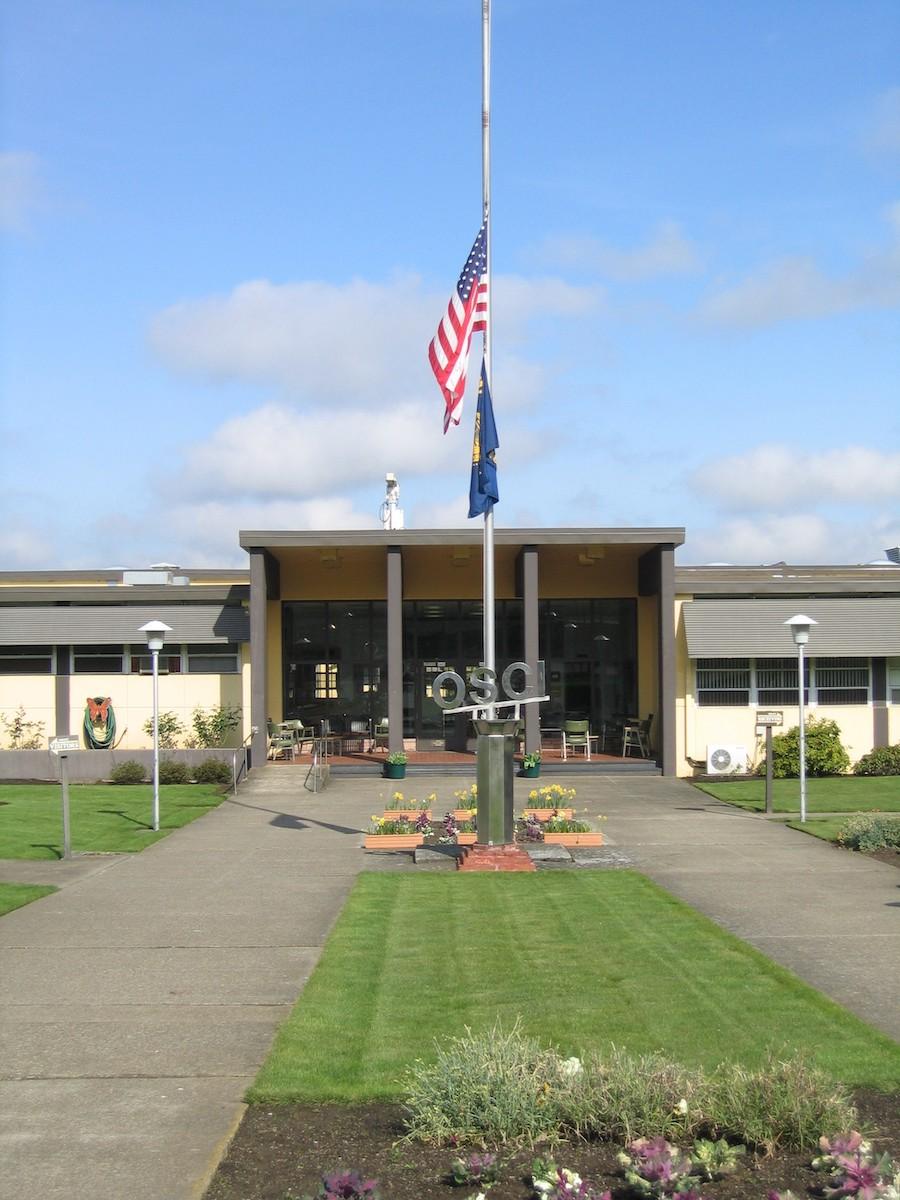 Seven years ago, Vann got a 10-year sentence for killing a man in a drunk driving accident when he was 26. Now he's a certified alcohol and drug counselor, and he leads a morning treatment group four days a week for fellow prisoners at Oregon State Correctional Institution.
Some people may think of prisons as a place where the absence of drugs helps prisoners fight addiction. But the reality is that drugs are often smuggled into Oregon's state facilities.
A prisoner at Oregon State Penitentiary in Salem recently suffered a suspected fentanyl overdose, Vann told The Lund Report.
"The (Willamette) Valley's prisons have a higher preponderance of drugs introduced into the population — even when there are not visits," Vann said, meaning drugs get in even when visitors don't. He said the administration at his facility has "openly admitted to us that they can't deal with this problem." 
Asked about overdose deaths, Bajpai confirmed multiple "deaths related to poisonings" among prisoners this year. The state Medical Examiner's office said results for toxicology tests for 2023 have not yet been completed.
In 2022, there were four non-fatal opioid overdoses among Oregon's state prisoners — two from fentanyl and two from heroin, Bajpai said.
"We have a lot of drugs coming into the institutions," he said. 
In contrast, treatment is in short supply. Among Oregon's 12 state prisons, only four have an intensive addiction treatment program, which are more structured and typically house participants in a separate unit. 
The programs that do exist are available only to prisoners who are nearing their release date and even then, it can be difficult to get a spot. The program Vann leads has only 24 seats in a facility that houses more than 800.
The Department of Corrections has set up a small medication-assisted treatment program, using drugs such as naltrexone and buprenorphine, but it's only available to prisoners entering or leaving the system, and those with sentences shorter than 13 months, said Bajpai. About 270 Oregon prisoners are enrolled.
"Addressing people's substance use treatment needs is going to reduce the risk of recidivism. It's also going to reduce health care costs associated with substance use, it's going to reduce deaths that are related to substance use," Bajpai said. "There's so many metrics around substance use treatment that make it pretty compelling — if we can get people into it."
Oregon City physician Andrew Suchocki co-chaired a task force that the Legislature created in 2021 to assess Oregon's prison health care system. For him the issue is about more than a cost-benefit analysis. Pointing to standards from the National Academies of Sciences, Engineering and Medicine, he said that to deny addiction treatment "is essentially a denial of essential medicine."
Mental health treatment also lacking
Dexter's bill also seeks to address the fact that Oregon prisons aren't currently meeting the prison population's mental health needs, either. The bill requires that people in custody have access not just to substance use treatment, but mental health treatment as well.
Oregon state prisoner Wayne Hagner, 54,  told The Lund Report he's suffered from alcohol and drug problems most of his life. He said there have been times he's asked prison staff for mental health treatment, but "I get no response whatsoever, and they just kind of put you on the back burner." He said the drug and alcohol programs "are hard to get into" and because he's a lifer, he doesn't qualify for most behavioral health classes and programs. 
"It doesn't make no sense to me," Hagner said. "Everybody needs help."  
According to a recent corrections department report, 62% of prisoners would benefit from "some level of mental health care," but only 42% of those in need of services are getting them.
"Since the beginning of the pandemic, we've been seeing an increase in the acuity of people coming into our custody and that has proven to be challenging," Bajpai said. 
Prison changes harken to the past
When Mark Wilson entered the Oregon state corrections system in May 1988, there were about 4,500 state prisoners. Back then, treatment programs were widely available, he told The Lund Report. Not just that, but college classes and vocational training, too.
"I was honestly stunned," Wilson said.  "It was basically if you wanted it, you just requested it, and you were in it. … I was fortunate to get 42 months of drug and alcohol treatment when I came in, and I needed every second of it."
During the tough-on-crime era that followed, he watched as cuts to many of those programs made them all but disappear. Meanwhile, the prison population grew. As of May 1 this year, there were 12,236 people in custody. And yet today, Wilson would not be eligible for treatment because of reduced availability and heightened restrictions on who gets in.
The measures currently pending in the Legislature that would help reverse the trend Wilson observed include:
Dexter's bill, H.B. 2890, would not just require access to behavioral health treatment, it would fund and strengthen the department of corrections' independent ombudsman office, which resolves prisoner complaints and has the power to subpoena records, documents and individuals, as well as inspect prisons without notice. This governor-appointed ombudsman position has been vacant frequently since its creation in 1977 due to inconsistent funding. The bill has received no testimony in opposition.
Another bill, Senate Bill 529, would help to expand access to drug and alcohol treatment through loosening up rules for the prison's early release program. That bill won't cost anything, according to the Legislative Fiscal Office. It's passed both the House and Senate and awaits the governor's signature.
Gov. Tina Kotek's proposed budget includes $8.7 million to expand substance use treatment programming at two of the state's largest prisons: Snake River Correctional Institution in Ontario and Oregon State Penitentiary in Salem. Action on the proposed budget won't commence until a new revenue forecast is issued for the state.
These changes would be a monumental shift from where the department currently stands. But it would require a relatively small bump in additional funding for a department that costs taxpayers more than $1 billion per year. The department estimates it would need to spend $23.4 million more every two-year budget cycle to provide behavioral health care to all the prisoners who need it, agency spokesperson Amber Campbell told The Lund Report.
Dexter's bill, which is intended to achieve that goal, hasn't yet been assigned an official price tag, though the Legislative Fiscal Office expects that the cost may be "significant."
Dexter said she's spoken with the Ways and Means co-chairs about the bill. "We have clear constitutional requirements and obligations that they are aware of," she said, "so I have a lot of hope that we'll get this funded."
This story has been updated.
Correction: An earlier version of this article misstated Rep. Maxine Dexter's area of medical practice, she is a pulmonary and critical care physician. We regret the error.
---