Most Oregon Health Insurers Seek Modest Rate Increases
The relatively small number of Oregonians who buy individual or small-group health insurance in the marketplace – as opposed to receiving it from employers or the government – will likely face overall moderate price hikes next year, although some insurance companies want to impose big increases while two insurers want to cut their rates a tad.
The Oregon Insurance Division on Tuesday released rate increases insurers have requested for the individual and small-group markets. The public will have a chance to comment before the state decides this summer what rate changes to approve.
Rates for the individual and small-group markets are regulated by the state, while rates for employer-sponsored health plans are negotiated between employers and insurers.
Health Net, owned by Missouri-based Centene Corp., wants to raise its individual rates on average 13.5 percent, the highest 2020 increase requested by companies selling individual insurance. Portland-based Moda Health wants to drop its individual rates on average 3.2 percent, the sole reduction request.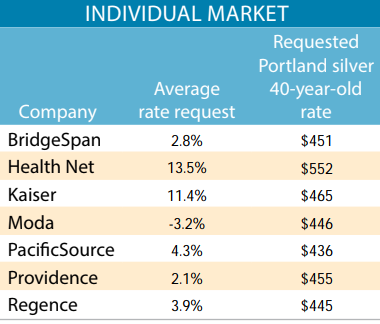 Among small-group insurers, Health Net is the only one seeking an average rate decrease – of  0.3 percent -- while Minnesota-based United Health Group is seeking the highest increase, an average of 13.1 percent.
The number of Oregonians who buy individual or small-group policies in the marketplace is not large: About 150,000 people. That compares to the roughly 600,000 elderly who are on federal Medicare, the 1 million people on the Oregon Health Plan (Medicaid), and the roughly 1.8 million public and private-sector employees who receive or pay for insurance through work.
The individual and small-group markets provide an interesting window into overall health insurance cost trends. They have been going up, up and up in recent years.
Oregon insurance Commissioner Andrew Stolfi noted in a media conference call that the state approved big rate increases in recent years: 23 percent in 2016; 27 percent in 2017; 13 percent in 2018; and 9 percent this year.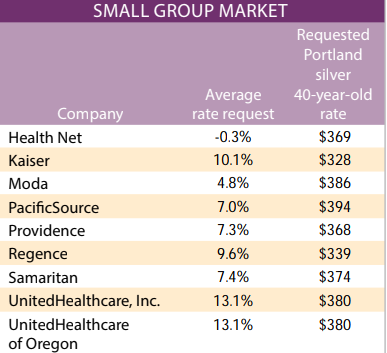 For 2020, most of the requested rate increases range between about 3 percent and 10 percent.
Stolfi said the slower pace of increase demonstrates greater "stability" in the marketplace.
The increases reflect the higher costs insurance companies are facing. Hospitals and medical clinics are charging more to cover the rising cost of employees and other expenses and a growing aging population under 65 is seeking more health care. 
"Our main role is to make sure rates charged to consumers adequately cover health care costs without being too high or too low," Stolfi said. "We conduct a rigorous review of the filings to make sure they're adequate."
For 2020, seven insurance companies want to offer individual plans, and nine want to offer small-group plans. That's the same number as this year.
Individuals and small groups that buy health insurance in the marketplace typically receive help from the federal government in the form of income tax credits. Stolfi said about 70 percent of Oregonians buying insurance in the marketplace get that aid.
But at the national level there are proposals to eliminate the credit, do away with the Affordable Care Act entirely and replace it with a new system. That uncertainty has prompted insurers to seek higher rates, officials say.
"There's a likelihood we could have seen rate decreases across the board this year, but for the federal uncertainty," Stolfi said.
The information released by the state Tuesday underscores how expensive health insurance has become for people who lack employer- or government-provided care.
In the individual market, a 40-year-old Portland resident seeking a "silver" plan would pay an annual premium of between $5,232 and $6,624 in 2020 under the requested rates. A silver plan is a moderate-quality plan, paying about 70 percent of health care costs and leaving 30 percent to be paid out of pocket by the consumer.
In the small-group market, the requested rates work out to an annual silver premium of a 40-year-old Portlander of between $3,936 and $4,728.
You can reach Christian Wihtol at [email protected].