Midwife Bill Clears Health Committee, Requires License
Exemptions to the law will remain for traditional cultures, while midwives without a license will be prohibited from advertising their services under an amended bill struck by Rep. Alissa Keny-Guyer, D-Portland
Editor's Note: This bill has been corrected from its earlier version.
April 15, 2013 — The House Health Committee passed a direct midwife licensing bill, deciding to prohibit people from advertising midwifery services without a license.
House Bill 2997 passed 8-1, but only after weeks of work and the consideration of 10 amendments by Rep. Alissa Keny-Guyer, D-Portland, and the Oregon Midwifery Council.
A task force headed by Keny-Guyer and Rep. Julie Parrish, R-West Linn, had decided the best way to protect Oregon babies and mothers from unnecessary deaths that have plagued home births in recent years was to require direct entry midwives to be licensed, which current law makes voluntary.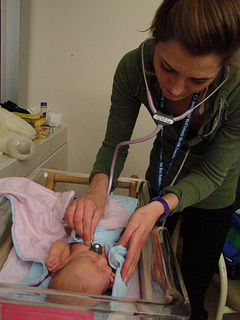 A disagreement had remained about how or whether to exempt midwives who practice as a part of a distinct cultural or religious group. The deciding logic was that if a midwife were truly integrated into a traditional community, she wouldn't need to advertise.
Besides the inability to advertise, Keny-Guyer said unlicensed midwives will not be able to offer life-saving drugs, and they must show their patients a consent waiver acknowledging that the state has not certified their training. "There's a civil penalty of $5,000 if any part of the law is broken," Keny-Guyer said.
The high fees associated with licensure is one of the biggest reasons midwives remain unlicensed. While a registered nurse might only pay $100 to $200, a direct-entry midwife currently pays $1,200 for an annual license.
HB 2997 was sent to the Joint Committee on Ways & Means in part to reduce those fees which have been set higher because so very few direct entry midwives are licensed and those fees pay the operating expenses of the Board of Direct Entry Midwifery. Once more midwives seek licenses, the cost is expected to be reduced.
Licensed direct-entry midwives are also required to have an apprenticeship and training outlined in national certified professional midwife standards. Additionally, Oregon requires they be skilled in cardiopulmonary resuscitation, neonatal resuscitation and have taken a class on pharmaceutical medications which they may prescribe.
Direct entry midwives are distinguished from certified nurse midwives, who are licensed as registered nurses and certified to deliver babies, either in hospitals, birth centers or in homes.
Keny-Guyer has said previously that mandatory licensing for direct-entry midwives was a key component of gaining acceptance of home births for the Oregon Health Plan, which covers about half of all babies born in the state.
"Home birth is increasing in Oregon and the United States, and it is increasing rapidly," said Silke Akerson, the president of the Oregon Midwifery Council. Licensing will help provide better oversight for that growing population of mothers and newborns, she said.
Alan Tressider, the lobbyist for the Oregon Midwifery Council, said the council would conduct an outreach campaign to encourage unlicensed midwives to become licensed because it's in their best interest.
"We know everyone who is practicing midwifery," said Tressider, adding that there are about 120 direct entry midwives practicing in Oregon, 40 of whom are unlicensed. He expects about 20 midwives to remain unlicensed – primarily Russian Old Believers, Mennonites, recent immigrants and Native Americans.
Reporter Christopher David Gray can be reached at [email protected].
Image for this story by Jon Hayes (CC BY-NC-ND 2.0) via Flickr.