Local ambulance company questions American Medical Response's claim of consistently complying with contracts across the country
Image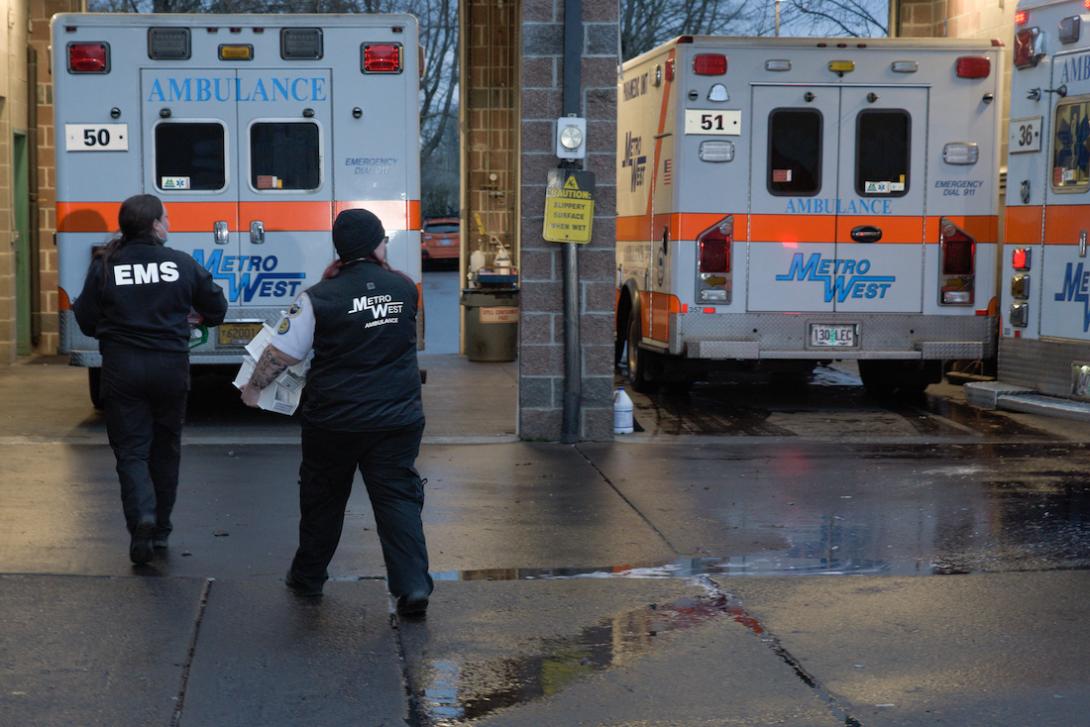 March 2, 2023
Hillsboro-based Metro West Ambulance has appealed Washington County's decision to change ambulance providers after 25 years.
The Washington County board voted 3-1 on Feb. 21 to begin negotiations with American Medical Response, citing the recommendation of a panel including county staff and local health care officials. Metro West officials, however, had said the panel did not go deep enough and questioned the accuracy of AMR's representations in its proposal, while urging the commissioners to stick with a local company rather than their Colorado-based multinational competitor.
Suzi Fulcher, a Washington County procurement manager, on Wednesday told The Lund Report that staff would consider Metro West's appeal before County Administrator Tanya Ange makes a final decision. Fulcher said she wasn't sure how long reviewing the appeal would take, adding "it's a very long document."
The precise contents of the appeal are unclear, but it is likely to address AMR's claim to have a superior compliance record to that of Metro West. The county's failure to enforce Metro West's noncompliance during the pandemic made headlines late last year after a county audit highlighted potential liability from the decision. But during the pandemic, emergency medical service providers across the country saw staff shortages limit their ability to field ambulances and meet response time requirements. 
Metro West Chief Executive Officer Shawn Baird told county commissioners that AMR's claim in its proposal to having been "consistently compliant with all contractual requirements and response-time criteria" across hundreds of EMS systems it serves across the country is false and needs a "much deeper look." He cited his experience heading an EMS contract compliance committee in Multnomah County for years.
The two counties took different approaches to the pandemic-caused ambulance delays, with Washington County simply deciding not to enforce its contract, whereas Multnomah County instead made exceptions that, for example, disregarded delays that occurred when multiple hospitals were on "divert" to limit arrivals at their emergency rooms.
Records obtained by The Lund Report show that in Multnomah County, where AMR holds the 911 ambulance provider contract, the county had documented significant contract noncompliance both during the pandemic and before it, dating back to 2018. 
Even before that, the city of Portland had considered staffing an ambulance of its own in the county's Southwest Hills neighborhood to address AMR's noncompliance and significant delays. Last year, the city of Seattle fined AMR $1.4 million for failing to meet timeliness standards on 20% of calls.
Randy Lauer, AMR's regional director, defended AMR's record to The Lund Report, but also echoed Baird in saying no provider was compliant during the pandemic.
"Our compliance has been a lot closer to the standard," Lauer said. "We have been compliant in Clark County more than half of the months since COVID" started, he said, and "Clackamas County is about the same." He added that "Metro West has just not been in compliance for a long, long time."
But Baird, of Metro West, said in an interview that "We had never missed a month (of compliance) prior to the pandemic, the entire 20 years that we had this contract." He noted a figure that was also highlighted for commissioners, that the local provider reported a stellar 44 percent cardiac arrest survival rate last year.
AMR's proposal to the county included letters of recommendation from several unions, reflecting that Metro West had fought an organizing effort in 2011, leaving lingering bad feelings, according to an article in Northwest Labor Press. AMR's workers, in contrast, have organized.
Baird, however, noted that he became CEO of Metro West last year, and also said that the company has been working for years to modernize and improve working conditions. That includes a special Metro West training program to help employees gain new credentials. He said whatever the company's reputation was in the past, it's open to working with unions now — in fact, one of its subsidiaries is represented, and so is an ambulance provider for which Metro West provides management consulting.
"If the employees are happy with the system that we're doing, that's great," he said. "If the employees were to indicate that they would be happier being organized, then we'd work with that."
---