Medical Marijuana Supporters Want Pot Allowed for PTSD
The state's medical marijuana law does not allow the drug to be prescribed for the condition but experts testify that it is effective at treating the disorder's symptoms
February 8, 2013 -- Marijuana in Oregon can be prescribed for cancer, glaucoma, HIV, Alzheimer's disease, severe nausea, severe pain and back spasms. What it cannot be specifically prescribed for is post-traumatic stress disorder -- despite what medical marijuana supporters say is a raft of evidence that marijuana may be the best drug to relieve the symptoms of PTSD.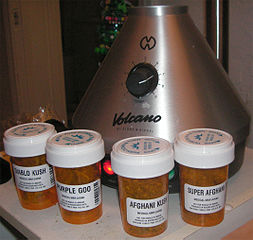 A new bill introduced in the Senate would expand the use of marijuana to include prescriptions for PTSD. The bill had its first hearing before the Health Committee on Thursday, running nearly three hours with a long list of people testifying in support.
No one testified against the bill, which is sponsored by Sen. Brian Boquist, R-McMinnville.
Doctors and medical experts from across the West and across the country testified on behalf of the bill, along with a crowd of supporters who had traveled to the hearing from across the state, including a VA doctor from Coos Bay and a woman from Medford who had been married to a veteran with PTSD.
"It's not only very useful for people with PTSD, it's much cheaper and more effective than anything the pharmaceutical company has to offer," said Dr. Lester Grinspoon, a retired psychiatrist from Harvard Medical School who spoke by telephone from Boston. "I think it is a big mistake to deprive people suffering from this problem of this medicine."
Grinspoon is the author of "Marijuana: The Forbidden Medicine," and said he first heard of its therapeutic effects on combat veterans from those returning from Vietnam.
Bryan Krumm, a psychiatric nurse practitioner at the Sage Neuroscience Center in Albuquerque, said he saw 1,000 PTSD patients who were prescribed marijuana. His patients came in with a high use of alcohol or opiates but drastically reduced their abuse of those substances when prescribed marijuana.
Krumm said PTSD was hard to treat with pharmaceuticals because it affects different parts of the brain. He said antidepressant drugs like Paxil and Zoloft were highly ineffective and could lead to increased anxiety and suicidal ideation. Marijuana by contrast works by targeting endocannibinoidal receptors, which appear in multiple areas of the brain.
"It has proven to be the most beneficial treatment," Krumm said.
Evidence of the therapeutic benefits of marijuana still lacks a controlled empirical study, but restrictions enforced by the National Institute for Drug Abuse have prohibited its use in empirical studies, creating a Catch-22.
The Food and Drug Administration approved a controlled study at the University of Arizona's College of Medicine on the safety and efficacy of marijuana in combat veterans with PTSD, but the marijuana needed for the study has been blocked by NIDA.
"Marijuana is the only Schedule I drug that needs a secondary review from NIDA," said Dr. Susan Sisely, a psychiatrist at the university. "NIDA does not favor studies that use the word efficacy in its title."
Sisely said NIDA is designed to assist in studies on the harmful effects of drugs and had similarly blocked a study on the health benefits of a marijuana vaporizer several years ago. She said Arizona has been free to use LSD and Ecstasy without facing the hurdles required of marijuana.
Oregon became the second state after California to allow marijuana for medical purposes in 1998 after voters approved the use in a statewide ballot measure. Sen. Jeff Kruse, R-Roseburg, sponsored a successful amendment to the law in 2005 that tightened the language of the law while increasing the amount patients could possess.
Kruse co-chairs the Senate Health Committee, which is led by Sen. Laurie Monnes Anderson, D-Gresham.
Marijuana is now legal for personal use in Washington without a prescription after a ballot measure passed last November. Oregon voters defeated a similar measure.
Sen. Chip Shields, D-Portland, told the audience that he supported the measure, but no vote was taken at the public hearing. Monnes Anderson told a veteran with PTSD that she was glad he finally found some medicine that would help him.
If the bill passes the Health Committee it will need to go through the Judiciary Committee before a vote in the full Senate.
Image for this story (public domain) via Wikimedia Commons.