McMinnville Nurses Push To Unionize
Nurses at McMinnville's Willamette Valley Medical Center have filed a petition to unionize, citing worries about patient safety and complaints about benefits.
The nurses at the 60-bed for-profit hospital have been talking about joining the Oregon Nurses Association since last April. But a decision by the hospital this fall to cut health care benefits for part-time nurses next year prompted the nurses to act now, they said. The cut will affect dozens of nurses.
"That was a big one that really moved this along quickly," said Corey Mertz, a registered nurse at Willamette Valley. "We had our petition done and signed and turned in within one week."
The nurses turned the petition in to the National Labor Relations Board on Nov. 21. A total of 131 nurses, about three-quarters of the nursing staff, signed it, the nurses association said. If the labor agency validates the petition, the next step would be a vote among the nurses on whether to unionize.
Over the last several years, nurses at a number of Oregon hospitals have voted to be represented by the Oregon Nurses Association.
Earlier this year, nurses at the Unity Center for Behavioral Health in Northeast Portland, the state's only emergency psychiatric hospital, voted to unionize under the nurses association.
And last month, hospital technicians and technologists at. St. Alphonsus Medical Center in Baker City followed suit. The Oregon Nurses Association represents nurses and allied health workers at more than 50 Oregon hospitals and county health departments in the state.
Legacy Health, which runs Unity Center, appealed the nurses' union petition, but the National Labor Relations Board stood with staff. The nurses in McMinnville may have a smoother ride, according to a statement from a hospital spokesperson.
"We support and respect our nurses' right to make an informed decision on this question," the spokesperson said in the statement to The Lund Report.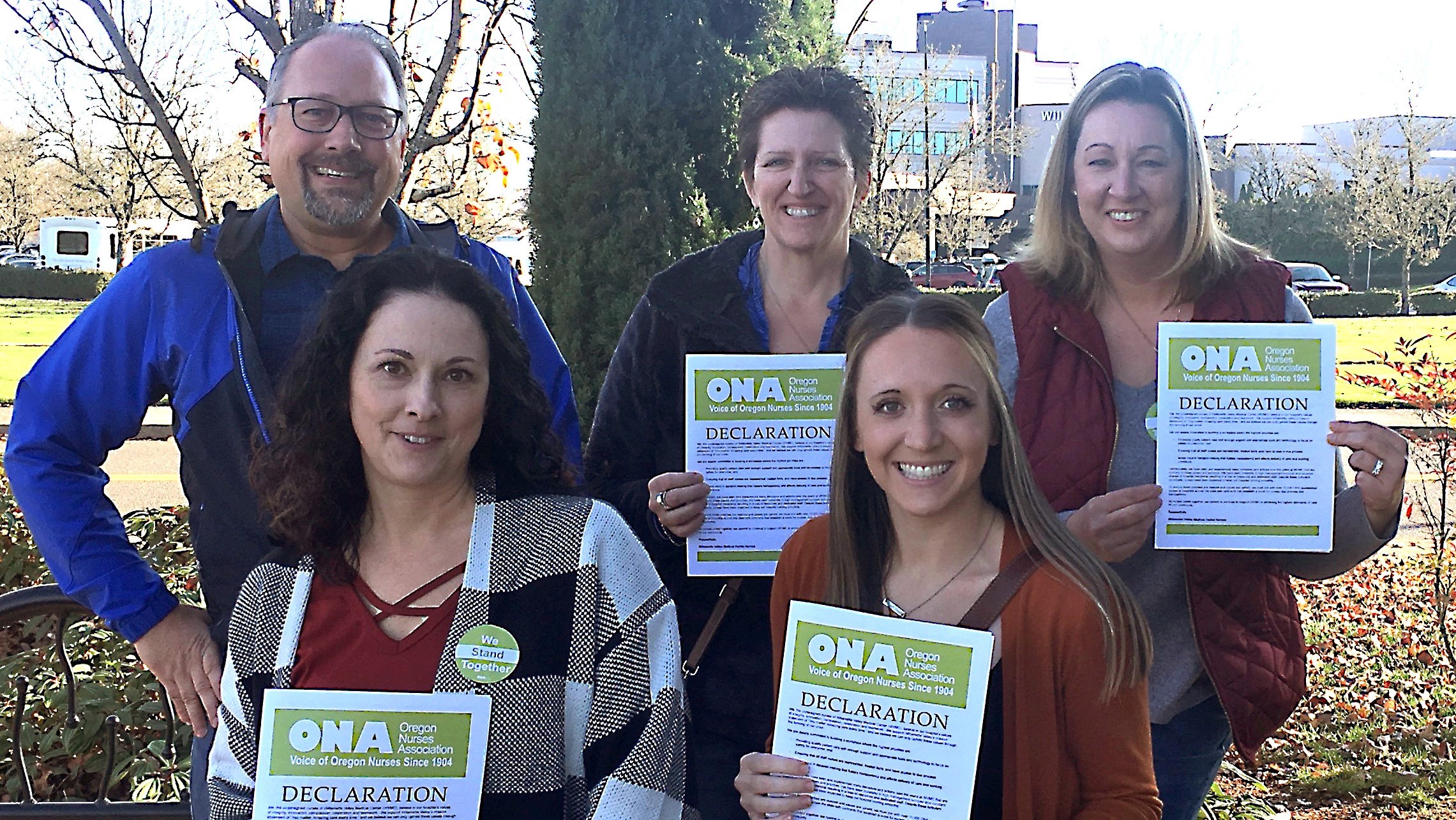 A total of 131 nurses at Willamette Valley Medical Center signed a petition to unionize./Oregon Nurses Association
Mertz and Jenie White, another registered nurse at Willamette Valley, said worries about patient safety top their concerns. Mertz, who's been at the hospital 20 years and works in various departments, said nurses are not replaced when they take their breaks, forcing their colleagues to take on too many patients. White, a nurse for 10 years, including five at the hospital, said that nurses in the Intensive Care Unit where she works now regularly care for other patients who are moved to the ICU but don't need a high level of care.
"We have nurses who are being asked to take care of more patients than is safe," White said. "Because of all these changes, we've had a lot of our qualified nurses leave."
She said the hospital has often replaced them with younger nurses, even recent graduates, putting an even bigger burden on experienced nurses.
The nurses said they have not seen any patients harmed because of a lack of staffing but they fear that could happen. The Leapfrog Group, an independent nonprofit that grades hospitals nationwide on safety, gave Willamette Valley a "D" in its latest report. The 30 other hospitals graded in Oregon got higher grades. The report gave the hospital a poor score nurse staffing, said it lacks specially trained doctors in the ICU, often fails to track and reduce risks to patients, has problems with the safe administration of medication and even ranks low on handwashing.
The hospital declined to comment about the report. A spokesperson did not respond to a question about the nurses' safety concerns.
Nurses said staff has been jostled by successive changes in management. The hospital, owned for years by Columbia HCA Healthcare, was sold to Triad, which was purchased by Community Health Systems in 2007. The next year, Community Health Systems sold it to Capella, which was later absorbed into RCCH Healthcare Partners. In 2018, RCCH merged with LifePoint Health, which currently manages the hospital.
The 60-bed hospital, one of two for-profit hospitals in Oregon, with McKenzie Willamette Medical Center in Springfield, has been a financial powerhouse for its owners. From 2006 to 2018, its profit margin averaged a sky-high 24.7 percent, or $22.7 million a year. Profits totaled nearly $300 million over those 13 years. Over the same period, annual operating revenues nearly doubled, to $113 million from $66 million, according to hospital filings with the Oregon Health Authority. But in the past couple of  years, revenues have leveled off and expenses have continued to rise, leading profits to drop. In 2018, the year LifePoint took over management, Willamette Valley Medical Center posted an operating profit of $8.7 million, or 7.7 percent, on revenues of $113 million.
The nurses blame LifePoint for the staffing shortage. 
"They're the ones driving the budget," White said. She said managers have blamed the higher patient-to-nurse ratios on the budget.
If the nurses' petition is approved by the labor board, staff will vote on unionizing and if that passes, they'll sit down to negotiate a contract. Staffing issues and health care benefits are likely to be on their agenda. If health insurance is cut to part-time employees, White fears that many of the experienced part-time nurses will leave.
You can reach Lynne Terry at [email protected].
×
This article is for premium subscribers. If you are one, please sign in below.
You can see
two
more premium stories for free. To subscribe,
click here
. We depend on premium subscriptions to survive, and they are tax deductible.