Temporary staffing agencies helped with shortages during the pandemic, but providers and others say the high cost destabilizes health care
February 23, 2023
Before the pandemic, Sharon Van Eaton recalls thinking of health care staffing agencies as a "cuss word." 
Van Eaton, executive director of the Mirabella Portland senior-living community, said that around January 2022, staff had become so spread thin she turned to staffing agencies. 
Always expensive, staffing agency prices have now reached a "new level of high," Van Eaton told The Lund Report. Many of Mirabella's residents are on fixed incomes, she added, and "Any expense in this building is paid for by our residents."  
Staffing agencies became increasingly profitable during the pandemic as hospitals, nursing facilities and others turned to them for help shoring up their beleaguered staff. Even with the pandemic waning, staffing agencies have kept their outsized role in the health care economy as worker shortages persist. 
Van Eaton and others argue the skyrocketing rates charged by staffing agencies are unsustainable and threaten to further destabilize the pandemic-ravaged health care system. They're supporting House Bill 2665, which would direct the Oregon Health Authority to cap the rates charged by staffing agencies for temporary health care workers. 
The legislation follows calls in other states and nationally for stricter scrutiny of how staffing agencies charge for increasingly scarce health care workers.
But opponents of the bill point to the experiences of Massachusetts and Minnesota, the only two states that cap the rates staffing agencies can charge, and caution that Oregon could exacerbate its health care worker shortage. 
Ed Lenz, senior counsel for the American Staffing Association, told The Lund Report that his organization understands the problem facing nursing homes and hospitals. 
"But it's not our fault," he said. 
The bill has not received a hearing and has not been scheduled for one. Most legislation must be scheduled by March 17 for a committee vote in order to clear a legislative deadline.
'They've become dependent on agencies'
State Rep. Rob Nosse, a Portland Democrat who chairs a key legislative committee, told The Lund Report he's sponsoring the bill to establish rate caps for staffing agencies to make fees paid by nursing homes and hospitals a "little more reasonable." He said there are equity issues with hospital or nursing home employees who are working alongside temporary workers who are being paid significantly more. 
"The nursing home industry and the hospital industry are at a moment where they're using more temporary staffing than they ever have," he said. "And the temporary staffing entities that are out there are charging really high fees."
The legislation would direct the Oregon Health Authority to set the rates annually based on average wages, geographic regions, personnel education and other factors. 
Kristin Milligan, CEO of LeadingAge Oregon, told The Lund Report that staffing agencies have always been used by long-term care providers her organization represents to fill in for sick workers or difficult-to-cover shifts. 
"But in the last few years, they've become dependent on agencies," said Milligan. 
Milligan said one provider is using an agency to fill 100 shifts a week and is paying 208% more than their regular staff. She said the provider offered substantial pay hikes to staff, but still struggled to retain them.
During the pandemic, providers began losing workers to staffing agencies offering substantially more pay, Milligan said. In particular, long-term care providers are struggling to find certified nursing assistants, she said. They're also having a hard time finding dining and housekeeping staff, she said. 
While there's a broad shortage of health care workers, nurses have been particularly in demand. Many have left their regular employer to work as travel nurses with staffing agencies, which offer better pay. 
The American Hospital Association and other groups wrote to congressional leaders last year complaining that staffing agencies were driving up labor costs for hospitals. The letter cited data from Prolucent Health, a workforce technology company, showing a 67% jump in the advertised pay rate for travel nurses between January 2020 and January 2022, with hospitals paying another 28-32%. 
The average weekly pay for a travel nurse in January was $3,077, according to Becker's Hospital Review, citing data from national healthcare hiring marketplace Vivian Health. That's up from the $1,896 a week a travel nurse made three years ago. 
AMN Healthcare Services, Inc., which has contracted with Oregon for nurse staffing, reported $3.9 billion in revenue for 2021, up 66% from the previous year. 
Labor crunches at long-term care facilities are having a ripple effect. Oregon's hospitals have complained that they are increasingly being stuck with patients who would be better served in a skilled nursing facility or lower level of care but can't be discharged because of a lack of beds. 
Mirabella Portland operates a 44-bed skilled nursing facility for people getting out of the hospital after a knee replacement or recovering from a stroke or COVID-19, said Van Eaton. The facility would have no problem filling beds but has been under capacity, she said. 
"It wasn't because we weren't getting the referrals," she said. Instead, it was because of a lack of staff, particularly certified nurse assistants. 
In addition to asking for up to three times what their regular staff are paid, Van Eaton said her organization is expected to offer bonuses to compete with other worker-hungry businesses. She said that one of the retirement communities operated by Pacific Retirement Services, Mirabella's parent company, agreed to pay $135 an hour for a nurse to work a floor shift.
Farther upstream, hospitals are also struggling to pay staffing agency rates. 
Charlie Tveit, the CEO of Lake Health District, which operates a hospital in rural Lakeview, told The Lund Report that during the pandemic staffing agency rates for nurses shot up three times what his district would pay regular staff.
"It was helpful when we got federal and state monies to help reduce the cost to us," he said, referring to pandemic relief funds. "But when that money stopped, we didn't have the money anymore and we couldn't afford it. It's not sustainable."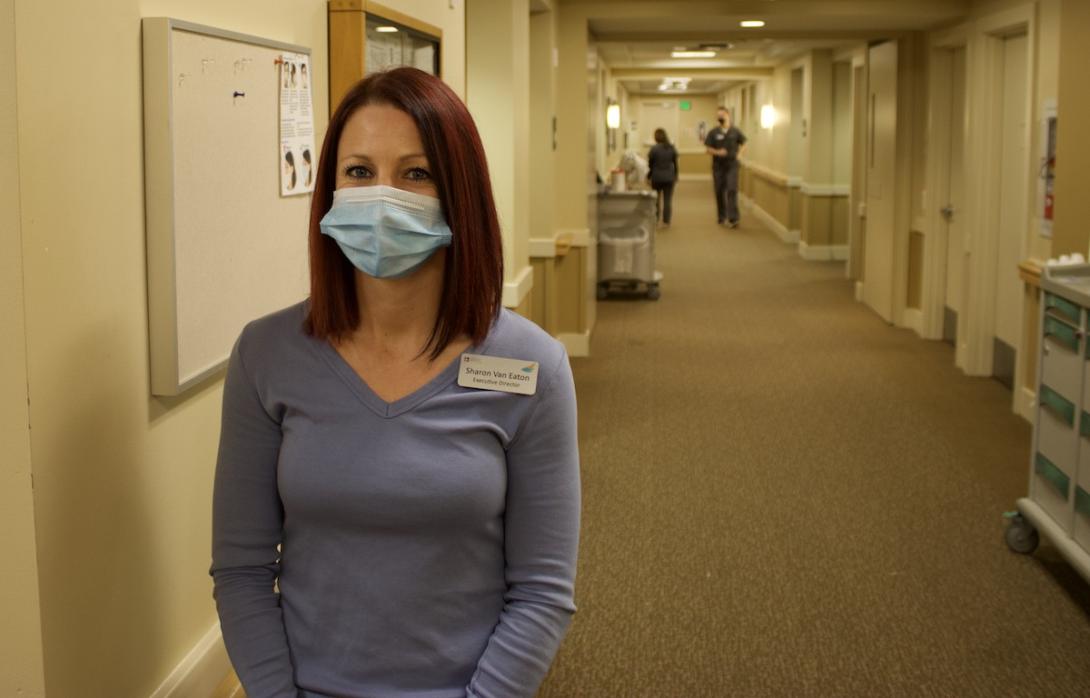 Van Eaton said certified nursing assistants and other workers hired through an agency start with a learning curve and need to be brought up to speed on basic operations, such as where the clean and soiled utility rooms are located. She said temporary workers also don't have an ongoing relationship with patients the way regular staff does. 
Stephanie Cook, Mirabella Portland health services administrator, said they sometimes haven't been trained to the right safety standards, like using two people to transfer a patient from a wheelchair to a bed using a Hoyer lift. 
Cook described the difficult balancing act skilled nursing facilities, such as Mirabella Portland, must perform. Bringing temporary staff allows it to serve more patients and brings in more money. 
"But if you're paying the agency staff so much you may actually not be making money on your skilled nursing stays," she said. 
Van Eaton said that Mirabella Portland is seeking to relicense the memory care portion of its skilled nursing facility as a residential care facility. She said the change will still allow residents to receive care but won't require it to be staffed with as many costly credentialed workers.  
"I think you''re going to see more skilled nursing (facilities) close their doors and or just change their license to different levels," she said.
'No formula for appropriate wages'
Lenz, of the American Staffing Association, said the caps imposed by Massachusetts and Minnesota on how much health care staffing agencies can charge have been ineffective. He said if Oregon follows their lead, it'll drive down wages for health care workers and worsen the labor shortage. 
As proof, he points to how Minnesota and Massachusetts had to relax their caps during the height of the pandemic so nursing homes and hospitals could get the nurses they needed, he said. 
"You would think that a rate cap might be needed, at least maybe to deal with abuses in some cases, would be during a period of emergency when demand is high and prices are skyrocketing," said Lenz. 
Lenz said "there's no formula for appropriate wages," pointing to how nurses saw their wages shoot up because of the extraordinary pressures they faced during the pandemic. Others, he said, are on strike for better wages, and in Oregon, they are pushing for minimum staffing ratios at hospitals.  
If Oregon were to adopt a cap near the market rate, it wouldn't have much of an effect, he said. But he added that if rate caps are so low that health care staffing agencies can't operate profitably in Oregon, they'll stop doing business in the state and nurses will flee to Washington state. 
He said better solutions would be raising the low reimbursement rates for Medicare and Medicaid to help nursing homes and hospitals, as well as reworking Oregon's price-gouging law to target any abusive behavior by staffing agencies. 
The Oregon Legislature in 2022 considered enacting caps on health care staffing agencies, but instead passed a bill requiring them to be authorized by the state. The bill also directed the Oregon Health Authority to produce a report on rate caps.
For the report, the health authority contracted with consulting firm Mercer to engage with interested parties including LeadingAge Oregon, Express Healthcare Professionals Staffing Agency (whose corporate office didn't respond to a phone call seeking comment) and others. 
The report raised doubts on if capping rates would solve the problem, noting that "without a significantly growing workforce, facilities will continually be looking to hire the same pool of workers."
"Setting maximum rates based upon current and historical rates for temporary staff does not address the current structural challenges for health care staffing that are caused by higher rates for temporary staffing," reads the report. 
Tveit, the CEO of Lake Health District, said that despite his own difficulties finding staff, he's skeptical that rate caps will work and that staffing agencies may stop providing temporary workers. 
Milligan, CEO of LeadingAge Oregon, said there is data showing long-term care is having a particularly hard time rebounding from the pandemic and needs help. She said that health care providers have always expected staffing agencies to cost more, but it's gotten too high. 
"There's just not an infinite pool of money that is available," she said. 
---