Legislature Carves a Place for African-American Hair Care
House Bill 3409 sets licensing standards for "natural hair care," and allows for businesses where stylists can weave, lace and braid hair without a degree from a beauty school.
May 24, 2013 – A few years ago, Amber Starks wanted to volunteer her hair braiding and weaving skills to African-American kids in foster homes, but was denied by the state Board of Cosmetology. On Thursday, the Legislature signaled its support, granting a path where Starks can both help foster kids and run her own business specializing in hair designs unique to black culture.
House Bill 3409 provides a legal framework for practitioners of natural hair care design. Stylists will be required to pass a test to become licensed and meet health, safety and hygiene standards set by the Board of Cosmetology, but stylists can practice their craft without completing a beauty school program.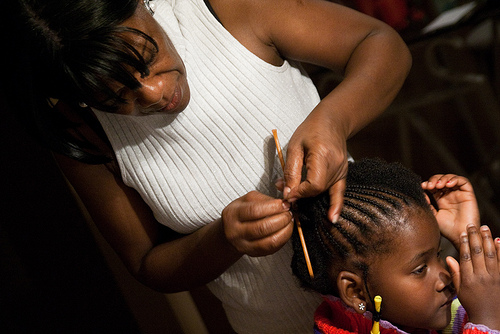 "It legitimizes something legally that's already being done," Starks said.
Without the bill, natural hair care stylists had been forced to have a degree from a school of cosmetology, even though such a degree may not include training in hair design for people with hair of African origin.
This fact had Rep. Paul Holvey, D-Eugene, calling on the Board of Cosmetology to review its requirements for certifying hair stylists, since beauty schools currently can skip over the hair styling needs of an entire racial group.
Starks said her skills came naturally, handed down among women in the African-American community.
Sen. Jackie Dingfelder, D-Portland, said a full-blown cosmetology degree costs upwards of $10,000 and entails 1,500 hours of training.
She said HB 3409 specifically prohibited natural hair stylists from stepping beyond their scope of practice by precluding them from cutting hair or using chemicals. Natural hair care is limited to techniques that the stylist can do by hand.
The Senate passed HB 3409 on an 18-11 vote, but not without the opposition of the Senate's only African-American legislator, Sen. Jackie Winters, R-Salem.
Winters said a lot more needed to be done to ensure oversight of the more complicated procedures such as lacing and attaching extension, and she was concerned that hair could be damaged if done improperly.
"After an extensive conversation with my beautician, I am a no," Winters told her colleagues. All but two Republicans supported Winters' position — Sen. Bruce Starr of Hillsboro and Bend's Sen. Tim Knopp, who was a chief sponsor and gave a speech in support:
"There's no reason we need 1,500 hours to do what these folks do and they do well," Knopp said.
Starks told The Lund Report that there would be bad natural hair stylists just as there are bad full-fledged beauticians, but believes the free market would sift out the bad stylists.
Natural hair care stylists will still be subject to standards set by the Board of Cosmetology and the Oregon Health Licensing Agency.
The journey to passage of HB 3409 started with Starks' charitable vision of offering her services for free to African-Amercan foster kids, who are often placed with Caucasian families unfamiliar with these kids' hair needs.
"I have this cultural practice, and I see these kids in my culture who don't have access to it," Starks said.
The Department of Human Services was cool with the idea, but not the Board of Cosmetology, which told Starks she would have to change the law.
When Starks wasn't allowed to style hair where she lives in east Portland, she opened a business in Vancouver, and decided to put democracy in action, contacting legislators, Dingfelder and Rep. Alissa Keny-Guyer.
She said they worked with her every step of the way to support the legislative effort: "They invested in me," she said.
The legislation was initially opposed by some beauticians, but Keny-Guyer said their lobby has chosen to be neutral this session. Keny-Guyer argued that as the profession comes into the daylight, it could attract applicants who haven't been taught the techniques to enroll in beauty schools.
Keny-Guyer said Starks helped write the legislation, and enlisted the support of the Urban League. Starks even held a townhall meeting in north Portland, which was well-attended.
In Washington, a lawsuit caused its board of cosmetology to exempt natural hair care styling entirely from licensing requirements, but Starks said she preferred that the state set some quality standards to elevate her trade among the ranks of barbering and nail design.
"I love this bill. It's helping close disparities," Keny-Guyer told The Lund Report. "It's opening up jobs. It recognizes other cultures that exist."
Keny-Guyer said she saw a strong political future for Starks — so long as she doesn't take her job just yet in the state Legislature.
The House passed HB 3409 unanimously in late April. Oregon's only other black legislator, Rep. Lew Frederick, D-Portland, has been a chief sponsor, along with Keny-Guyer.
The bill had a minor technical change from the House version, but Holvey said he's already signed the paperwork asking that chamber to concur. HB 3409 could become law as early as next week.
Christopher David Gray at [email protected].
Image for this story by Steven Depolo (CC BY 2.0) via Flickr.