Image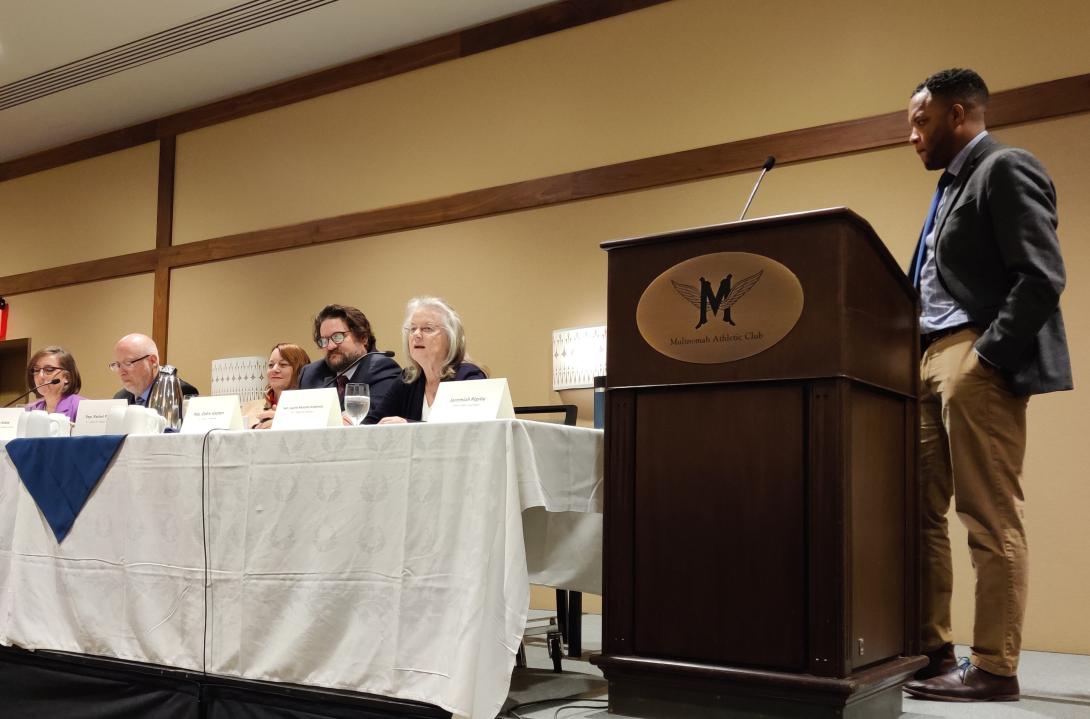 January 22, 2020
The Oregon Legislature will hold a short session this year, with fewer bills on the table than last year.
But some -- on vaping, prior authorizations and Medicaid reporting -- could stir controversy.
Five state lawmakers discussed their plans for the session, which lasts from Feb. 3 through March 7, on Wednesday at the Oregon Health Forum breakfast at the Multnomah Athletic Club.
State Sen. Laurie Monnes Anderson, a Democrat representing Gresham, Wood Village, Fairview and Troutdale, said she will introduce a bill banning flavored vaping products. Some parties want so-called combustibles to be included, but Anderson said it will be challenging to get lobbyists and lawmakers to agree on that.
She will also champion a bill supporting a new type of dental therapist -- someone between a dental hygienist and physician -- to make oral health care more accessible. But one panel member, state Rep. Cedric Hayden, a Republican representing Douglas and Lane counties who's a practicing dentist and member of the House health care committee, said he's against it.
Anderson has another bill that could create resistance: It would close loopholes that allow coordinated care organizations withhold information they consider to be proprietary from required reports to the Oregon Health Authority.
"We don't want our CCOs to suffer," Monnes Anderson said. "But we are giving them billions of dollars," she said. 
Andrea Salinas, a Democrat from Lake Oswego and chair of the House Committee on Health Care, said the state needs to work on expanding the behavioral health care workforce. She has a bill that would direct the health authority to hire an expert to study the problem, providing fodder for a budgetary proposal for the 2021 session.
"We have a lot of work to do, and what we're saying with this bill is we are acknowledging the work that we have ahead," she said. "This is going to be a long haul." 
The forum, moderated by Jeremiah Rigsby, chief of staff of CareOregon, is usually a low-key affair. But one attendee, Mike Marshall, director of Oregon Recovers, got up and essentially blasted the state for inaction on substance abuse. 
"Here we are going into a short session," Marshall said. "Several of you referenced substance use disorder, but no one suggested it was a priority."   
Marshall said the Legislature directed the Alcohol and Drug Policy Commission to come up with a plan for addiction treatment and prevention about two years with Gov. Kate Brown declaring a public health crisis. But she's since shelved that work while a behavioral health task force meets.
Yet the problem is only getting worse, he said.
"We now have the third highest addiction rate in the country, and we continue to be last in access to the treatment." 
He said the death toll was seven times higher than the worst years of the AIDS epidemic: "Today, five people are going to die in Oregon from alcohol related deaths. We're going to see one to two drug overdoses. That's six to seven people a day, over 2,100 people a year."
Would lawmakers support a special session?" he asked.
The response was tepid. 
Ron Noble, a Republican representing Hillsboro and Yamhill County, said he would support an emergency session depending on the details, and Salinas, too, said she would need details. 
"I'm not willing to continue to just put money in different places," Salinas said. 
Only Hayden voiced a willingness to leap right in: 
"Why can't we start next week to tackle that," he asked. "I don't know that we need special sessions for it. We just need the political will to tackle it."
Marshall told The Lund Report after the forum he was dissatisfied with their answers but acknowledged that lawmakers work in a slow, incremental way. 
The culprit, he said, was Brown.
"It's the governor's job, not their job," he said. 
The forum also touched on another potential controversy at the Capitol. During the session, Rep. Rachel Prusak, a Democrat representing Tualatin and West Linn, said she will champion a bill to ease restrictions on prior authorizations and step therapy. 
Prior authorizations require physician's offices to ask for approval from a patient's insurance company before performing medical procedures or prescribing medications. Step therapy requires patients to fail certain therapies before they can qualify for others. 
"They often result in higher levels of administrative burden and can contribute to delayed treatment and negative patient outcomes," Prusak said.
But insurers are likely to line up against the bill. A similar proposal introduced last session failed.
Prusak, a longtime nurse practitioner, considers primary care access another big issue. She will be on a workgroup this session, with physicians, nurse practitioners, substance use disorder providers, health clinics, hospital systems and payers.
"We have a large group of Oregonians covered by insurance, but that doesn't mean they are actually accessing primary care," she said. 
You can reach Wyatt Stayner at [email protected].