Records show a quick approval is possible, but Legacy's plan differs from an earlier one the Oregon Health Authority approved
March 2, 2023
Legacy Health is still planning to close the Family Birth Center in Legacy Mount Hood Medical Center in Gresham by March 17 even though it hasn't submitted a formal request to state officials who need to sign off on the move.
Under state licensing regulations, Legacy has to send the Oregon Health Authority documents describing how closing the birth center won't jeopardize the health or safety of patients and will instead improve their care. The birth center serves about 275,000 people, including diverse communities and people with low incomes in east Multnomah County and Mt. Hood. Community members, hospital workers and elected officials worry the closure will increase health disparities and put expectant mothers in dangerous situations as they are forced to travel to hospitals in Portland to give birth. 
Legacy spokesperson Ryan Frank told The Lund Report in an email Monday that the health system's teams are working on the waiver request and didn't have a date for when it would be submitted. He confirmed Legacy is still planning for a March 17 closure. 
"At this time, our focus is on ensuring safe care for our patients as we transition to close the Mount Hood Family Birth Center," he said. 
Legacy's Jan. 27 announcement took patients and officials by surprise, and the tight time frame for the health system to get approval for the move has also raised eyebrows. State Rep. Ricki Ruiz, D-Gresham, told The Lund Report it's unclear why Legacy has yet to ask the health authority for the waiver it needs for the closure.
"It is definitely interesting that (Legacy) already had plans to shut it down in January," he said. "I would assume the waiver would have been submitted around that time." 
Opponents of the birth center closure, including Ruiz, still hope to pressure Legacy to reverse course. Some are hoping to convince the health authority to deny its approval. 
If they succeed, it will be a different outcome from what happened three years ago. 
The health authority's approval of a waiver St. Charles Health System sought has notable parallels to what Legacy is seeking. 
The Redmond Family Birthing Center closure in July 2019 was the most recent hospital-based birth center to shudder. St. Charles Health System, central Oregon's largest provider and operator of the center, announced the closure close to 10 months in advance, in October 2018.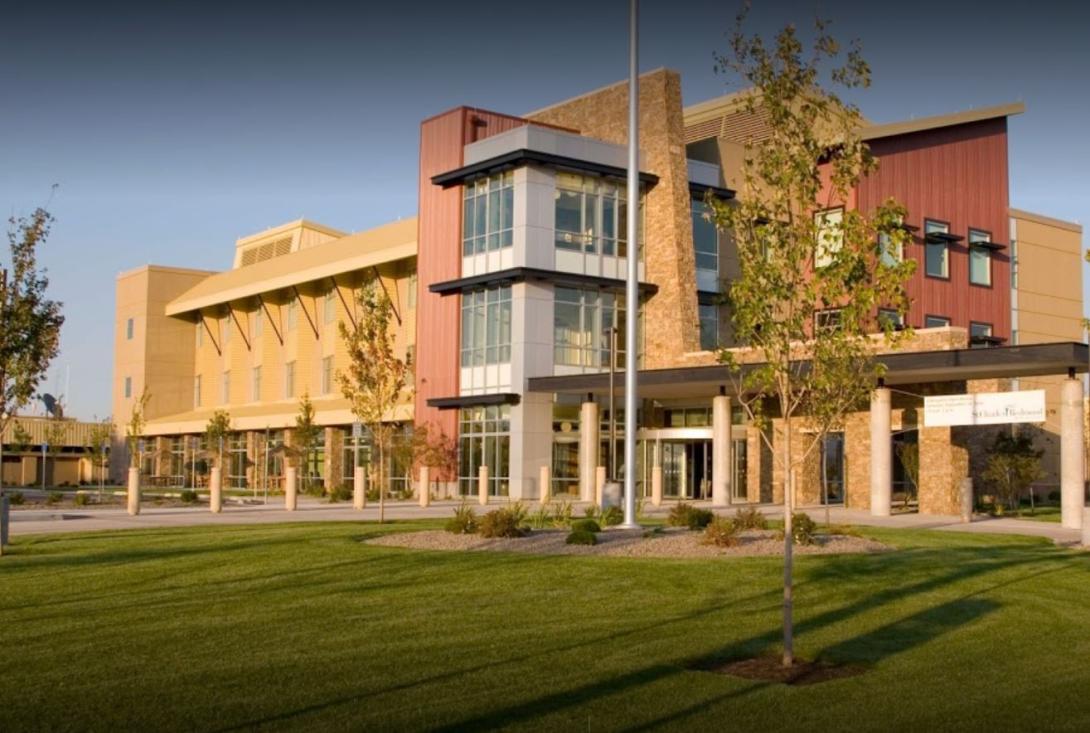 When hospitals seek waivers to stop offering maternity services, the Oregon Health Authority's decisions "take into consideration the location, maternity services available within the same health care system nearby, and other key factors,"  authority spokesperson Jonathan Modie told The Lund Report in an email. 
The waiver requests must describe the hospital's circumstances, the alternatives considered to keep the birth center open and why they were deemed unviable, he said. Additionally, he said the waiver request must show how the closure is "desirable" and will maintain or improve patient health. 
St. Charles' rationale for closing the Redmond birth center mirrored what Legacy is saying today. Both health systems said their respective birth centers were seeing less use and it had become prohibitively expensive to keep them open. 
The Mt. Hood birth center saw the number of babies born there fall 17%, from 925 to 720 between 2019 and 2021, according to figures provided by Legacy. Documents submitted by St. Charles to the health authority stated that less than half of all its maternity beds were being used. 
The proportion of women covered by the Medicaid-funded Oregon Health Plan at both the Redmond and Mt. Hood birth centers hovered around 60%, according to health authority data. 
St. Charles directed expectant mothers from the Redmond birth center to its Bend hospital about 20 miles away, which would include a new obstetrics hospitalist program. 
Legacy is planning to direct expectant mothers to Randall Children's Hospital in northeast Portland less than 20 miles away while expanding women-oriented health services at the Gresham hospital and training its emergency department staff to perform deliveries. 
Like Legacy, St. Charles also waited until the last minute to submit its waiver despite announcing the closure of their respective birth centers months earlier.  
Documents obtained by The Lund Report through a public records request show St. Charles administrators were still scrambling to get their waiver request in as its planned July 13, 2019 closure loomed. 
A St. Charles manager was emailing health authority staff on June 21, 2019 about speeding up review of the waiver request that the health system had yet to submit. 
"Given the fact notification of closing the Family Birthing Center in Redmond has gone out and is set to be effective as of July 13, 2019, is there any way to expedite this review?" Ashley Knox, St. Charles quality accreditation manager wrote in an email to the health authority. "If not, are there any penalties in moving forward without an approved waiver?"
Records show that on June 24, 2019 St. Charles submitted its request for a three-year waiver. On July 9, just days before the planned closure, Dana Selover, a health authority manager, responded saying that the waiver had been signed the previous week on July 3 and a paper copy would arrive in the mail. 
The approved waiver from St. Charles described how the Redmond birth center had seen declining usage and that patients would receive better care at its hospital in Bend 20 miles away. Closing the center would "reduce the need for risky neonatal transports" while allowing the health system to direct resources to oncology and caring for the aging population, according to the waiver.  
A one-page document from the health authority explaining its decision to grant the waiver for three years said that St. Charles had produced a plan that "adequately addresses patient care needs." The document also laid out the conditions for the waiver to stay in place: the Redmond hospital needed to stay in the St. Charles' system and its emergency department staff needed to be trained for deliveries. Other hospitals in St. Charles' health system couldn't stop providing maternity services. 
The waiver noted that physicians, surgeons and caregivers in the Redmond hospital's emergency room would receive additional training for sudden deliveries. Additionally, the Redmond hospital would expand its women's services including a nurse midwifery group offering outpatient appointments, the waiver stated. 
St. Charles successfully applied to renew the waiver on March 11, 2022, stating in its request that obstetric and gynecological patients in the Redmond area had received "exemplary care." The Redmond hospital's emergency department had only one precipitous birth, and that ended successfully. Meanwhile, closing the birth center opened up needed space during the COVID-19 pandemic, system officials wrote. 
One difference between the two is Legacy's truncated timeline. Legacy announced the March closure of the Mt. Hood birth center in late January. St. Charles made its announcement nearly a year in advance.  
Before St. Charles administrators made the decision to close the family birth center, the health system assembled a task force of experts who spent nearly a year looking at birthing services options in the region. 
Legacy indicated in a previous statement that it initially didn't intend to close the birth center and instead planned to transition it to a new, more efficient and financially viable model. But Legacy said it had no choice but to close the center after being unable to find enough workers to staff it.
---