Image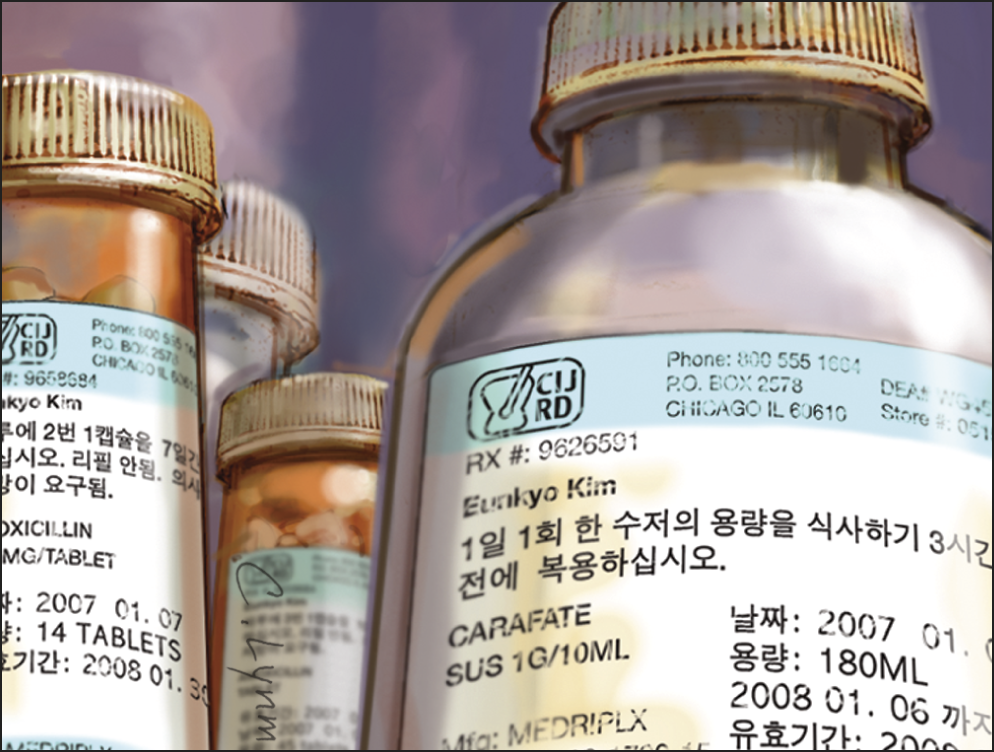 March 11, 2019
For people who don't read much English, following prescription labels can be a guessing game. Those who guess wrong can end up hurt by the medication that was supposed to help them. Even worse, they can end up hospitalized.
That's what happened to an Iraqi child with asthma. A refugee from the war, her mother and four siblings fled Iraq to the United States. All of the children had asthma from a bomb explosion. A provider instructed the mother to use an emergency inhaler when necessary while using another one to manage symptoms.
The mother misunderstood. She had the children use the emergency device regularly, causing one child to be hospitalized.
According to a 2017 study by the Academic Pediatric Association, the rate of medication errors is more than double for patients with limited English proficiency.
Two bills in the Legislature are designed to fix that problem. Senate Bill 698 and companion House Bill 2081 would require pharmacists to label prescription drugs in languages other than English if the patient's understanding of the language is limited. The law would apply to languages spoken by at least 0.2 percent of the state population: Spanish, Chinese, Vietnamese, Russian, German, Tagalog, Japanese, Korean and Arabic.
Kristen Beiers-Jones, assistant professor of clinical nursing at the Oregon Health & Science University, is behind the bill. Along with a team of students, she cares for immigrants and refugees in east Portland through a special program.
She told The Lund Report that almost none of her patients understand English and that three-quarters of them do not follow directions on the label because they can't understand what they say.
The bills, which are identical, have garnered support from 19 Democrats in both chambers and a slew of organizations including the Oregon Nurses Association and the Oregon Public Health Association.
The bills were heard on Friday and Monday by the Senate health committee.
Most people testifying voiced their support.
Dr. Brian Park, a Portland physician, recounted how his sister, who was diagnosed with a debilitating chronic condition at the age of 3, screamed with pain because of a medication mistake. Her Korean parents had not given her enough of medication because they couldn't read the label.
Decades later, one of Park's patients had a similar problem. He said the patient, of Korean descent, ended up in the emergency department because his wife mistakenly gave him double the dose of his blood pressure medication.
"In the 30 years spanning my family's and (other) medication errors, we have developed a wide array of medical innovations," Park said. "And yet, we have not yet figured out how to support patients with limited English proficiency to simply read their medication labels."
Another Portland physician, Dr. Maggie Wells, told the story of Leilani, 7, a Laotian-American with a compromised immune system who requires penicillin twice a day. The child ended up in the ER because her parents had accidentally been giving her vitamins instead.
Wells ordered a new prescription and asked the pharmacist to print a label in Lao. She was told this was not possible.
"The only difference between a medicine and a poison is understanding how to use it," Wells said in testimony. "Giving someone a pill bottle with an illegible label is dangerous and wrong."
There are not enough Laotians in Oregon to have the bills apply to their native language as they are written but supporters hope all languages will eventually be included.
Not everyone who testified supported the bills.
Kaiser Permanente lobbyist Inga Deckert said the 0.2 percent requirement in the bill is too vague, requiring pharmacists to change the languages every year. She said Kaiser uses interpreters instead.
Another lobbyist, Bill Cross, who represents the Oregon Pharmacy Coalition, told Senators on Monday that the law would increase costs for pharmacies without providing a corresponding increase in payment or reimbursement from insurers. He said the bill threatens to eliminate independent pharmacies in Oregon.
Cross and Deckert both said they would support the bill if it resembled a law passed in California that requires medication labels in only five languages at the request of the patient or the patient's representative.
The chair of the Senate health care committee, Laurie Monnes Anderson, D-Gresham, said she wants the opposition to work with the proposal's creators to find a compromise. She has postponed a committee vote on the bill until both sides come to a solution
Have a tip about health care or the Legislature? You can reach Alex Visser at [email protected].