Kitzhaber Plan Reduces Excess Nursing Home Beds, Cutting Costs
A plan to consolidate nursing homes could cut costs by more than 8 percent in one Oregon small town, but a removal of the nursing home tax exemption in HB 2056 is meeting resistance from continuing care retirement communities
April 11, 2013 — A plan put forward by Gov. John Kitzhaber could save long-term healthcare costs by reducing the number of half-empty nursing homes around the state through financial carrots and sticks to providers.
House Bill 2056, which also removes exemptions from the long-term care assessment tax and extends the tax until 2020, allows the Department of Human Services to set up negotiations with competing facilities without running afoul of anti-trust laws and offers them financial incentives to close unneeded facilities.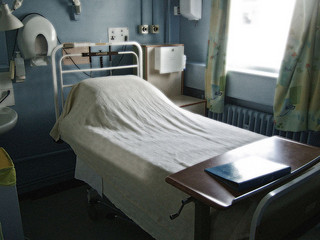 Jim Carlson, the president of the Oregon Health Care Association and the chief lobbyist behind HB 2056, said the state will offer greater reimbursements to nursing facilities that consolidate in markets with high vacancy rates.
The goal is to eliminate 1,500 excess nursing beds by the end of 2015 and lower overhead costs for the remaining nursing homes that operate at higher capacity.
But if the goal is not met, the state will lower the Medicaid reimbursement rate to all nursing home facilities.
"That's a powerful incentive in the assessment to see the capacity reductions," Carlson said.
Kitzhaber's policy advisor Sean Kolmer told The Lund Report the plan came out of a need to reduce spending waste, but he didn't know of any other states that have attempted a similar strategy. The Legislature has responded positively, passing HB 2056 unanimously through the House Health and Revenue committees and sending it to the Joint Committee on Ways & Means.
Carlson mentioned a small Oregon town with four nursing homes within blocks of each other. Together, the facilities are only half-full on average, and the busiest one still only operates at 57 percent of capacity. The town's facilities cost an average of $231 a day per patient to operate.
But if two of those facilities were to close, costs would be reduced to $212 per day per patient, and occupancy would rise to 88 percent, with one facility still less than three-quarters full. That model community would cut long-term care costs by 8.5 percent.
Normally, these competing nursing homes wouldn't be able to come together and act to save costs by closing facilities because that would be collusion. But Kitzhaber's plan has a safe harbor provision that allows the Department of Human Services to act as a mediator. "DHS has to be the convener of those meetings," Carlson said.
If the parties decide to close facilities, Carlson said they'd likely have a 180-day period where they would stop accepting new patients and start winding down operations. Since few patients stay in Oregon nursing homes longer than six months, most patients wouldn't have to be moved to a new facility.
In towns that have only one nursing home, such as in Lakeview, Brookings or Enterprise, that facility couldn't close down.
Carlson said while other states back East such as Ohio still direct services to ailing seniors through nursing homes, Oregon has been much more progressive about keeping people in their homes or routing them toward lower-cost facilities such as assisted-living centers that do not have nurses on site every hour of the day.
But while Oregon has fewer people in nursing homes, the state still has many of the same facilities it had in the 1960s. A 2012 study by AARP showed that Oregon had the lowest occupancy rate in the nation — 63 percent. The national average is 84 percent.
"It's increasingly a short-term stay after hospitalization," Carlson said of nursing home use in Oregon. Only about 15 percent of Medicaid caseloads are served in nursing homes, with the remainder in less-intensive community settings.
The state Medicaid program currently reimburses nursing care facilities at the cost levels reported by a nursing home at the 63rd percentile. But if 1,500 beds aren't reduced statewide according to Kitzhaber's proposal, that rate could ratchet down as low as the 53rd percentile.
Tax Controversy
The passage of HB 2056 was not without controversy. A number of senior citizens and representatives of continuing care retirement communities protested the removal of an exemption to the long-term care assessment that will hit their communities next year, even though they do not accept Medicaid patients.
"None of our residents have ever been on Medicaid," said Sam Farmer, a resident of the Friendsview Retirement Community in Newberg. "We take care of our own, that's the kind of facility we are."
Continuing care retirement communities provide a home for more financially comfortable seniors in their declining years. Residents can move between independent housing, an assisted living facility and a nursing facility as needed, but are charged a fixed cost.
Since only seniors with significant retirement savings can typically afford such services, these facilities don't accept people who rely on public assistance for their healthcare needs. If they don't have Medicaid patients, these facilities will get taxed for their nursing home beds, but won't get any money back from the state to pay the healthcare costs for low-income seniors.
"There's a reluctance on our part to bring these groups in," said Rep. Cliff Bentz, R-Ontario at the hearing of the House Revenue Committee, which voted 9-0 to approve HB 2056, including the removed exemption. "The incentive is we won't have enough money to take care of other people in desperate need."
Carlson said there are a number of nursing homes in Oregon that refuse Medicaid patients but get taxed anyway so the state can provide services in those facilities that do.
And in order to get a special waiver from the federal government to exclude these nursing homes, the state would have to grant an exemption from the tax for those facilities with a high number of Medicaid patients, thus losing out on even more money.
Both Kitzhaber and former Gov. Ted Kulongoski tried and failed to get the exemption removed previously, but this time Kitzhaber built his budget without the exemption so if the Legislature wanted to exclude the retirement communities from the tax, it would have to be offset with cuts or revenues elsewhere.
"We had to reauthorize the nursing home assessment anyway," Kolmer said. "Our budget is predicated on removing those exemptions. … They don't make sense anymore."
The removal of their exemption at the start of next year will bring in an extra $3.9 million to the next fiscal year, with another $6.7 million leveraged from the federal government, for a total of $10.6 million in new revenues. The only entity that gets to keep its exemption is the Oregon Veterans Home in The Dalles.
The extension of the sunset from next summer to 2020 will allow the state to collect an additional $58 million next biennium and $128 million the following biennium. That will leverage an additional $317 million from the federal government during those next four years to pay for Medicaid costs.
"It's a vital source of funding for our long-term care facilities," said Mike McCormack, the deputy director for the Aging & People with Disabilities Division at the Department of Human Services.
Reporter Christopher David Gray can be reached at [email protected].
Image for this story by Alex Faraway (CC BY-NC-SA 2.0) via Flickr.