Kitzhaber Celebrates First Year of CCOs with Fanfare in Portland
With primary access up and emergency rates down, the governor and the CCOs had much to tout at Thursday's forum. They praised the advantages of team efforts where community health workers could provide better outcomes than doctors alone. Members of the so-called community advisory councils were invited, but in some counties the public remains shut out of the process.
Gov. John Kitzhaber and his team at the Oregon Health Authority's Transformation Center trotted out a year's worth of successes in delivering Medicaid through coordinated care organizations at a conference in Portland Thursday.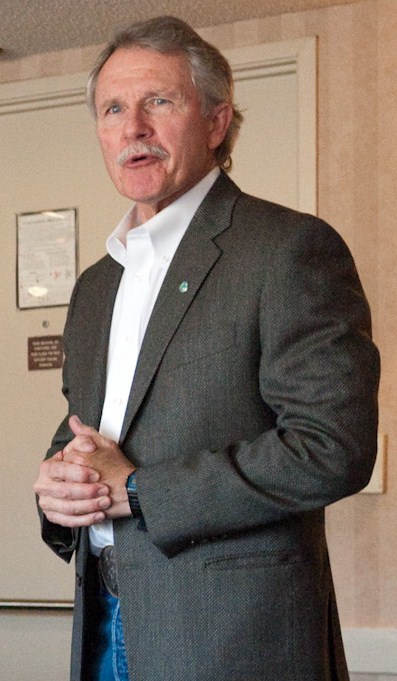 He sprinkled his remarks with literary allusions to Hemingway and the French poet Guillame Apollinaire to underscore the challenge of getting competing health interests to sit together on CCOs to achieve better results for all:
"Come to the edge, he said / And they were afraid. / Come to the edge, he said— / And I pushed them off," Kitzhaber remarked to laughter. "And they flew."
Kitzhaber told the audience that Oregon was given a "bag of money" by the federal government — $1.9 billion over five years —  to invest in a better, more cost-effective way to care for the state's most vulnerable citizens — and early reports of lowered emergency department usage and fewer hospitalizations for long-term illnesses like chronic obstructive pulmonary disease show the Oregon Health Plan is headed in the right direction.
"Early indicatons are that we are really moving toward solving the problem," Kitzhaber said.
Representatives of CCOs from across the state shared compassionate anecdotes of how being free to treat a patient's whole health rather than just bill for illnesses and injuries has allowed them to overcome life challenges that prevented good health, all while saving the system hundreds of thousands of dollars.
Phil Greenhill, CEO of Western Oregon Advanced Health, said the Coos Bay CCO used its global administrative budget to get a man with an injured ankle out of a squalid trailer and into a clean room at the homeless shelter where he was more likely to stay sober, show up for medical appointments and allow his leg to heal.
"We saved the foot and there was no amputation," Greenhill said. By being able and willing to front $2,000, no one was left on the hook for $500,000 worth of care, both for the amputation and the social services needed to help a disabled man.
Dr. Lyle Jackson of the AllCare Health Plan in the Medford area said something as simple as extending cab fare to clients can go a long way to helping clients receive care.
"We had a patient hitchhiking on I-5 to get to a doctor's appointment with an oxygen tank," Jackson said.
CCOs Bolster Public Health
Jackson also said that AllCare had been able to step in where unfunded health departments in Josephine and Curry Counties could not — keeping access open to federal safety net resources like the food assistance program Women, Infants & Children.
Kitzhaber said the state had rapids ahead — a great influx of new Oregon Health Plan clients, and a gradual loss of federal reimbursement for Medicaid from 100 percent to 90 percent. He said it is important to remind each other of these stories to connect their work to the improved lives of the people they serve.
"They're very important to keep the momentum going," Kitzhaber said. "Regardless of what happens in D.C. and the 2016 presidential election, we're moving ahead."
Janet Meyer, CEO of Health Share, said her organization had consulted closely with its provider panels and found they would be able to meet the new demand come Jan. 1.
To expand access at FamilyCare, CEO Jeff Heatherington said his CCO had set primary care reimbursement rates at 150 percent of Medicare.
"Doctors and nurse practitioners are spending more time with their patients," Heatherington said. He added that investing this money at the front end contributed to the lower utilization of high-cost emergency services.
Dan Stevens of the Central Oregon CCO remarked on the importance of understanding the social determinants of health when achieving desired health outcomes for low-income people. Diabetes, for example, may have a regular medical treatment, but improving the health of someone facing eviction or domestic violence would require individualized efforts.
"The diabetes is something you can put in a box, but there are other things that are just one size fits one," Stevens said.
He supported community health workers who could spend the time to get a client's plan for health right. 
"We need to be able to listen to our community health workers," added AllCare's Jackson, a medical doctor. "They have the answers. We don't."
But if many of the speakers at Thursday's forum tripped over each other to heap praise on the community advisory councils and remark on the great benefit of listening to regular people, and in some ways it resonated like hollow cant.
The council members got a free trip to Portland to attend the forum, but save for a few people lucky enough to be appointed to these councils, some of the CCOs have shut out the public and tens of thousands of Oregon Health Plan members under their purview from participating in council meetings.
The CCOs aggressively banded together during the legislative session to defeat the efforts of Rep. Mitch Greenlick, D-Portland, to open their board meetings and their community advisory councils to the public they serve.
Merging Early Education & Health
Kitzhaber warned of avoiding another approaching hurdle — the state launch of early learning hubs. He wanted these new organizations, focused on early childhood education, to work closely with CCOs and not duplicate each other's efforts. The first 1,000 days of a child's life can determine the course of many challenges downstream, and health and learning are particularly intertwined.
Kevin Campbell, who works closely with the Eastern Oregon CCOs as the director of Greater Oregon Behavioral Health Inc., shared a power point presentation that noted that children who have certain adverse childhood experiences are several times more likely to suffer addiction, alcoholism, diabetes and chronic obstructive pulmonary disease.
Despite the old adage that an ounce of prevention is worth a pound of cure, Campbell said the United States spends very little on prevention compared to the rest of the world.
"There are small towns in my part of the state where the median child has had five or more [adverse childhood experiences]," he said. "This is a good place to start investing money."
Christopher David Gray can be reached at [email protected].