Kaiser Permanente Asked Patients To Wait Longer Than 4 Weeks For Second Dose
When Oregon rolled out its vaccine campaign starting last year, Randall Harris was eager to get the shots. He works in retail -- for a store in Portland -- and throughout the pandemic has faced a daily threat of contracting COVID-19 from co-workers and customers.
At 47 and with a few underlying health conditions, he became eligible March 29. As a Kaiser Permanente patient, he managed to snag an appointment at a Kaiser clinic in Vancouver on April 1.
Then came the hard part: trying to get his second shot.
As he left the Kaiser Permanente Cascade Park Medical Office on Southeast Mill Plain Boulevard that day, a Kaiser employee handed him a paper with instructions to book another appointment for 21 days later. That's the recommended time between the two doses of the Pfizer vaccine, which is what he got. 
The paper instructed him to sign on to kp.org or call an 800 number and schedule an appointment for April 22. 
He went online and called -- at least 50 times, he figured -- to get an appointment. Nothing was ever available.
"It has been hell," Harris said. "I called when they opened at 8, and I called all hours of the day. I'm even willing to drive to Eugene."
Kaiser Permanente finally found him an opening in Lakeview, a six-hour drive from his Southeast Portland home. And the earliest available appointment was May 15. 
The Centers for Disease Control and Prevention recommends a three-week space between the two shots for the Pfizer vaccine and four weeks for Moderna. The Johnson & Johnson vaccine, currently suspended, is just one shot.
The CDC says that if providers cannot follow the recommended interval and a longer delay is unavoidable, they can administer the second dose up to 42 days, or six weeks, later. After that, the federal agency says it doesn't know how effective the vaccine would be. 
Some other countries have extended the interval between first and second doses to stretch scarce supplies. The idea is that they get more people vaccinated, giving a larger group some level of immunity to ward off severe disease.  
Germany now recommends a six-week interval, while in Canada, health authorities said in March that providers could go beyond 42 days. British health authorities have gone even further: They recommend a 12-week interval between doses.
But U.S. authorities have rejected that approach, even after a study came out earlier this month that showed that one shot of the Pfizer and Moderna vaccines was 80% effective in preventing a COVID-19 infection. 
Dr. Anthony Fauci, chief White House medical advisor and director of the National Institute of Allergy and Infectious Diseases, said while the 80% rate was good news, it wasn't clear how long the immune response would last with just one shot.
Extending the interval between the doses could give the virus an edge, he said, allowing it to mutate in people with weaker immune systems. "You're in a tenuous zone if you don't have the full impact" of two doses, he said at a White House briefing in April.
An Interval Beyond Six Weeks
The first appointment Kaiser offered to Harris was 44 days later, and he's not the only one. The Lund Report talked to a 45-year-old Kaiser patient in Portland who was also offered a second Pfizer shot 44 days later. She, too, got her first shot at the Mill Plain clinic.
"I received my first dose on March 20 and was told to return for my second dose on April 10th," she told The Lund Report, requesting anonymity. "But when I tried to schedule the second dose, multiple times, I encountered 'no scheduling available at this time. Contact us again in three to five days.' For three weeks I have tried, and finally was able to schedule an appointment on May 3, which is outside the CDC recommended schedule for the second dose."
Michael Foley, a spokesman at Kaiser Permanente, said that early on the hospital system had "some intermittent supply issues." He said Kaiser Permanente's clinics in Southwest Washington had administered about 50,000 shots  -- including 23,000 of Pfizer -- and that the company has now started to schedule the second appointment at the time the first shot is given to prevent delays.
"Our current practice in SW Washington is to automatically generate an appointment for the second shot," Foley said in an email. "The person receiving notice of the second appointment can reschedule if the automatically generated appointment doesn't work for them."
Harris, the Portland woman and some others, who've posted a Facebook group dedicated to helping people land vaccine appointments in the Portland area, didn't get a second appointment at the time the first shot was given. And when they were able to book, the appointments were weeks away.
One man, a Portland-area mental health therapist, who received a first Pfizer dose from Kaiser Permanente's clinic in Tualatin in mid-January, never got a second Kaiser appointment, according to a Portland health care professional who scheduled the man's first shot. Towards the end of March, the health care professional gave him Oregon Health & Science University's scheduling number. He snagged an appointment and was fully vaccinated within days. But because he couldn't get into Kaiser, the interval between the two shots was 10 weeks, nearly double the maximum recommended by the CDC.
It's not clear how many other people have had the same experience.
"We don't have good data right now on how many people got their second shot in the three to four week window," Foley said. "We have engaged in campaigns to reach out to patients who received their first dose but have not returned for a second dose."
He said Kaiser schedules all second appointments for 28 days later "for operational efficiency." Some other providers, like OHSU, do the same. It runs two drive-through clinics in the Portland area -- at PDX airport and Hillsboro Stadium. Second dose appointments 28 days later are scheduled at the time of the first visit, a spokeswoman said. She added that OHSU is administering 26,000 to 28,000 doses a week.
The biggest clinic in the state -- at the Oregon Convention Center -- is run by OHSU, Providence Health & Services, Legacy Health and Kaiser. The center is currently administering about 40,000 doses a week, all of them from Pfizer. Patients who schedule their second dose with an official on-site get appointments 21 days later, said Brian Terrett, a spokesman for Legacy. Others schedule the appointments on their own during the 15-minute observation period immediately after the shot, he said. They're advised to choose a 21-day interval by dozens of reader boards like this one.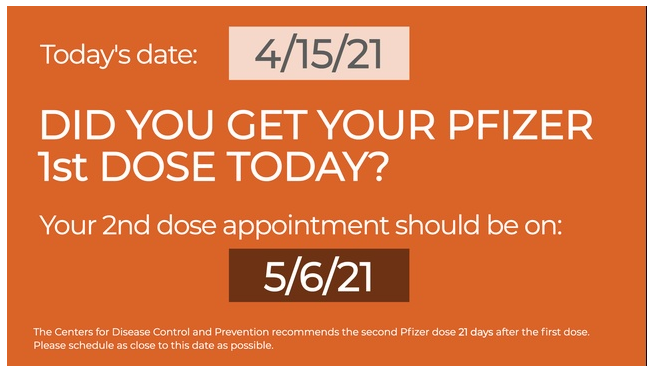 Though people might not schedule their second dose exactly 21 days later, they're not postponing it for weeks, officials said.
"We are not aware of anyone who has had to wait more than 42 days for a second shot," Terrett said.
Legacy is only administering doses through the convention center. Providence, however, has averaged 9,600 shots a week at its own clinics. Second-dose appointments for Pfizer are set up between 21 and 28 shots after the first, said Gary Walker, a Providence spokesman. He said the hospital system follows up when people miss their appointment.
Another big provider in the state is Salem Health, which is administering 15,000 doses a week at its clinic at the Oregon State Fairgrounds. Salem Health schedules second dose appointments 21 days later for the Pfizer vaccine and 28 days later for Moderna, said Lisa Wood, a Salem Health spokeswoman. 
"In every instance, any wait longer than 21 days for a Pfizer second dose or 28 days for a Moderna second dose would have been solely at the discretion of the participant receiving the vaccine," she said in an email. "We continue to see a 97% return rate within one week of the scheduled second dose date. Of the more than 111,000 first doses Salem Health has administered at all vaccine clinic sites, only 1,650 people are more than 28 days overdue for their second dose."
Health Authority Tracks Second Doses
No hospital system told The Lund Report it had problems getting enough doses to schedule patients on time. 
Maintaining the CDC-recommended interval has been a key part of Oregon's vaccine campaign. From the start, Patrick Allen, director of the Oregon Health Authority, said the agency, which allocates the vaccine doses statewide, would ensure that providers received second doses on time. 
In a statement to The Lund Report, It said it's not faltered on that.
"OHA automatically ships second doses of Pfizer and Moderna to providers to match their first doses," the agency said in a statement. "Through these combined efforts, our health care delivery partners have been able to deliver and allocate vaccine doses appropriately to all eligible populations so far."
In recent weeks, the agency has allocated about 1,600 doses to Kaiser a week.
But while the agency tracks deliveries, it has no data on appointments.
"OHA only tracks doses delivered and doses administered, not scheduling and administration of first and second doses," the statement said. 
According to the agency, Kaiser Permanente should have received its second doses in Oregon on time.
A spokesperson for the Washington state Department of Health said in a statement to The Lund Report that it "honors all booster dose orders, so second dose supply would not be a reason behind lack of second dose appointments."
"Once orders are shipped, there is a tracking code providers can use to track their supply kits and vaccine each week," the statement said. "Although DOH does not track each of these orders (there are hundreds), if there are issues or delays we are able to go in and check on the status of the shipment."
Kaiser Opens Up Appointments
The Portland woman who was only able to obtain a second appointment on May 3 -- 44 days after her first shot -- has now been vaccinated. The Lund Report shared her contact information with Kaiser Permanente, and 45 minutes later, the COVID-19 manager at Kaiser Permanente Cascade Park Medical Office called her, the patient said.
"She said she knew I was having a hard time scheduling my second dose appointment," the source said. "She told me multiple people have had scheduling problems for their second doses and Kaiser monitors patient concerns."
She got her shot in Vancouver the next day.
The day after talking to The Lund Report, Harris called Kaiser again and this time managed to land an appointment in Vancouver for this Thursday. 
The appointment couldn't have come soon enough: He just found out that a coworker has COVID-19.
He said everyone he works with is scared they'll get sick.
Harris is better off than most of his coworkers. He's had one shot. Others haven't been vaccinated at all.
"It's unfortunate that people in her situation have had to wait so long for the vaccine," Harris said, referring to his coworker. "Like me, she has worked through the whole pandemic. I was lucky. Our shop follows all protocols and safety measures. And I had the first shot. I am sad to see such a dedicated worker get sick this close to the finish line."
She's not alone. Only about a quarter of Oregon's population has been fully vaccinated.
For many, getting a dose has been difficult, and some are still waiting for their health care provider to respond. Kaiser Permanente has been slow to contact patients who've signed up on its website, sending text messages weeks later, patients told The Lund Report. And some patients -- including one woman who qualified for vaccination in January as a caregiver -- haven't heard from Kaiser at all.
"I would really like to know what is going on with Kaiser," said the 45-year-old Portland woman.
You can reach Lynne Terry at [email protected] or on Twitter @LynnePDX.
×
This article is for premium subscribers. If you are one, please sign in below.
You can see
two
more premium stories for free. To subscribe,
click here
. We depend on premium subscriptions to survive, and they are tax deductible.