The House Health Committee amended Senate Bill 721 to build in legal protections to volunteer coaches who act in good faith to comply with the bill's intent, which is to educate them on the symptoms of concussions and keep children out of practice or games without medical consent.
June 12, 2013
June 11, 2013 — The Oregon Senate passed an extension of Max's Law to provide head injury protections to child athletes who play sports outside of school.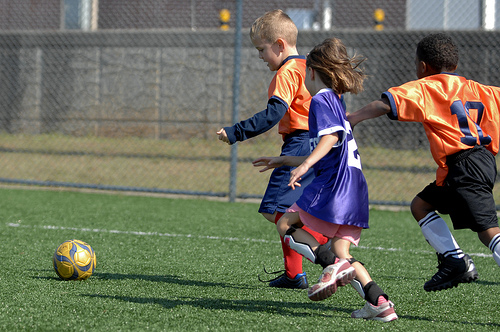 The Senate had previously approved Senate Bill 721, but a second vote was needed after the House voted on Monday to revise the bill to give legal protections to volunteer coaches and referees. The bill now goes to Gov. Kitzhaber for his signature.
Jenna Sneva of Sisters was a national gold medalist at 19, but after 10 concussions, she's not only had to hang up her ski poles, she told the House Health Committee that she struggles just to stay focused on her studies at Oregon State University, as she suffers from post-concussion syndrome.
In 2009, the state passed Max's Law, which applies to high school athletes, requiring coaches to be trained to recognize concussions and keep at-risk students off the field without medical permission, but no such protection was extended to children playing sports in non-school leagues.
"My life would be different right now if I were pulled out of practice and the games to be checked out by a medical professional," Sneva said.
Rep. Alissa Keny-Guyer, a Portland Democrat who sponsored Senate Bill 721, said there has been a lot of misunderstanding about concussions. "In the past, concussions were something you played through," she said. Today, many well-intentioned coaches just haven't been educated on what to do.
Senate Bill 721 or Jenna's Law, requires non-youth sports leagues to educate parents, referees, coaches and children over 12 to recognize the symptoms of concussions. And if a child does receive a potential concussion, they can't go back on the field, court, slopes or ice until a day after they are cleared by a healthcare professional.
Keny-Guyer said her oldest child went back on the playing field many times when it might have been questionable.
Max Conradt was the quarterback of his football team at Waldport High School, destined for college, when he received a blow that changed the course of his life. Already recovering from a previous concussion, he was allowed to play too early, suffering a second, more tragic blow.
"He collapsed at halftime with massive bleeding," Keny-Guyer said. "He now lives in a group home with other people who have brain injuries here in Salem."
Brad Jacobson, a ski instructor on Mount Bachelor, called the SB 721 a "no-brainer" in his testimony and said he would benefit from additional education to help others recognize the symptoms of concussions.
"Broken bones, cuts, bruises, sprained and torn ligaments are easy to identify, so deciding to sit out is an easy decision for coach, parent, and athlete," Jacobson said. "Concussions are a different story. You can't see the damage. The symptoms are not always obvious, and the coaches don't always know the athlete's history of concussions. To date there hasn't been a clear explanation of the various symptoms and what is the right thing to do."
"This bill is about education," said Rep. Jason Conger, a Bend Republican whose son suffered a concussion playing football.
The original bill that passed the Senate had to be amended after three Republicans, including Conger, raised concerns about legal liabilities for coaches. It now gives legal protections for coaches and referees who act in good faith.
In a letter to Rep. Bill Kennemer, an Oregon City Republican, legislative attorney Dexter Johnson opined that the Senate version of SB 721 did raise the legal expectations of coaches and referees by increasing their knowledge of concussions.
"The likelihood of finding a coach or a referee liable under SB 721 is increased by the fact that the provisions of the bill do not offer any other means of enforcement," Johnson wrote.
Following up on Johnson's concerns, Rep. Mitch Greenlick, D-Portland, agreed to amend the bill. The House version now says that people who do not volunteer on a regular basis are not required to have training in concussions and, if an unforeseen event occurs, would not be held liable for injuries.
Those people who coach and umpire games on a regular basis will be required to receive training in addressing concussions but won't be held liable unless they showed "gross negligence or willful or wanton misconduct."
"I think this is a great improvement," said Sen. Doug Whitsett, R-Klamath Falls, who opposed the bill without the legal protections, but supported it on Wednesday.
Image for this story by USAG-Humphreys (CC BY 2.0) via Flickr.
Christopher David Gray can be reached at [email protected].