A nurse at Rogue Regional Medical Center, the largest hospital in the county, says that for the first time a stream of people are staggering into the emergency room, short of breath.
Image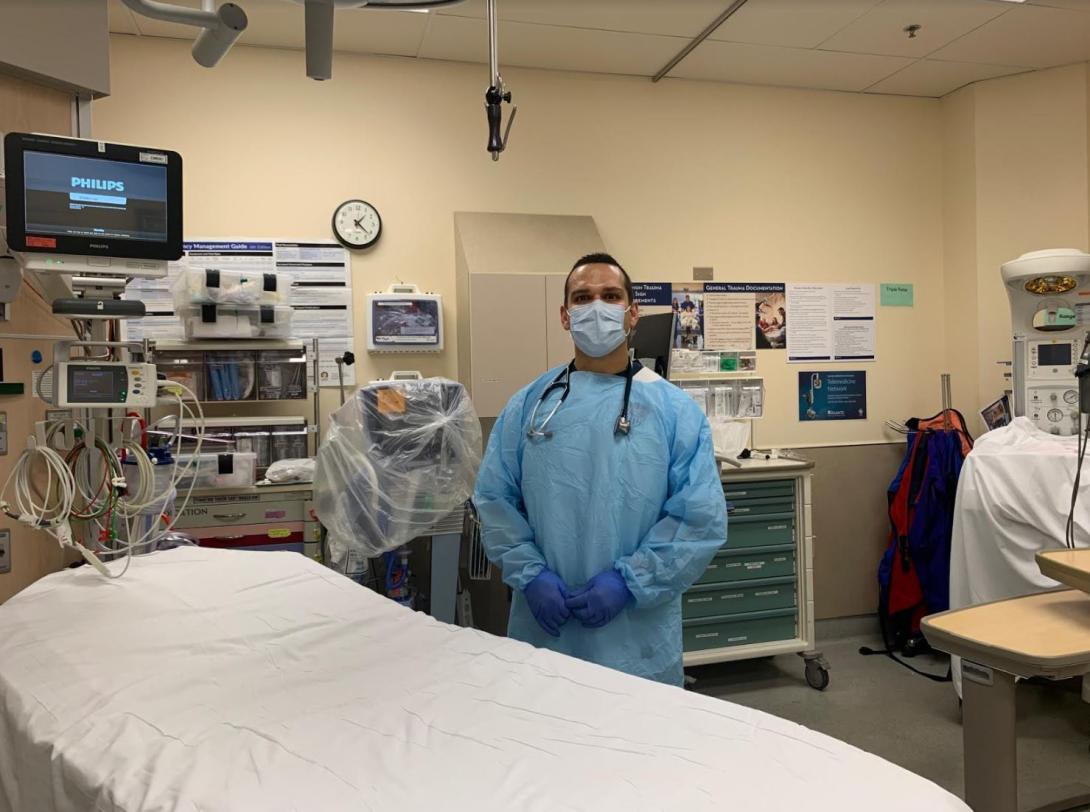 November 18, 2020
From the onset of the COVID-19 pandemic, Jackson County was spared from severe surges in the illness. But that changed this month.
The Southern Oregon county now has had more than 1,330 cases of COVID-19 per 100,000 people since the start of the pandemic, according to the Oregon Health Authority. 
That compares with hard-hit Multnomah County, with 1,500 cases per 100,000. Jackson County's positive test rate exceeds Multnomah County's: Nearly 20% of tests in the past week have been positive, compared with 11% in Multnomah County.
"It's creating a tremendous strain on the health system," said David Baca, a registered nurse at Rogue Regional Medical Center, the county's largest hospital.  "We're doing 40 (COVID-19 exams) a day. That takes a tremendous toll on our staffing."
Baca is on the frontlines. He's an emergency room nurse in Medford who's worked 13 years at Rogue Regional, a 378-bed facility. Its ER typically sees 50,000 patients a year. That number is likely to grow by the end of the pandemic.
Baca, formerly a handyman, became a nurse to help people in a more personal way. He used to work 40 to 45 hours a week. Now he's putting in 60 to 70 hours to handle the influx of COVID-19 patients.
At 39 with no children at home, he's doing well, he said. 
"Personally, I don't have a lot going on, so I just work," Baca said.
But many of his colleagues are married and have children. He worries about them.
They work the same long hours he does but also have a second job at home, overseeing their children's education and doing chores that Baca, whose daughter is 20 and out of the house, doesn't face.
"People are really exhausted," Baca said. "The morale is the lowest I've seen."
Seeing colleagues contract COVID-19 hasn't helped.
A handful of ER nurses are out now with COVID-19 or are in self-imposed quarantine because they had been exposed, Baca said. Some likely became infected at work, he said.
Medford-based Asante, which runs Rogue Regional and two other hospitals in Southern Oregon, did not respond to multiple emails seeking comment. No one returned calls from the company's media pager or responded to a voicemail left in the marketing department.
Baca said communication between nursing staff and the administration has been strained.
He has not become infected but in recent weeks has been notified that he's been exposed to dozens of infected patients. Staff who contracted COVID are sent home, forcing the remaining nurses to take on more patients. Sometimes he sees 24 patients during a shift -- nearly double the usual number on a busy pre-pandemic day.
"We need more staff," Baca said. "We have too many holes in the schedule."
He arrives at work about 6:45 a.m. and hits the floor at 7, to do the rounds of patients already in the ER. More patients arrive. The emergency room still treats trauma patients and people suffering from heart conditions, abdominal pain, migraines and fevers. An increasing number of them have COVID-19, he said.
Sometimes he can spot them as they stagger in, struggling to breathe. Many of the patients with COVID-19 are elderly but Baca says he treats people in their 40s and 50s, too. 
The nurses, who are masked throughout their shift, gear up by donning gowns, hair caps, face shields and gloves. The hospital has ample supplies, Baca said, allowing nurses to use a new N95 mask with each patient. Other hospitals, like Oregon Health & Science University, stretch those masks out, asking staff to wear the same one throughout their shift.
Nurses spend between 30 to 60 minutes with each suspected COVID-19 patient, checking vitals, drawing blood for the lab, getting chest Xrays done, swabbing nasal cavities for the virus and screening for symptoms. 
The disease usually includes a cough, fatigue and shortness of breath. Most people develop a fever and many suffer gastronomical symptoms such as nausea, vomiting, diarrhea and abdominal pain. Some lose their sense of taste and smell.
Baca said he sees many patients with no previous history of cardiac or respiratory illness who suddenly need supplemental oxygen to breathe.
"It's really weird. You don't usually see that," Baca said. "The other thing that we're seeing is a lot of pulmonary embolisms - blood clots in the lungs from COVID. We also see patients who've recovered from coronavirus but then suffer long-standing cardiac damage including heart failure."
The coronavirus attacks the lungs, but it also attacks the heart, even in people without pre-existing heart problems. A study published this summer in JAMA Cardiology, a journal by the American Medical Association, found that about 75% of 100 patients who recovered from COVID-19 suffered lingering heart problems.
Triage Of Patients
At Rogue Regional, patients are put in beds while awaiting their test results. The 32 beds in the emergency room are almost always full these days. The hospital even puts patients on eight gurneys that line the hallways of the ER, a practice that Baca considers dangerous.
"I'm really worried about people getting ill," Baca said. "They could be contagious in the hallway or contagious people could be walking past them in the hallway."
He faults the hospital for not curtailing non-urgent procedures, which are profitable, to open up beds for COVID-19 patients.
"Until they make an effort to limit the number of elective procedures, they're going to keep putting people at risk," Baca said.
In March, Gov. Kate Brown ordered all hospitals statewide to postpone elective procedures to ensure that they had enough beds for COVID-19 patients. Oregon never reached a crisis point with too few beds, but health care systems lost millions in revenue. Brown lifted the order in May, and hospitals statewide began ramping up non-urgent procedures. Recently, to free up beds, hospitals in the Portland area have stopped scheduling non-urgent surgeries that require an overnight stay and canceling some scheduled operations. 
Baca said patients with mild symptoms are sent home with steroids to treat inflammation. Patients who are sicker but stable are sent to Asante Ashland Community Hospital, a 49-bed facility. Critically ill patients are treated in Rogue Regional's intensive care unit. The hospital even has COVID-19 patients on ventilators in its intermediate intensive care unit, Baca said.
On Wednesday, Asante had seven COVID patients in critical care and 11 in a medical unit at Rogue Regional and 17 at Ashland Community Hospital.
In its daily COVID report, the health authority said there were 108 new cases in Jackson County. Only Multnomah County, with 210, and Washington County, at 171, had more.
"It's busy," Baca said.
Like his colleagues, he rarely gets breaks these days and sometimes has to miss lunch. But he enjoys his job. His co-workers are nice, he said. 
That's not true of all the patients. Some come to the emergency room and refuse to comply with safety requirements, such as making sure their mask covers their mouth and their nose.
"They wear it around their chins," Baca says.
That puts him in the position of having to tell them to pull it up. He points out all the red signs outside rooms with COVID-19 patients.
"It's really awkward," Baca said. "There's this weird disconnect with people in the community not thinking that COVID-19 is real."
It's real for Baca and other health care professionals working in critical care units or emergency rooms.
He hopes people will follow the rules announced by Gov. Kate Brown, which went into effect on Wednesday, to help slow the spread of this deadly disease. Like all Oregonians, he too, must limit contact with others and mask up outside the house. He's not worried about himself, but he doesn't want to infect his colleagues or patients.
You can reach Lynne Terry at [email protected] or on Twitter @LynnePDX.