Insurance Exchange Bill Moves Toward Floor Vote, with Amendment Relating to OEBB Opt-Out
School districts will now have a role in helping the insurance exchange choose the benefit plans that will be offered
March 2, 2012—After weeks of being stuck in the Legislature's budget committee, the bill allowing Oregon's health insurance exchange to proceed toward implementation is moving toward a House and Senate vote —along with a little baggage in the form of a completely unrelated amendment supported by Republicans.
The legislation is expected to easily pass both chambers.
The Ways and Means Subcommittee on Capital Construction passed House Bill 4164 unanimously yesterday afternoon. The bill gives legislative approval of the Oregon health insurance exchange's business plan, which provides financial projections and maps out how it will be ready to provide health insurance to individuals and small businesses starting in January 2014. It's expected be a one-stop shopping place for as many as 700,000 uninsured individuals and small businesses to purchase affordable health insurance.
The amendment added to the bill would allow school districts currently receiving coverage through the Oregon Educator Benefits Board (OEBB) to join the health insurance exchange starting in October 2015. OEBB provides insurance benefits to more than 150,000 school district employees, community colleges, education service districts and their dependents.
The amendment also directs the exchange's board of directors to request any necessary waivers or approval from the federal government to make this happen, and directs the board to work with school district representatives when developing the plans to be offered by the exchange.
The amendment resulted from negotiations between Republican and Democratic leadership, including the Governor's office.
It wasn't expected that the exchange bill would turn into a political football and the focus of political horse trading. Two weeks ago, it was expected to easily pass the House. But Republicans voted in lock step, along with one Democrat, and referred the bill to the Ways and Means Committee.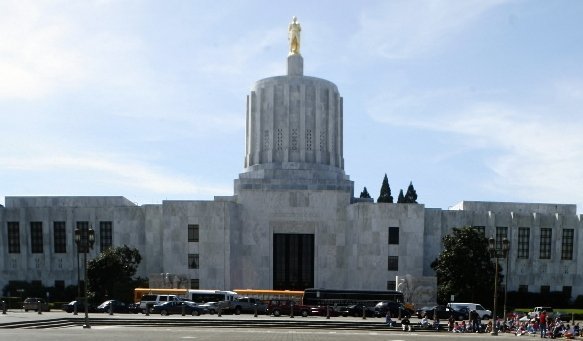 Rep. Tim Freeman (R-Roseburg) said that "specific questions" about the state's financial commitments to the exchange had yet to be answered, and that the bill's referral to the committee would be a "quick stop."
But, when the Capital Construction Committee met yesterday, there were no questions asked about the finances of the exchange. A seemingly innocuous committee, it's made up solely of legislative leadership, including the House's two co-speakers, Reps. Bruce Hanna (R-Roseburg) and Arnie Roblan (D-Coos Bay).
However, when a bill is sent to that committee, it's usually a signal that it's politically controversial, with negotiations typically taking place behind closed doors. Everything is agreed to prior to the bill coming before the committee, and the bill passes with little or no discussion.
For whatever reason, allowing school districts to opt out of OEBB is a priority to Republicans (Co-Speaker Hanna's office did not return a call for comment).
The party has flexed its political muscle to demonstrate the importance of the issue in the past. During the 2011 session, Republicans in the House's Healthcare Committee killed seven healthcare bills because Democrats wouldn't allow a bill to move forward that would have established a task force to look into the implications of school districts opting out of OEBB.
Also during the last session, three bills were introduced that would have allowed school districts to leave OEBB if they could show that they could purchase less expensive health insurance. However, none of those bills moved forward because some legislators worried OEBB would lose some of its purchasing power, leading to rate increases.
Many school districts have wanted to leave OEBB, in part citing double-digit rate increases.
When OEBB was created in 2008, school districts had the opportunity to not join, but needed to prove that their insurance plans were less expensive than the state-run pool and submit an actuarial analysis every two years. Once a school district decided to participate in OEBB, they've been forced to remain in the pool.
Since OEBB got under way, however, some school districts that opted out have seen smaller rate increases, including Beaverton School District. Its seen increases as small as zero percent because its health plan is carefully tailored to meet the specific needs of its employees, said Debbie Johnson, the district's health resources coordinator.
Johnson is uncertain about the impact of the exchange. "We don't know what the exchange will look like, "she says. "We just have to wait and see how things fall out. If it loosens the grip OEBB has on school districts, it's a good thing."
Lisa Morawski, the exchange's spokesperson, said it's too early to tell how the exchange will be impacted by having school districts join. By 2016, she said, it's expected that the exchange will able to offer health plans to employers with up to 100 employees.
"After that, the federal government has said exchanges can open up to larger groups subject to waiver approval," she said. "It has always been part of the long-term vision for the exchange to integrate with [the Public Employees Benefit Board], OEBB and [coordinated care organizations], so this begins that process."
Had the exchange bill died in the Legislature, at least some of the exchange's $48 million in federal funding could have been in jeopardy. And the federal government would have made all the major policy decisions about Oregon's with virtually no oversight by the Legislature or Governor.
Photo for this story appears courtesy of The Oregonian.