Insurance Division Knocks off $69 Million in Rate Review
Despite the significant cuts in waste, OSPIRG Foundation's report found ways that insurers are not passing along additional savings to consumers, and Gov. Kitzhaber has responded to liberal Democrats' concerns to further strengthen the system.
July 29, 2013 -- The Oregon Insurance Division reduced insurance rates in the individual and small group markets by $69 million for 2014, but significant savings continued to be lost, as some insurers ignored slowing medical inflation and failed to factor reductions in uncompensated care as fewer people go without insurance under the Affordable Care Act.
An Oregon State Public Interest Research Group report released last week showed the Insurance Division cut more than half of the waste, $38 million, from just two of the state's major insurance carriers — Kaiser Permanente and Providence Health Plan.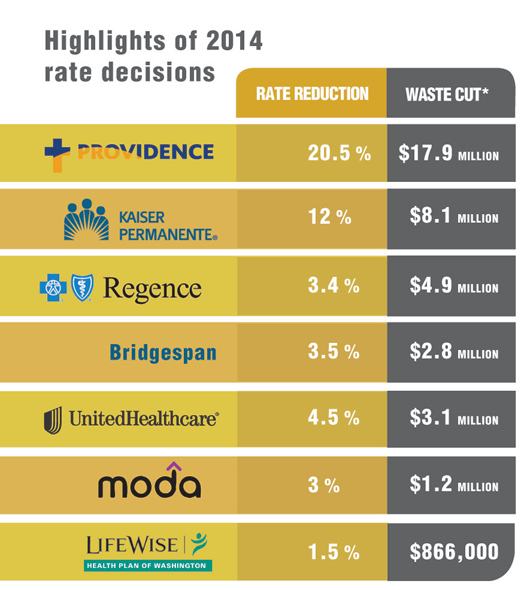 The individual market saved $50 million, while the small business market, which is not expected to receive the same flood of new customers, was responsible for the other $19 million.
"We think $69 million is a major step forward and shows our open rate review process is driving down costs," Jesse Ellis O'Brien, the OSPIRG Foundation's health advocate, told The Lund Report.
The Insurance Division cut rates an average of 9 percent in the individual market while shaving 6 percent on average from plans in the small group market, used by employers with fewer than 50 employees.
Each year, health and life insurance companies must submit rate increases to the Insurance Division for approval in the individual and small business market. Despite the surface savings, some have argued, including Sen. Chip Shields, D-Portland, that most of those savings come from insurance companies making an unrealistic first offer, knowing that the Insurance Division would likely cut them down to a more justified rate once reviewed.
Both Kaiser and Providence begged the Insurance Division to lower their rates because of errors in their filings. But lowering their rates also prices their health plans more competitively, potentially increasing their market share. And the companies would not have been able to lower their rates without a justification, such as the errors they confessed to.
In the individual market, the Insurance Division cut 1.5 percent from every health plan after it found that none of the insurance companies adequately considered the impact of federal and state reinsurance programs.
"The Insurance Division disagreed with their methodology across the board," O'Brien said.
These programs assess nearly $10 on every premium to help pay the cost of accepting new members who had previously been denied coverage because of their pre-existing medical problems. The assessment is then redistributed to the carriers who accept these members, helping to prevent a spike in rates.
If the Division had not forced the insurers to recognize these programs in their rate filings, the carriers would have been able to pocket the entire benefit from the assessment without passing along any of the savings to customers.
"We promised a rigorous and transparent rate review process, and I believe we delivered," said Cheryl Martinis, the Insurance Division public information officer. Laura Cali, the state insurance commissioner, was out of the country and unavailable for comment.
Approved individual rates range from $166 a month for coverage from Moda Health Plan to $241 for Atrio Health Plan, which is offered in southern Oregon and the Salem area. These rates are for a standard "bronze" plan for a 40-year-old non-smoking man. Rates would be lower for younger people and higher for older individuals, and the rates do not reflect any of the federal subsidies that people are expected to receive. Some individuals may not have to pay anything for insurance coverage if their income is low enough.
While the Insurance Division's scrutiny did drive down costs in certain areas, other potential savings went unaccounted for, allowing insurers and providers to profit.
Medical inflation nationally has been under 5 percent, and the Insurance Division did force a few smaller companies to lower their projections, but O'Brien said the division did not touch the 8 percent inflation projected by Regence BlueCross BlueShield.
"Medical inflation has gone down and it's projected to stay down in the near future, but some of the carriers were projecting large increases in the coming year," O'Brien said.
The insurance carriers also failed to reflect any savings whatsoever from the reduction in uncompensated care.
Because of the Affordable Care Act, fewer people are expected to go without insurance and rely on charity care from hospitals. The savings could be huge -- so much so that an Oregon Health & Science University study found the Public Employee Benefit Board and Oregon Educators Benefit Board could save $18 million a year. Economist Peter Graven told the Lund Report that figure was conservative.
"Uncompensated care is enormous," O'Brien said.
O'Brien said only one insurance company, Lifewise Health Plan, was willing to respond to his questions about what happened to the savings. The for-profit insurer said that none of its providers would accept lowered rates to reflect a reduction in uncompensated care, meaning the providers would be able to pocket any savings, according to O'Brien.
If some of the carriers succeeded in shaving this cost of payments to providers, then the insurer would be the one to benefit.
Either way, the consumer will not see any savings, at least in 2014. O'Brien said he hoped the Insurance Division would reconsider this factor in future rate reviews.
Gov. John Kitzhaber has asked the Oregon Health Policy Board to come up with a menu of potential ways to further strengthen the insurance rate review process, which could include a proposal by Rep. Mitch Greenlick, D-Portland, to ask the Insurance Division to develop a standardized medical inflation trend for all insurance carriers as a starting point.
Senate Bill 413, which included the Greenlick tool, would have also asked the Insurance Division to collaborate with the Oregon Health Authority to better quantify the cost containment strategies of insurance companies.
SB 413 passed the House with bipartisan support, but Sen. Shields, the bill's chief sponsor, called for a vote on the Senate floor in June only to see it get voted down under the opposition of Sen. Laurie Monnes Anderson, D-Gresham, who sided with Regence BlueCross BlueShield against significantly strengthening the process.
Image for this story courtesy of OSPIRG. 
Christopher David Gray can be reached at [email protected].