As rules requiring the use of credentialed interpreters in health care take effect, Indigenous language interpreters seek additional legislation to promote equity.
Image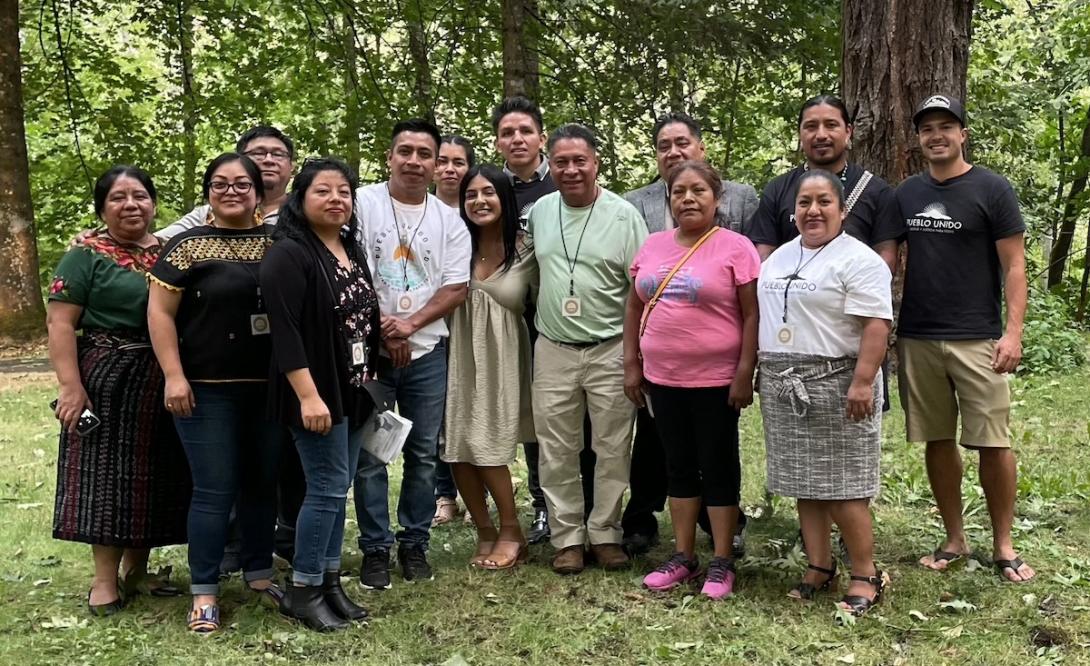 October 6, 2022
Under new rules designed to promote equity, Oregon health care providers are required to hire only from a state list of credentialed interpreters when communicating with patients who are non-English-speaking or communicate using sign language. 
But while the state went a long way to address concerns that Indigenous language interpreters would be excluded from the state program, advocates say more changes are needed. 
Earlier this year, the Oregon Health Authority reopened its public comment period on the new rules after The Lund Report began reporting on complaints from Indigenous language interpreters who'd spent more than a year unsuccessfully attempting to gain an audience with agency officials.
Now, the interpreters say their voice has finally been heard in changes to requirements that paved a way for speakers of lesser-known languages  to become credentialed.
"Things have been going well since your report came out," said Cameron Coval last week. An advocate for the Collective of Indigenous Language Interpreters of Oregon, he said state officials in recent months addressed many of the barriers to accreditation that Indigenous language interpreters faced.
But, he said, more needs to be done, which is why his group has joined with Fair Shot For All to pursue legislation in the 2023 legislative session addressing access to interpreter services in health care and other fields, as well as working conditions for interpreters. 
Coval represents interpreters of many Native languages, such as K'iche' and variations of Mixtec, which are spoken among an increasing number of immigrant communities hailing from Mexico and Guatemala. There are about 35,000 Oregonians who primarily speak an Indigenous language, and there are 26 such languages from Mexico and Guatemala spoken in the state, according to the Collective of Indigenous Language Interpreters of Oregon.
The Long Road To Accreditation
In 2021, the Oregon Legislature passed House Bill 2359, requiring that all publicly-funded health care providers hire only credentialed health care interpreters listed on a state registry. To obtain accreditation and entry onto the state's registry, interpreters must pass language proficiency testing and meet other requirements. The bill was intended to make access to health care more equitable. 
While many health care interpreters were already credentialed and on the state registry in Oregon, there was no enforced mandate requiring providers to hire interpreters from the list. The new law sought to change that. 
But as the state prepared draft rules to implement the law, Indigenous language interpreters became alarmed. They oppoesed the background checks required to become qualified or certified and gain entry onto the list, and they said the language proficiency requirements were unrealistic.
They said the new law would make it more difficult for them to work, which in turn would deny interpreter access to Native language speakers. 
Following a hearing at which Indigenous language interpreters spoke, The Lund Report published an article detailing their concerns.
In June, Oregon Health Authority announced it was collaborating with Pueblo Unido, the immigrant advocacy and legal services nonprofit that Coval directs, "to eliminate barriers that prevent access to health care interpreter services" as it implemented legislative requirements.
"We are pleased we received participation and input from community partners and pleased that this legislation strengthens and supports language interpretation services in Oregon," Leann Johnson, director of the Equity and Inclusion Division at the health authority, said at the time.
Coval told The Lund Report that the agency "accepted all of the short-term changes that they could" in response to the Indigenous language interpreters' concerns. 
He said that included the elimination of background checks and the high school equivalency education requirement. Some interpreters did not have access to equivalent educational opportunities in their countries of origin, and some are wary of background checks due to issues around immigration status.
Additionally, he said, the state confirmed that interpreters who are fluent in a Native language and Spanish can qualify for health care interpretation credentials. These interpreters use what's called a "relay interpreter," who interprets the translator's Spanish to English as they interpret an Indigenous patient's language to Spanish.
On July 1, Oregon Health Authority adopted its final rules to implement H.B. 2359. 
On Sept. 21, the health authority's public health Facility Licensing and Certification program adopted additional rules, in compliance with the bill, that require all hospitals, ambulatory surgery centers, extended stay centers, home health agencies, outpatient renal dialysis facilities and special inpatient care facilities to also hire only interpreters that are listed on the state's registry.
Changes made to certification and qualification requirements in tandem with the new rules — including the elimination of background checks and the high school equivalency requirement — apply to all interpreters applying for state credentials, not just speakers of lesser-known languages, Oregon Health Authority spokesperson Erica Heartquist told The Lund Report. The agency is still in the process of updating its list of new requirements on its website. 
More Changes Sought
Coval is now working with Fair Shot For All, a Portland-based coalition of unions, racial justice organizations and other nonprofits, to pursue additional initiatives to help Indigenous interpreters in a 2023 bill.
The Fair Shot coalition seeks changes to foster racial, gender and economic justice, said the group's director, Heather Stuart, and "This bill to improve Indigenous language justice is really at the center of how these issues intersect."
Rep. Wlnsvey Campos, D-Aloha requested two legislative concepts to pursue the changes. The need for access to quality interpretation services is an issue she knows "intimately," she told The Lund Report. As a child in Oregon, as young as 8 years old, she remembers translating for her Spanish-speaking parents in various settings — and the looks it sometimes drew. 
"It was one of the ways in which I was, early on, introduced to racism and prejudice," she said.  
Coval said the legislation will have three main goals:
Develop a system for evaluating the language proficiency of speakers of languages of lesser diffusion: To address the collective's concerns, Oregon Health Authority created a work-around that allows these interpreters to qualify but that does not effectively evaluate their proficiency. Ensuring the interpreters' proficiency will ensure that patients are able to effectively communicate with their health care providers. 
Establish an interpretation fund: to cover the costs of interpretation in health care settings, courtrooms, at social service organizations, and at agencies such as the Department of Motor Vehicles and the Bureau of Labor and Industry. Funding would come from the Oregon Worker Relief Fund with the anticipation of a general fund request, according to Campos' office. The lack of proper services for Indigenous language speakers, Coval said, "jeopardizes case outcomes and delays or denials of services or unjust imprisonment or deportation."
Create a state commission for Indigenous language speakers and interpreters that could weigh in on potential policy changes impacting the interpreter industry in Oregon. "We recognize that in the drafting of legislation last time around with (H.B.) 2359, that there was a failure to engage with Indigenous language speakers," Campos said. She said when working with people from Mexico or Central America, "we can't just make assumptions that it's Spanish, but that we've got really critical populations that speak Indigenous languages."
"When Oregonians can understand and be understood by their doctor, lawyer or other social service provider, they will have better outcomes and that will have a lasting impact on them and the well-being of their families," Stuart said. "We're asking lawmakers to help close these gaps in language access that are the result of longstanding and systemic biases in our institutions and laws that have left Oregonians who speak Indigenous languages without reliable interpretation when they need it the most." 
You can reach Emily Green at [email protected] or via Twitter at @GreenWrites.