From Oregon to British Columbia, temperatures set new highs, reaching more than 120 degrees Fahrenheit in one British Columbian town.
Image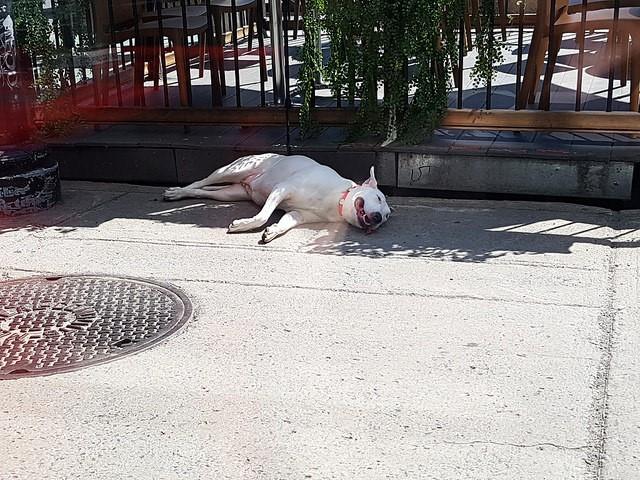 June 30, 2021
Roads buckled, power cables melted and people crowded cooling centers as 9-1-1 calls spiked during the three-day heat wave that smacked the Northwest. There was also a heavy human toll. Hundreds died, including at least 63 people in Oregon, the state medical examiner said Wednesday.
That's five times more than the number of deaths from heat from 2017 and 2019.
Most of the people lived in Multnomah County, the state's most populous. Some were middle-aged, and some were senior citizens in their late 90s. Most had underlying health conditions which can undermine the body's ability to deal with extreme heat. Many were found alone in sweltering temperatures, without air conditioning or even a fan.
"This was a true health crisis that has underscored how deadly an extreme heat wave can be, especially to otherwise vulnerable people,'' Dr. Jennifer Vines, the county's health officer, said in a statement. "I know many county residents were looking out for each other and am deeply saddened by this initial death toll. As our summers continue to get warmer, I suspect we will face this kind of event again.''
The heat wave sizzled the Northwest from Oregon to British Columbia where temperatures soared to a regional record of 121 degrees Fahrenheit in the town of Lytton, about 50 miles northeast of Vancouver. In a statement released Wednesday, Lisa Lapointe, British Columbia's chief coroner, said that 486 people died from Friday through Tuesday -- nearly triple the average the area would expect at this time of year.
"While it is too early to say with certainty how many of these deaths are heat related, it is believed likely that the significant increase in deaths reported is attributable to the extreme weather B.C. has experienced and continues to impact many parts of our province," Lapointe's statement read.
In comparison, 13 people died in King County, where Seattle is located. The toll in the Portland area, where temperatures reached 116 degrees, was worse. At least 45 people died in the county, the highest number in the state. Nine people died in Marion County which had the hottest temperature in Oregon, reaching 117 degrees on Monday. Elsewhere in Oregon, five people died in Washington County, two in Clackamas, one in Columbia and one in Umatilla.
The state medical examiner said the number is preliminary and that the final causes of death have yet to be determined. But Multnomah County announced that those who died had hyperthermia, a medical condition that occurs when the body's natural mechanisms can't cope with the heat. There are several stages to hyperthermia, including heat cramps, heat exhaustion and heat stroke, a life-threatening condition that happens when the body's temperature hits at least 104 degrees Fahrenheit. 
As the temperatures soared to record levels, emergency rooms became packed. In Multnomah County alone, more than 130 people sought treatment for heat-related symptoms at a hospital or urgent care clinic.
"Normally, we would see one visit," the county said in a news release. There were more ER and urgent care visits for heat-related symptoms over the weekend than Multnomah County usually sees all summer. 
(See related story: 'Critical' Shortage Of ER Beds In Oregon)
The county said the crisis peaked on Monday, with more than 490 calls to 9-1-1, an all-time high and 60% more than normal. Hospitals reported two to five times the number of cardiac arrests.
The stream of ambulances didn't stop, forcing hospitals to stop receiving them.
Cooling centers opened across the state, from Deschutes to Columbia to Jackson County. Officials handed out water, provided meals and offered a respite from the inferno outside.
Multnomah County had three cooling centers: one at the Oregon Convention Center in Northeast Portland, another in North Portland and the third on East Burnside. More than 1,000 people stayed overnight, it said.
Libraries in the Portland area and beyond also allowed residents to cool off, serving more than 7,600 in the Portland area alone. 
People were concerned about their pets as well. Multnomah County's animal services reported a 300% increase in calls about animals in crisis, officials said. They told pet owners to touch the asphalt and concrete to see how hot it felt before allowing their animals to walk on it.
Finally Wednesday, temperatures returned to normal. The cooling centers closed, the ambulances slowed and the calls calmed down.
But when will the area -- or elsewhere -- be hit again. This might not be the last heat wave of the summer nor the last crisis as the state now faces the threat of wildfires.
You can reach Lynne Terry at [email protected] or on Twitter @LynnePDX.