An Oregonian in recovery explains overdose-reversing drugs and what to do if you see someone experiencing an opioid overdose.
Image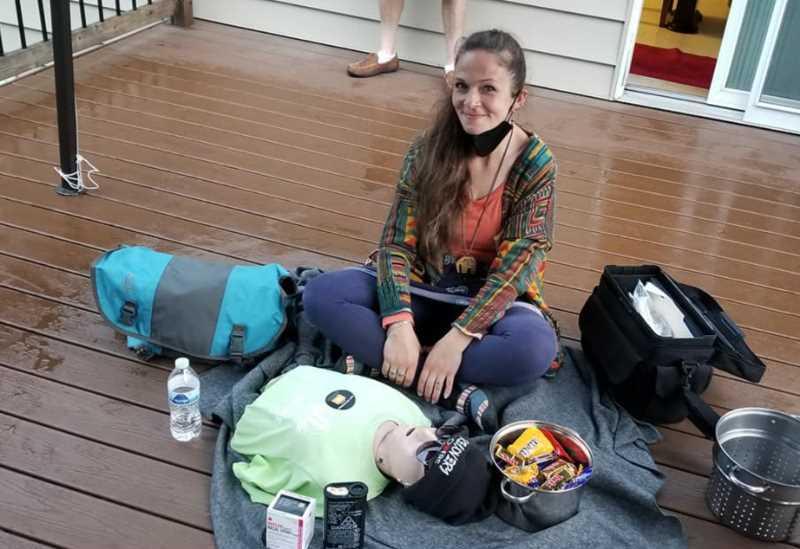 September 1, 2022
This article was originally published by the Portland Tribune.
As part of International Overdose Awareness & Prevention Day, Wednesday, Aug.31, concerned citizens are decorating Portland's South Park blocks with hearts and the Morrison Bridge is being lit up purple.
The sudden increase in overdoses nationwide and in Oregon is caused by fentanyl, the powerful synthetic opioid that is showing up in a wide range of street drugs. It is mixed in with counterfeit name brand pills and with powders sold by the baggie.
But what can Portlanders do to protect themselves and each other?
Elizabeth Smith spent 20 years on heroin and overdosed eight times. Now in recovery and 12 years drug-free, she is the training and education coordinator for the Portland-area Oxford House group, sober house communities where people in recovery try to get their lives back on track. (There are 208 Oxford Houses in Oregon). Smith, 45, trains people in the houses how to use the three types of naloxone, which can pull someone back from death's door if they are overdosing on opioids.
Three Types Of Naloxone
She says the good news is naloxone aggressively blocks opioid receptors, allowing the person using drugs to resume breathing and wake up within minutes. "Naloxone is this crazy miracle drug … you can't take too much of it. It absolutely does nothing except for bind to opioid receptors," she told Pamplin Media on Tuesday, Aug. 30.
The bad news is it has a half-life of 30 to 80 minutes, whereas the shortest acting opioids have a half-life of three to five hours. That means the person must still rush to get medical attention before the overdose comes on again.
"As soon as naloxone dissipates, the opioids flood back if they are not out of your system," Smith said.
Of the three types, nasal Narcan is the most common. It is the brand name, nasal inhaler version of naloxone. It works dramatically, like smelling salts. Or it used to, with most opioids, until fentanyl came along. Now instead of one or two doses, it can take five or six to bring someone around.
The other two are both IM (intramuscular) injections. One is a kit with a vial and two syringes and can be finicky in a crisis.
The third is the auto injector. The needles are housed in plastic packaging just like an EpiPen for bee stings. The auto injector has a tiny speaker that talks you through how to use the product, from removing the red safety cap to pushing the needle through clothes and into skin. "It's like an EpiPen that talks to you," said Smith. "It has a little bubble to see that the liquid is in it."
Smith explained that people who are overdosing don't realize in time to be able to self-administer naloxone. They depend on people nearby carrying it.
"I have heard this from people who broke a pill in half and the first half was fine. The second half took them out. There's no way to evenly distribute fentanyl. The message I try to get out to everybody is that any street drug, regardless of what it is, you have to plan on it containing fentanyl."
Smith has seen people who use methamphetamine test positive for fentanyl without knowing they had ingested it. Smith said dealers have even been sprinkling it on black market cannabis. "Back when I was smoking weed, the big thing was to put PCP on it. So, it's just somebody coming up with a more potent party drug." She started using heroin at 16 and because she never vomited or overdosed, it became part of her life. Later, mixed opiates such as heroin with benzodiazepines such as Valium, Klonopin and Xanax to boost her high.
"If I wasn't in recovery, I don't think for a second that I would be alive today," she says of the risk of scoring pills now.
Naloxone is an over-the-counter medicine, but it can be expensive, around $170 for the nasal spray with two doses. Some health insurance companies will cover it.
"The only hiccup is you have to say that it's for you. Your insurance won't pay for a medication for somebody else." She would like to see it offered to anyone with an opiate prescription. It even works for children who have accidentally ingested opiates.
There is the catch that you have only four minutes of not breathing before brain damage sets in, and a few more after that before death.
"Every time that I overdosed, I was by myself. I am just absolutely lucky that people found me," Smith said.
In an Oxford House, she explained, the residents note each other's behaviors and can spot usage.
"We don't have a house mom that goes and knocks on the doors all the time. But once you get to know the people you're living with, being an addict, you recognize those behaviors. You start talking to them about it before they actually end up using or drinking."
Oregon has a strong Good Samaritan law, meaning no questions are asked by the police if you try to save someone from overdosing, whether you succeed or fail.
Smith recommends that if you see someone apparently asleep, say in the street, first holler at them, then rub your knuckles on their sternum to see if they wake up. If they don't respond, call 911 and administer naloxone if you have it.
"But first, make sure your surroundings are safe. Don't just walk up and shake somebody who's sleeping on the corner.
"Sometimes the person will come out of it, and they'll start walking off. But if you can, at least leave a line open with the operator (on 911) and communicate where the person is going. If they choose to deny the help after that, that's on them."
'Scares The Hell Out Of Me'
The fentanyl overdose wave "scares the hell out of me," Smith says. "The majority of the people who are overdosing aren't intending to use fentanyl. I know that a lot of parents are like, 'Oh, well, that's not my kid.' But, you know, the whole One Pill Can Kill campaign, that is absolutely true. I encourage all parents to educate themselves and to have those tough conversations."
Fentanyl-related overdose deaths in Oregon increased 600% between 2019 and 2021, according to a review of unintentional drug overdose and death certificate data by the Oregon Health Authority.
As part of International Overdose Awareness and Prevention Day, health care organization CareOregon announced a new partnership with Multnomah, Washington and Clackamas counties to deliver thousands of doses of the overdose reversal drug naloxone and other harm reduction supplies to community settings.
With a $3 million investment from CareOregon, the partners aim to distribute 20,000 doses of nasal naloxone and 20,000 of harm reduction kits beginning this fall.
Stacie Andoniadis, Substance Use Disorder Program manager for CareOregon, said in a release, "By working with the counties, we hope to quickly get supplies to people in need and those who serve them."
Harm Reduction
Fentanyl-related overdose deaths in Oregon increased 600% between 2019 and 2021, according to a review of unintentional drug overdose and death certificate data by the Oregon Health Authority.
The surge in fentanyl fatalities is driving overall overdose rates to the highest levels ever seen.
"What it comes down to is that we need to eliminate the stigma of drug use and we need more overdose reversal supplies in the hands of those who might need them," said Kelsi Junge, Multnomah County's Harm Reduction Program Manager.
Junge told Pamplin Media she carries Narcan and occasionally rouses people sleeping outside her office at Southeast Powell and 34th Avenue, or at the County Health Building in Old Town. "I have at times shaken them by the shoulder, and if they don't respond, I would administer Narcan. I have done it and it has worked every single time," Junge said.
More People Smoking Pills
"Fentanyl first showed up in our overdose deaths about five years ago," Junge said. "Since then, it has gone up about 600%. In the last year there's been a real shift amongst people who are using drugs, to fentanyl being their drug of choice. There's been a huge increase in the availability of counterfeit pills (that) are just pressed fentanyl."
Junge said Multnomah County has been doing syringe exchanges since 1989 but has never seen such a switch in behavior.
"In Portland in the last six months, we've seen people who were historically using injection methods switch to smoking pills."
On the bright side, this means less blood-borne infection, but it has not reduced the overdose rate.
Junge said one partner, an all-volunteer organization called Portland People's Outreach Projects, provides syringe services in downtown and on Friday nights does a bicycle outreach near Bud Clark Commons, as well as naloxone and fentanyl test strips.
"PPOP also distributes smoking supplies, like glass pipes or foil for people who are smoking their drugs rather than injecting," said Junge.
She added, "Anyone who would like to carry Narcan is able to go into a retail pharmacy and request it. No prescription is required."
To those who say they are enabling drug abuse, she says, "Our program prioritizes distributing directly to people who are using drugs, because we know statistically that's the best use of our resources. The people most likely to respond to an overdose are other people who are using drugs."
She added, "It really is critical to administer (naloxone) in those first few minutes that someone stopped breathing, as well as call 911. Get your backup on the way, but if we can intervene and get them breathing, every minute counts."
Joseph Gallivan is a reporter for the Portland Tribune and can be reached  by email at [email protected]. This article is used with permission of the Pamplin Media Group. Read more from Oregon's largest source of independent local news at pamplinmedia.com