House Health Committee Votes to Make Bedbug Reports Voluntary and Private
Multnomah County Health wants to better chart information about outbreaks with confidential information from exterminators
February 7, 2013 -- A bill that would allow exterminators to keep secret information about bedbug outbreaks passed the House Health Committee Wednesday without opposition.
The Multnomah County Health Department pushed for the new exceptions to public records law to set up a voluntary reporting system where pest control companies will feel more free to report bedbugs without fear of public backlash against their clients.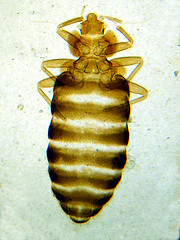 House Speaker Tina Kotek's office said the bill could go to the House floor as early as next Wednesday.
Multnomah County wants to build a database of information about the bloodsucking critters to see if infestations are concentrated in particular areas or groups of buildings.
"Our pesticide control partners are willing to give us the data as long as their clients are protected," said Lila Wickham, the environmental health director for the Multnomah County Health Department. "Good data is essential to the design of any tracking system."
Wickham said shielding the exterminators would not impact existing records, as exterminators would be providing new data for the county to analyze. Their information about individual property owners would be only available to county health departments.
She said currently there's little public knowledge about where bedbug outbreaks have occurred because a lot may go unreported to health authorities.
Bedbugs first returned in large numbers in the Portland area in 2008. The bugs all but disappeared from the United States after World War II before coming back with a vengeance in recent years. Wickham said that while bedbugs do suck blood, they are not vectors for disease.
The bugs are notoriously hard and expensive to get rid of, often requiring superheating of clothes, mattresses and apartments. Home Forward, formerly the Portland Housing Authority, spent $35,000 on a special kiln to cook incoming residents' stuff before they're let in.
The Oregonian editorialized against HB 2131 on the morning of the hearing, arguing that keeping a lid on bedbug information "should give open-government advocates the creepy-crawlies."
No one spoke against House Bill 2131 at the public hearing, but Rep. Jason Conger, R-Bend, wondered how the bedbug problem was being addressed elsewhere, including making the reports mandatory or keeping the records public. Conger voted for the bill along with the rest of the committee.
"I wonder what other states like New York are doing. It seems strange we're starting from nothing," Conger said. He said he didn't know enough about bedbugs to know if infestations could be prevented, but mandatory reporting requirements and consumer knowledge about them might encourage building owners to prevent their outbreak if they could.
Bruce Head, the owner of Pioneer Pest Management, argued that if exterminators were forced to report data on bedbug outbreaks, it would force their extermination underground to companies that would skirt the reporting requirements.
"There's a stigma associated to bedbugs as opposed to ants," Head said.
The bill also has the support of the Oregon Restaurant & Lodging Association.
Even if the new information given to public health departments is kept secret, complaints about hotels and apartment buildings battling bedbugs can still be registered informally on the Internet with sites like bedbugreports.com, where angry victims can post warnings for nearly any town in Oregon.
Image for this story by PeterEdin (CC BY-NC-SA 2.0) via Flickr.