House Health Committee Clears Toxic Toys Bill
The bill was narrowed but still requires manufacturers to report hazardous chemicals and phase them out in most cases. The Toxics Disclosure for Healthy Kids Act is modeled after a law in Washington, where a recent report found Disney and others failed to report child's perfumes laced with poisonous phthalates.
April 16, 2013 — Oregon took a big step forward to taking toxic toys off its shelves, as House Bill 3162, moved out of the House Health Committee.
The committee voted 7-2 to refer the legislation, which requires all companies that use 19 poisons in children's products to disclose the chemicals, and then gives the manufacturers five years to replace the toxic chemical with something safer.
"They can provide an alternative chemical," said Rep. Jason Conger, R-Bend, a chief sponsor of the bill. "We ask that they provide a hazard assessment."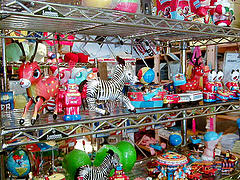 If companies don't comply, they'll be hit with civil penalties, although the bill's supporters expect toy manufacturers to phase out the toxics rather than face such fines.
However, HB 3162 didn't make it through the Health Committee without amendments that significantly narrow the bill.
While all manufacturers who use poisonous chemicals in their children's products will have to report to the state, only those who sell toys to kids under age 3 or that sell products designed for the mouth or skin would have to phase out the hazardous chemicals.
Language was also added clarifying that the phase-out portion of the bill will not apply to most phthalates or any other poison that the federal government decides to restrict in children's toys.
The 2008 Consumer Product Safety Improvement Act limited the concentration of certain phthalates to one part per thousand each, but at the same time the Bush-era federal law prohibited states from enacting safer standards, according to the Oregon Environmental Council, the chief lobbying arm behind the Toxics Disclosure for Healthy Kids Act.
Studies have shown that phthalates contribute to asthma as well as cause reduced testosterone and stunted testicles in mammals, according to the Washington Toxics Coalition.
As reported previously, Erika Schroeder, an ecologist at the Washington organization told The Lund Report that that the amount of phthalates in individual toys was less significant than the cumulative effect of these chemicals showing up in so many products.
Phthalates are used to soften plastics such as polyvinyl chloride or PVC and can be found in all kinds of toys, flooring and household products.
The Oregon bill does include two phthalates not restricted federally that manufacturers would have to phase them out if the bill becomes law. And, those manufacturers could not likely replace them with other phthalates already restricted federally since they must choose a safe alternative.
One of two "no" votes, Rep. Bill Kennemer, R-Oregon City, said that Oregon should continue to defer to the federal government:
"I have serious problem when we try making a very small state have different standards than everywhere else," Kennemer told The Lund Report after the vote.
But Rep. Alissa Keny-Guyer of Portland, the chief Democratic sponsor of HB 3162, said the federal government has not shown it has enough resources to properly police the industry.
"A lot of states are taking this into their own hands especially for their most vulnerable populations," she said.
Keny-Guyer cited a New York Times article that reported the chemistry industry doesn't have to prove a chemical is safe before it puts it on the market. The Environmental Protection Agency can't even test whether a chemical is threatening without first showing a risk is likely.
It has taken the watchdog efforts of Washington environmental groups to get companies to comply with that state's disclosure law. Last year, the Washington Toxics Coalition found that companies such as Disney and Claire's were targeting pre-teen girls with perfumes laced with phthalates, but failed to report that information to the state as required by law.
HB 3162 is opposed by the American Chemistry Council, the Toy Industry Association and Associated Oregon Industries.
"Just because a product is in a chemical, that doesn't mean it's harmful," chemistry council lobbyist Matt Markee told the committee in March.
"It might not be enough to prove it's unsafe, but it will be enough not to buy it for my grandkids," replied Rep. Mitch Greenlick, D-Portland.
Reporter Christopher David Gray can be reached at [email protected]. 
Image for this story by Mariko Watanabe (CC BY-NC-ND 2.0) via Flickr.