House Bill Requires Midwives to Be Licensed in Oregon
Rep. Alissa Keny-Guyer said requiring the license is a first step toward including home births in the Oregon Health Plan
Editor's Note: This article has been corrected from an earlier version.
March 19, 2013 — At a House Health Committee hearing last week, Margarita Mareboina held up pictures of her son, who died during labor after a botched delivery by unlicensed midwives in 2011. The baby was covered in meconium, the viscous, tar-like stools of a newborn's first bowel movement.
She said the unlicensed midwives told her that her pregnancy was low-risk, but she also didn't trust them in hindsight and an obstetrician may have disagreed.
"They failed me and my son," Mareboina said. "I delivered two days after my water broke. My son was perfectly healthy. He died a preventable death."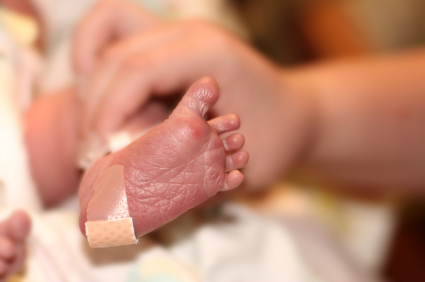 House Bill 2997, heard Friday before the House Health Committee, would require direct-entry midwives be licensed with the State Board of Direct Entry Midwifery. The board would have the power to set rules, investigate and discipline midwives, including the power to impose civil penalties.
HB 2997 is backed by two very different mothers with two very different political viewpoints — Rep. Alissa Keny-Guyer, a liberal Democrat from Portland, and Rep. Julie Parrish, a conservative Republican from West Linn.
"All of my children were born in hospitals with full-on drugs with cake at the end delivered by folks from the cafeteria. Birthing babies in my living room was probably not high on my to-do list," said Parrish, while Keny-Guyer had a decidedly different perspective:
"For the majority I'd say, myself included, home births with qualified midwives have had the high quality, patient-centered, lower cost healthcare outside a hospital setting which aligns with the direction of our healthcare transformation," Keny-Guyer said.
"The practice of home birth has been inconsistent and some families have suffered devastating losses," she added, while Parrish said she wanted to do what she could to help protect mothers who choose home births. Part of the problem is that some advertised midwives have a high level of professional accountability, while others practice without any qualifications.
Keny-Guyer had hired certified nurse midwives, who double as registered nurses and work in conjunction with a hospital or birth center and are required to be licensed.
HB 2997 affects direct-entry midwives, who can be educated through self-study, apprenticeship or a formal academic program. Currently, they must be involved in delivering at least 50 babies and meet other requirements before becoming licensed by the state, but licensing is entirely voluntary and many are unlicensed.
Judith Rooks, a midwife, epidemiologist and author of "Midwifery and Childbirth in America," cited statistics showing last year in Oregon, direct-entry midwives attended 7 infant deaths out of 1,200 births — a rate 8 times higher than in Oregon hospitals, where there were 25 neonatal deaths out of 40,000.
"Oregon needs more direct-entry midwives," Rooks said. "Many are excellent, but the floor is not high enough, the practice of these midwives is not safe enough."
The new mandatory license requires that direct-entry midwives, among other things complete written and oral examinations; become certified in cardiopulmonary resuscitation for infants and adults; participate in a minimum of 25 assisted deliveries, 100 prenatal care visits and 25 newborn examinations.
The bill also requires licensure for any midwife seeking reimbursement from the Oregon Health Plan. As reported earlier in The Lund Report, coordinated care organizations — which now deliver healthcare to Medicaid patients — have been reluctant to compensate for home births, largely because so many midwives are unlicensed.
"I want to work really hard to have home midwifery become part of the CCO program," Keny-Guyer had told The Lund Report. She said Oregon Health Authority Director Bruce Goldberg wanted the licensing bill to go through before they reopen the discussion of midwives in CCOs.
The law does leave exceptions for licensing midwives who practice as part of a religion or ethnic culture, and if the patient signs a waiver of informed consent.
Several people spoke against this exemption at the hearing, including Heather Johnson, a doula and midwifery student at Oregon Health & Science University: "I ask that you first take into consideration babies and mothers first," said Johnson, who was born at home but had a relative who died in a delivery with an unlicensed midwife.
But Dr. Duncan Neilson, the chief of women's services at Legacy Health System, said it would be impossible to enforce certain recent immigrant groups or Russian Old Believers who keep to themselves.
"When a woman becomes pregnant, she will deliver," said Neilson, an OB-GYN who sat on the task force that crafted HB 2997. "We can only regulate the people who are publicly listed as midwives."
He told The Lund Report after the hearing that he trusted the Board of Direct Entry Midwifery to exclude midwives from the exemption if they had no legitimate cultural or religious excuse to avoid licensure.
The large majority of those testifying on HB 2997 supported licensure, but the bill was not without its critics.
Kaire Downin said women were turning to home births because of the high rate of Cesarean births at hospitals, and said that licensing midwives was not the answer to reducing infant mortalities.
"Women have the right to choose and they also have the responsibilities to make sure that the person they choose is adequately trained and experienced in what they're looking for," Downin said.
Linda Bennett told Rep. Mitch Greenlick that he was coming through on his promise to "criminalize" unlicensed midwifery by supporting the bill. Bennett told the committee she was arrested for acting as a midwife without a license in California, and others will do the same in Oregon if HB 2997 passes.
Greenlick denied "criminalizing" midwifery was his intent.
One unstated reason for the opposition to licensure is the high fees associated with becoming certified. But Keny-Guyer said fees should come down as more midwives pay into the pool that pays the licensing board for its work.
HB 2997 was not called for a vote, but it is expected to pass later this session.