Hospitals and Imaging Centers Reveal Wide Price Variations for CT Scans
Patient charges for abdomen and pelvis CT scans at Oregon hospitals are as much as three times more than at imaging centers within the same region. Dramatic price differences are also found both between facility types and within the same location.
Shocked by the high price of a CT scan at St. Luke's Hospital in Boise, a patient called around to local imaging centers and discovered that the rates were considerably less for the same procedure.
"If I didn't use insurance at all, it would have only been 900 bucks, instead I ended up paying $2,700," said Eric Crawford in an interview with Channel 7 Investigates. The price tag for the CT scan at St Luke's was $3700 before insurance. Crawford compared costs at imaging centers in the area and was quoted patient charges ranging between $500 and $1000 if paid in cash.
The Channel 7 Investigates article speculated that insurance coverage and type of facility might both play a role in wide price variations of CT scans. The Lund Report wondered whether there might also be other factors.
Hospital Pricing Specialists (HPS) provided a list of Oregon hospital charges for abdomen and pelvis CT scans (from 2015). Although HPS was not able to provide cost data for imaging centers, The Lund Report discovered a huge difference in CT scan charges among Oregon hospitals.
Statewide, McKenzie-Willamette Medical Center, a for-profit hospital owned by Community Health Systems, Inc., a Fortune 500 company based in Franklin, Tenn., topped the list at $4,150 for a CT scan. At rock bottom, Lower Umpqua Hospital in Reedsport charged $181 for a CT scan. (Incidentally, The HPS report lists only the combined charge for abdomen and pelvis CT scans available here.)
For example, out of the 59 hospitals shown for Oregon:
25 percent charged more than $3,110 and up to $4,150.
47 percent charged between $2000 and $2,976.
17 percent of hospitals charged between $1000 and $1,628.
Five hospitals charged less than $653.
New Choice Health has an online directory comparing the costs of medical procedures between hospitals and imaging centers by region, revealing wide price variations both between facility types and within the same location.
As found in the directory, hospital patient charges for CT scans in the Portland area were three times the price of the same services found at imaging centers.
Providence Portland Medical Center charges among the highest range for CT scans ($2000 to $4,400 for abdomen and $2,300 to $5000 for pelvis scans) with only one other hospital (Kaiser Sunnyside Medical Center) charging similar rates.
Charges for imaging centers in the Portland area ranged from a low of $320 to a high of $1,400 for abdomen CT scans, and from $260 to $1,500 for pelvis images. Typical charges for six of the 10 imaging centers started at $650. Links for this information are available here and here.
In a conversation with Brad Nihls VP, New Choice Health, The Lund Report posed the question: why are there such large price differences for CT scans between hospitals and imaging centers as well as within the same facilities?
"The tool [New Choice Health price comparison directory] was designed to be a research tool for all patients," said Nihls. "The only way to educate patients is to provide a range of costs."
Insurance companies may have negotiated different rates with facilities, he added. "It used to be insurance was at the lower range but more and more we're starting to see self pay rates becoming more competitive."
Hospitals typically have higher overhead costs and need to charge more to make up for the shortfall from nonpaying emergency customers. Nihls also speculated that some hospitals may simply charge what patients are willing and able to pay.
When asked for insights about these high prices at Providence compared to imaging centers, Gary Walker, director of communications stated: "Hospitals fall under Joint Commission requirements and rules that differ from imaging centers. In addition, hospitals are staffed 24 hours a day and have to spread operating costs over all exams, regardless of volume." The price variation for a CT scan within Providence has to do with different elements included in procedures such as use of an imaging dye.
The tables below show a side-by-side comparison of hospital and imaging charges for CT scans of the abdomen and the pelvis.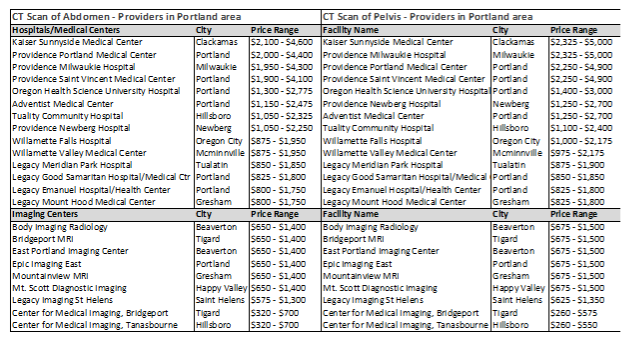 A marketing representative from Epic Imaging Center (who wished to remain anonymous) attributed price variations within their facility to the complexity of the procedure. Their facility also tries to make the CT scans more affordable for patients without insurance and for this reason cash pay may be less. Hospitals may charge more due to different standards and requirements than imaging centers, they indicated.
Kathryn can be reached at [email protected].
×
This article is for premium subscribers. If you are one, please sign in below.
You can see
two
more premium stories for free. To subscribe,
click here
. We depend on premium subscriptions to survive, and they are tax deductible.