Hospitals Accused of Putting Their Own Self-Interest Above Patients
The problem has become particularly acute for physical therapists and radiologists. Senate Bill 683 would require physicians employed by hospitals to disclose their organization's financial interest in referrals and allow patients to seek care with an independent practitioner.
May 20, 2013 — As major hospital systems like Providence and Legacy have bought up ancillary medical centers, added more physical therapists to their payroll and expanded their own supply of medical imaging equipment, independent physical therapists and radiologists say they have seen their referrals dry up and their businesses decline.
Dianna Godwin, an attorney for the Oregon Physical Therapists in Independent in Practice, said that hospital systems have insisted that patients use their own therapists, even if it means forcing the patient to wait weeks for therapy that could begin immediately with an independent therapist.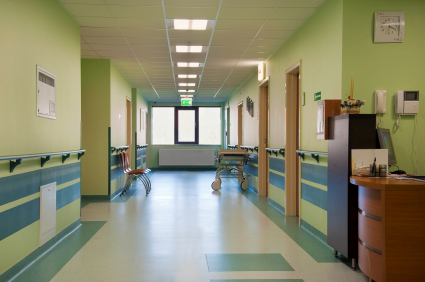 When patients have disobeyed a doctor's instructions and asked that they be allowed to use an outside therapist, they have had physicians pull their referrals for physical therapy, who suddenly decide there's no need for physical therapy if their hospital cannot financially benefit, Godwin said.
Senate Bill 683 would move to quell hospitals' money grab by requiring physicians to inform patients about the hospitals' financial interest in any referrals and give them options for seeking care. Doctors would no longer be allowed to cancel a referral if patients chose their own provider.
"We know we're going to need these providers," Godwin said. "We don't have enough providers today."
The bill was heard in the House General Government and Consumer Protection Committee on Thursday, when Rep. Paul Holvey, D-Eugene, said he planned to move the bill to the floor in coming weeks.
Dr. Christopher Altenhofen, a radiologist at Epic Imaging in Portland, said he had a case where one of the hospitals ordered a PET scan for a patient, and gave the patient no other choice but to use their equipment and wait nine days.
The patient sought services at his clinic and Epic saw her the next day — a full week before she would have received care at the hospital.
One independent physical therapist who withheld his name for fear of retaliation from hospital systems said hospitals often keep the patients with high-paying insurance while dumping the Medicare or Oregon Health Plan patients because the reimbursement is lower.
Compromise Measure
Originally, the bill sought to ban all referrals but was scaled back on the argument that referring services in-house can sometimes provide more coordinated care along with a more cost-effective deal.
"The ability to provide ancillary services is a vital goal to providing coordinated care," said Terry Fitzpatrick of the Oregon Urology Institute in Springfield, who supported the bill after it had been amended.
Gwen Dayton, an attorney for the Oregon Medical Association, which also opposed the original bill, supported the amended version. "[Patients] really do need the ability to go where they want," she said.
The bill almost never saw the light of day. Two similar measures were assigned to the Senate Health Committee, but Sen. Laurie Monnes Anderson, D-Gresham, killed them so they could not reach the Senate floor, while SB 683 passed on a bipartisan 24-5 vote.
Monnes Anderson believes there's already federal laws to protect against self-referral, but SB 683 supporters say those laws are inadequate. According to Sen. Chip Shields, D-Portland, there were loopholes "big enough to drive a truck through."
Oregon and federal law already require physicians to notify their patients if they have a direct financial stake when making referrals, but these laws do not apply to physicians employed by hospital systems such as Providence and Legacy. Although the physicians may not benefit financially from referring their patients to providers inside their hospital system, Godwin said she had documentation showing that the hospital and clinic computer systems are often set up to include only in-house providers.
Patients have complained that they repeatedly have had to jump through hoops to see a physical therapist of their choice when they needed care.
Shields introduced SB 683 to the Senate Consumer Protection Committee, which he chairs, bypassing Monnes Anderson and brokering a compromise with the Republicans on his committee -- Sen. Herman Baertschiger Jr. of Grants Pass and Sen. Larry George of Sherwood.
Warning to Hospitals from Senate
George told his Senate colleagues when the bill passed that chamber in April that he was convinced of the need to support a compromise measure because of Shields' persuasive powers and conversations he's had with physical therapists in his own district who've seen their business suffer because of hospital self-referrals.
"This a shot across the bow to those who engage in these kind of practices," George said. "This is a warning shot. We in the Legislature are watching you."
Sen. Alan Bates, D-Medford, called it a good bill and said self-referrals within hospital systems were a growing problem as fewer and fewer physicians work independently. Physicians employed by hospitals have been encouraged to use imaging facilities and physician therapists that benefit that hospital system, but not necessarily the patient, he said.
As an osteopathic physician, he's referred services outside his own system to save patients time and money. "We are here for our patients, not for ourselves," Bates said.
The upper chamber's other physician, Sen. Elizabeth Steiner Hayward, D-Portland, voted against the bill, but acknowledged the problem and said she hoped to support the bill with some changes on the House side. "I'm not sure it does all it's intended to do," she told her colleagues.
She refused to comment further when The Lund Report asked her to elaborate. Steiner Hayward is employed by one of the largest hospital systems — Oregon Health & Science University.
Steve Conklin, an attorney for OHSU, has a seat on a SB 683 work group, which is working to fine-tune amendments which would allow OHSU to support the bill.
Providence Denies Charges
Dan Jarman, the lobbyist for Providence Health & Services, said that its physicians are actually prohibited from making referrals only in-house. "A majority of our referrals go outside our system," he said.
Patti O'Sullivan, a lobbyist for Oregon Association of Hospitals & Health Systems, said her organization did not yet support the bill, but believed a consensus was at hand. During the public hearing in the House Consumer Protection Committee, she mentioned that it was a patient's responsibility to determine if their insurance actually paid for imaging or physical therapy outside the hospital system.
However, this would be true even if a patient were seeking care within the same hospital system. Often, insurers will cover certain doctors and services at a hospital but not others.
If this bill does see the light of day and turn into law, it carries a financial penalty. Hospital systems and practitioners could be fined $1,000 – hardly a hefty fine for a major hospital system. But that fine might also be watered down on the House side, according to agreement between George and Shields. Fines would be limited to one $1,000 fine per investigation rather than one fine for every violation of the law. The Oregon Health Authority process will also be driven by complaints from consumers, who may not know that providers are required to give them options.
"If the patients don't know that the law exists, they won't report it," Altenhofen said.