Nearly 40 percent of U.S. physicians now employed by hospitals or health systems
September 8, 2016
WASHINGTON, DC—A new study prepared by Avalere Health finds that the number of physician practices owned by hospitals/health systems rose 86 percent between 2012-15, with the percentage of physicians employed by hospitals or health systems increasing in every region of the country during this time. Released by the Physicians Advocacy Institute (PAI), the analysis also finds that by mid-2015, 38 percent of U.S. physicians were employed by hospitals and health systems. This reflects roughly a 50 percent increase between 2012 and 2015, growing from 95,000 employed physicians in 2012 to more than 140,000 employed physicians in 2015.
In its analysis of hospital acquisitions of physician practices, the study shows that as of  mid-2015, one in four medical practices was hospital-owned. From 2012 to 2015, hospitals acquired 31,000 physician practices. These acquisitions typically involve the acquisition of the services of multiple physicians through employment contracts, as well as the practice's physical building and equipment. 
PAI studied these trends in order to better understand how these changes affect the practice of medicine for physicians and also implications for patients and the wider health care system.
Another PAI analysis developed by Avalere earlier this year found Medicare payments for three common services are up to three times higher when performed in a hospital outpatient department instead of a physician-owned office.
"Medicare spends less when patients receive treatment in a physician's office, yet the number of physician-owned medical practices is rapidly shrinking," said Kelly Kenney, PAI executive vice president. "The shift toward more physicians employed by hospitals could mean higher costs for the entire health care system. For patients, it impacts both where they receive and how much they pay for care."
The analysis found hospitals' employment of physicians and ownership of practices rose dramatically in every region of the U.S. From 2012-15, hospitals' employment of physicians rose approximately 59 percent in the South; 58 percent in the Northeast; 49 percent in Alaska and Hawaii; 44 percent in the Midwest; and 33 percent in the West. Over that same time frame, hospitals' ownership of practices rose approximately 118 percent in Alaska and Hawaii; 106 percent in the Northeast; 98 percent in the South; 82 percent in the West; and 72 percent in the Midwest.
"Regardless of where they live, physicians who want to remain in private practice are under tremendous pressure," said Robert Seligson, PAI president and CEO of the North Carolina Medical Society. "Payment policies from governmental agencies and health insurance companies heavily favor large health systems and make it challenging for independent physician practices, especially smaller practices, to survive. Just like what's happened with local book stores and corner grocers, it is increasingly hard for local physicians to own their practice. The incentives are stacked against them."
Regional Growth in Hospital Ownership of Physician Practices and Employment of Physicians, July 2012 – July 2015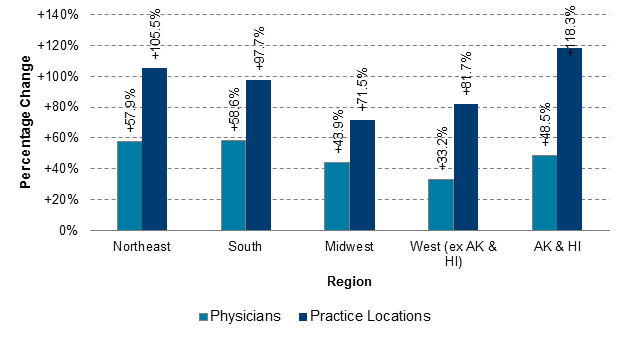 Avalere analysis of hospital/health system ownership of physician practice locations data and data on primary practice location.
Methodology
Avalere used an SK&A database that contains physician and practice location information on hospital/health system ownership. Each record in the database corresponds to a unique physician in a specific practice location. The database identifies each physician-practice location combination as "employed"—part of a hospital or health system-owned practice—or "independent." These data include solo and single-location small practices as well as large, multi-specialty multi-location group practices. The dataset covers seven different points in time from July 2012 to July 2015 for each physician-practice location combination. SK&A develops the physician affiliation flag through conducting bi-annual phone surveys with individual practice locations. Avalere linked the data from SK&A to the CMS National Plan & Provider Enumeration System by National Provider Identifier to identify the primary address for the providers. Refer to Slides 5-7 of the full report for full methodology and references.