High Blood Pressure May Go Unscreened in ZoomCare Visits
A 43-year-old ZoomCare patient's high blood pressure went undetected until she surfaced at a safety-net clinic after the for-profit clinic skipped the basic check
January 28, 2013 -- Abigail Lawrence doesn't have health insurance, a side effect of her career in community theater. The 43-year-old seldom seeks any medical care as a result, and had trouble recalling a doctor's visit in the past 10 years.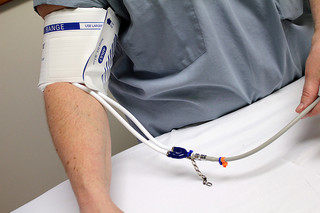 But a skin condition this fall would not heal itself. On advice from a friend, she checked into a ZoomCare clinic on southeast Hawthorne in Portland, where she could quickly come in for a 15-minute doctor's visit. ZoomCare charges uninsured patients a flat $105 fee for a medical visit.
She said she was prescribed a topical ointment for the rash and was asked to take some blood tests.
"They were convinced I have diabetes because I am overweight," Lawrence said. Despite the blood tests, she said it was odd her appointment didn't include the familiar check of her blood pressure or temperature.
The diabetes tests came back negative, but the skin rash only grew. Rather than return to ZoomCare, Lawrence went to the free clinic at North by Northeast Community Health Center a few days later. She waited three hours to see anyone, but soon learned she had much bigger health problems than a skin rash.
"One nurse took my blood pressure two or three times, not believing how high it is," Lawrence said. Her reading was 209/143 mm Hg, much higher than the normal reading of 120/80 mm Hg.
The detection signaled Dr. Jill Ginsberg at the North by Northeast clinic to prescribe medications that would lower her blood pressure and help prevent heart disease, a heart attack, kidney failure and stroke.
A key quality control measure of Oregon's new coordinated care organizations for the Oregon Health Plan requires organizations to track and control high blood pressure, which kills 300,000 Americans a year, according to the American Heart Association.
Millions of Americans have gauges to help them check at home, or they can test their blood pressure at Fred Meyer or Walgreen's.
But ZoomCare does not check high blood pressure automatically during patient visits.
"ZoomCare feels that it's just not needed if someone comes in for something unrelated," said David Ray, the marketing director for ZoomCare. He said that while they do blood pressure checks for thousands of patients, conditions such as a sore throat or a need for sutures may not justify a screening.
"We provide exemplary care," said Dr. David Sanders, co-founder of ZoomCare.
"I had never heard of any medical visit that doesn't include a blood pressure screening," said Ginsberg. "High blood pressure is called a silent killer because it doesn't have symptoms and this patient, she had no symptoms."
The American Heart Association says that one in three adults have high blood pressure which can lead to early death if uncontrolled. A September study from the Centers of Disease Control said 14 million Americans who have high blood pressure are undiagnosed.
Len Bergstein, a public relations spokesman for ZoomCare, said medical providers at the clinic chain believe philosophically in looking at each patient individually, and prescribing the treatment needed.
"We take a blood pressure test when it is indicated that a blood pressure is appropriate," Bergstein said. "If they don't think that they need a blood pressure test, they don't take a blood pressure test."
Ray added: "We regularly do provide blood pressure checks, but it depends on the patient, there is no one rule."
"That wouldn't be doing it routinely," Ginsberg said. "Routinely means doing it every time. Checking for high blood pressure is a screening tool. When you do it, you can easily find a problem you don't expect."
State Sen. Alan Bates (D-Medford), is a doctor who's been critical of ZoomCare in the past for avoiding vulnerable populations by not accepting patients with Medicare or Medicaid, the federal health programs for the elderly and the poor. But there really aren't any fixed rules determining when patients must get something like blood pressure checked.
"They're not breaking any laws. It's a matter of good practice to do so," said Nick Schults, a legislative aide and spokesman for Bates, who practices medicine in Medford when not working in the Legislature.
ZoomCare sees as many as 120,000 patients a year and the average age of their patients is 32. The for-profit clinic accepts most insurance policies or patients can pay a flat fee out-of-pocket.
"We are a very good cost-efficient, affordable provider," Ray said. "We do see a lot of patients who are cost-conscious and don't get care otherwise."
Lab tests like a urinalysis, pregnancy or strep tests as well as vaccinations and splints for injuries are considered add-ons and carry additional fees. The clinics carry a lot of generic drug prescriptions, selling them at lower costs than pharmacies.
ZoomCare operates about a dozen clinics in the Portland area and more recently opened clinics in Boise, Seattle and Salem. The company has grown rapidly since its founding in 2006, said Ray, adding a few clinics each year.
After several weeks of monitoring at North by Northeast, a better diet and prescription medication, Lawrence has been able to regulate her blood pressure to healthy levels. The skin condition also went away with a steroid cream.
Lawrence said ZoomCare was fast and easy to get a 15-minute appointment. The appointment ran on schedule as promised, and without the long wait she first endured at the free clinic.
"In a pinch, if you have [$105], it may be worth it to see ZoomCare," she said. "Make sure you ask them to check your temperature and blood pressure, though."
Image for this story by Quinn Dombrowski (CC BY-SA 2.0) via Flickr.