Vaccination rates rose steadily prior to the pandemic but then fell as professionals focused on COVID-19
Image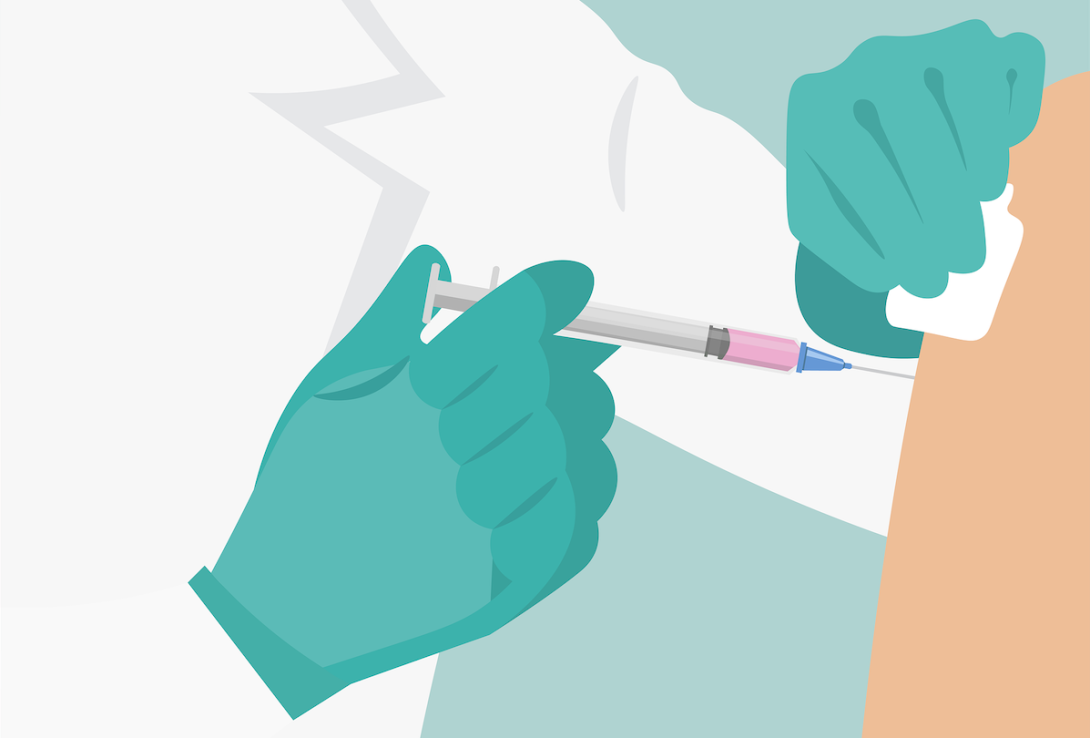 February 23, 2023
After a three-year lull, flu infections are up in the community and health care settings, prompting a warning by the Oregon Health Authority for more health care workers to get vaccinated.
The agency said in a news release Wednesday that before the COVID pandemic, flu vaccinations among hospital staff had steadily risen. They increased from 85% from 2017 to 2020 but then fell in the 2022 season to 63%.
The decrease coincided with a statewide focus on COVID among health care professionals and in the community and a drop in flu infections due, in part, to people masking in public and avoiding indoor gatherings. 
But this year, flu infection rates rose, coinciding with the lifting of most mask mandates and a general resumption of normal activities and interactions. Masks are still required in health care settings.
Becca Pierce, who manages the agency's program on hospital-acquired infections, told the Capital Chronicle that a drop in flu vaccines in clinics and especially hospitals is worrisome because infection rates have risen and the flu can be deadly, especially for the elderly and people with compromised immune systems. By getting a shot, health care workers protect themselves and patients. State figures show that flu infections peaked in early December in the Portland area, when about 30% off all tests were positive. Nevertheless, there's been a slight uptick in infections since late January. 
"We've absolutely seen the spread of respiratory viruses in general in health care settings," Pierce said. "That's in large part to what we were seeing in the communities."
State figures show the highest rate of infections in child care settings and long-term care facilities, which house some of the most fragile residents.
The recent increase comes at a time when hospitals are short on beds caused by an increase in respiratory infections in general and people needing care after postponing treatment during the worst part of the pandemic. People tend to be sicker when they seek treatment than they were before the pandemic.
"We want to get these (vaccination) levels back up to their pre-pandemic baseline, if not beyond," Pierce said.
The effectiveness of the vaccine can vary: It is formulated in advance for the northern hemisphere based on strains circulating in the south. But this year's vaccine is highly effective, she said.
"That's why it's very important that health care workers are vaccinated against the virus," Pierce said. "It's still not too late to get your flu shot."
A state dashboard with flu vaccination rates among various professionals in health care show that dialysis workers had the lowest rates last flu season: only 27%, marking a drop of 43 percentage points from the year before. Psychiatric facility staff had the next lowest rate last year: 46%, a drop of 16 percentage points from the previous year. Staff in ambulatory surgery centers – facilities outside hospitals –  had the highest flu vaccination rates last year at 75% –  followed by hospital workers – 66%. Only about half of nursing facility staff had received a flu shot.
The state does not have data for this year. Wednesday's warning indicates that officials fear that rates could still be low.
A primary round of COVID shots remain mandatory for health care staff, but flu shots are not required. Pierce said the drop in vaccination rates has been driven by staff refusing to get a shot and incomplete recordkeeping. Rates can be difficult to track because personnel can get them in pharmacies, for example, outside work. 
"It is likely that pandemic response activities challenged the ability to track flu vaccination uptake," Pierce said. "Now that flu is back to pre-pandemic levels of circulation, it is so important that facilities track vaccination status of health care personnel as it's the first step to improving vaccine uptake."
The Oregon Health Authority has a goal of a 90% flu vaccination rate among health care workers. Achieving that will require administrators to encourage staff, contractors and volunteers to get vaccinated at the start of every season. Facilities can host mass vaccination fairs, provide no-cost vaccines, offer incentives and require staff who decline a vaccine to sign a form, the health authority said.
"Through the 2019, 2020 season, we saw really pretty incredible progress across our health care facility types in flu vaccination levels. And that was really in part to the incredible work that health care facilities put into education, into making vaccine accessible. So we're confident they can rebound," Pierce said.
The state has developed a toolkit to help administrators track the data. Pierce said the health authority has no plans to adopt a flu vaccine requirement for health care workers.
Oregon Capital Chronicle is part of States Newsroom, a network of news bureaus supported by grants and a coalition of donors as a 501c(3) public charity.