Vaccinations have slowed to a snail's pace, creating uncertainty about when the state will reach 70% vaccination for adults.
Image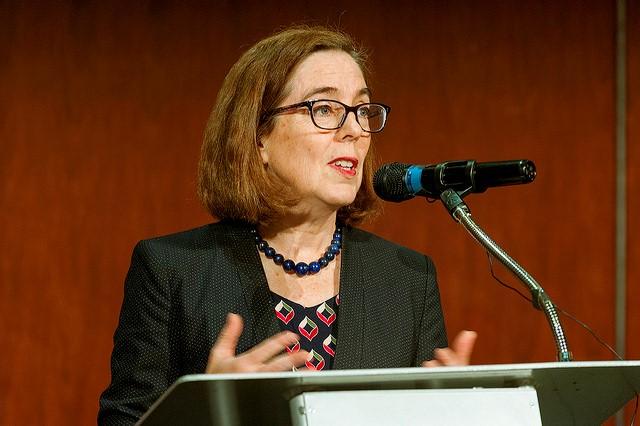 June 25, 2021
Gov. Kate Brown said Friday she will lift state COVID-19 restrictions no later than June 30, regardless of whether the state has vaccinated 70% of adults.
Brown's decision means Oregon faces less than a week of COVID-19 public health restrictions such as wearing masks, business capacity limits and social distancing. Those restrictions will be lifted when Oregon hits its goal of vaccinating 70% of adults 18 and older or on June 30 -- whichever comes first, Brown said.
At that point, Brown said, "Oregon is effectively open for business. This is a pivotal movement for Oregon."
Brown is among the last U.S. governors to keep some COVID-19 restrictions in place. Almost all other states weeks ago dropped all restrictions, and the remaining ones mostly plan on dropping them by the end of this month.
Brown's timeline and approach mirrors that of Washington state, which plans to open by June 30 or when its vaccination rate is 70% for residents 16 and older, whichever comes first. Washington is currently at 68%. In Oregon, 65.5% of residents 16 and older have been vaccinated.
About 31,000 more Oregonians need to get their first shot for the state to reach the 70% rate for adults. But vaccinations have slowed to a crawl: about 7,000 a day, including first shots, second shots and people ages 12-17, according to the state database.
The current vaccination rate is 69%, and  officials repeatedly said vaccination efforts will continue before and after Oregon hits 70%.
More than 2.3 million Oregonians have received the vaccine. 
"Brighter days are certainly ahead and we are more determined than ever to make sure we ground our state in a strong recovery that reaches every Oregonian," Brown said.
Oregon's vaccine rollout has had mixed success. Only nine of Oregon's 36 counties have a vaccination rate of 65% or greater for those 16 and older. That includes the entire tri-county Portland area and Hood River, Benton, Lincoln Deschutes, Lane and Polk counties. But about a dozen counties have a vaccination rate below 50%. Lake and Malheur counties each have a rate below 40%, the lowest in Oregon.
Many hundreds of thousands of Oregonians who are eligible for the vaccine have decided against it or simply not bothered. In the Multnomah/Washington/Clackamas region, 458,000 of the 1.5 million eligible people have not been vaccinated, state data show. In Jackson County, home to Medford and Ashland, 88,000 of 185,000 eligible people have not been vaccinated. 
Allen, as he has been doing for months, on Friday encouraged people to get vaccinated and protect their communities. Most COVID-19 hospitalizations and deaths are for people who were either not vaccinated or not fully vaccinated with both doses. 
"Low vaccination rates in local communities are dry tinder for new COVID-19 outbreaks to emerge," Allen said.
Still, the announcement marks a turning point in the pandemic as most restrictions are lifted in the state. The management of COVID-19 will shift too. Local leaders like county commissioners and health officials will manage COVID-19 outbreaks and make decisions about whether their jurisdictions need restrictions like masks or capacity limits. 
"Now with the vaccination rate of nearly 70%, we can pull back" and shift responsibility to local officials, Allen said. 
Local leaders will do case investigations, contact tracing and make the call about restrictions, Allen said. 
The health authority will continue to collect and report COVID-19 data, allocate vaccine doses and ensure counties have enough testing supplies, Allen said. 
The lower case rates allow the shift from statewide posture to a greater role of authority in local jurisdictions, which also have varying vaccination rates and case levels.
Still, Allen stressed the state and local governments will need to work together. 
"This is not a go it alone moment," Allen said. "COVID hasn't gone away. We still need an all-together attitude."
You can reach Ben Botkin at [email protected] or via Twitter @BenBotkin1.