With the pace of the increase in statewide COVID-19 hospitalizations slowing a tad, the 15 counties will be able to return to indoor dining on Friday.
Image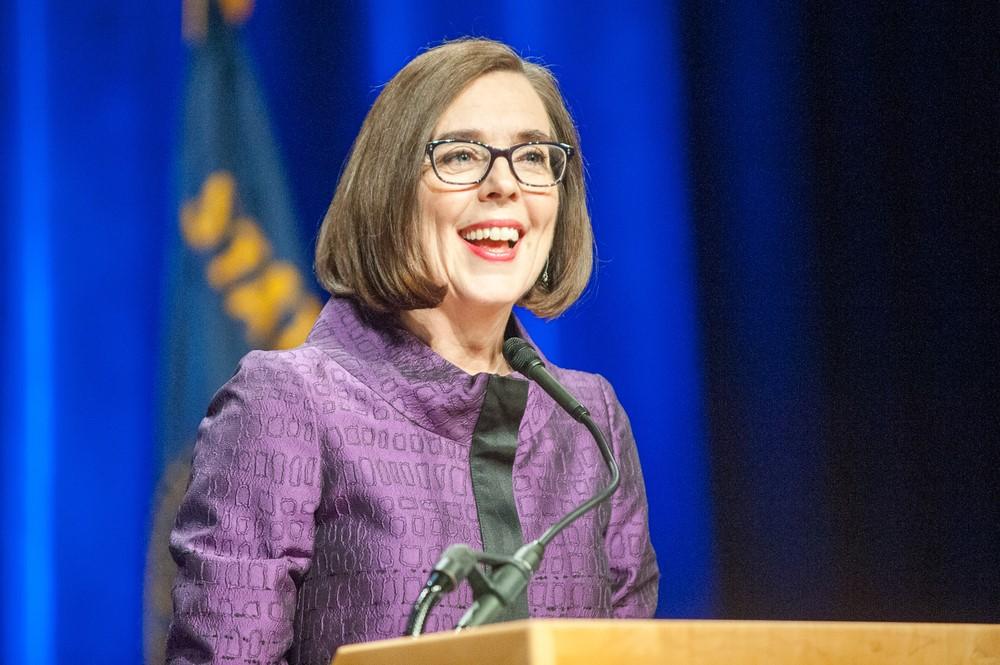 May 4, 2021
Due to leveling statewide COVID-19 hospitalizations, 15 Oregon counties will exit the extreme risk ranking for COVID-19 on Friday, a move that lets restaurants resume indoor dining, Gov. Kate Brown said Tuesday.
The counties will have ended up spending just a single week under the extreme risk protocols, which impose the most restrictive public health measures to curb COVID-19. The extreme risk ranking bans indoor restaurant dining and limits capacity at retail outlets, recreational facilities and entertainment venues.
The 15 counties will drop down to the state's high risk category, which allows restaurants and bars to operate at 25% capacity or up to 50 people indoors, whichever is less. The state put the 15 counties in the extreme risk category in response to rising statewide COVID-19 hospitalizations. Those counties can exit the extreme risk category because the statewide increase in COVID-19 hospitalizations has stabilized at just under 15% per week.
The 15 counties include Multnomah and Clackamas in the Portland area. The other counties are Baker, Columbia, Crook, Deschutes, Grant, Jackson, Josephine, Klamath, Lane, Linn, Marion, Polk and Wasco. 
Jason Brandt, president and CEO of the Oregon Restaurant & Lodging Association, said the exit out of the extreme risk category is sorely needed.
"Local restaurant owners across the state are going to be relieved by the news," Brandt said in an interview with The Lund Report. "Some that recently had to shut down indoor dining this last Friday are going to have to scramble to get ready for weekend business and Mother's Day."
Brown has faced increasing criticism from the restaurant industry as the state has alternately tightened and loosened restrictions in response to COVID-19 hospitalizations and cases surging and slackening.
The state has a four-level framework for counties that gauges their risk for COVID-19 based on case counts and infection levels. In counties with a lower risk, businesses and restaurants can open more, while counties with higher risks face more restrictions that force businesses and restaurants to operate at less capacity.
When the 15 counties drop to the high risk category, Oregon will have 24 counties in the high risk category. Another four counties will be in the moderate risk category and eight counties will be in the lower risk category. 
Besides the 15 counties, the other counties in the high-risk category are: Benton, Clatsop, Douglas, Jefferson, Lincoln, Malheur Umatilla and Yamhill. 
Coos, Curry, Tillamook and Hood River counties are in the moderate risk category, which allows restaurants to 50% capacity or 100 people, whichever is less. 
All eight counties in the lower risk category are in rural areas. They are Gilliam, Harney, Lake, Morrow, Sherman, Union, Wallowa and Union counties. Restaurants in lower risk counties can operate at up to 50% capacity, with no cap on the number of people.
"Let me be clear: across the state, COVID-19 cases and hospitalizations are still high, and Oregon is not out of the woods yet," Brown said in a statement. "However, we have met the hospitalization metric established by our health experts for counties to return to high risk. From the beginning, I have said that returning counties to the extreme risk level was about preserving hospital capacity and saving lives."
As part of any county being moved into the extreme risk category, the state has set a multi-part trigger for statewide hospitalizations. The trigger includes more than 300 people hospitalized statewide with COVID-19 and a seven-day average increase of at least 15% for hospitalized COVID-19 patients.
This week, the average seven-day increase in hospitalizations was 14.9%, moving Oregon outside of the trigger. The Oregon Health Authority reported 345 people hospitalized with COVID-19 on Tuesday. That's down slightly from a peak of 351 in the past week. 
The health authority measures hospitalizations by patient bed-days. One patient bed-day is one patient occupying one hospital bed. In the past seven days, Oregon had 2,371 COVID-19  patient bed-days, a 14.9% increase. 
Brown said Oregonians need to continue to practice distancing, wear a mask and avoid large gatherings. Brown also urged Oregonians to get vaccinated. 
"Vaccinations are still our best path to protecting our loved ones, and staying on track to fully reopen our economy by the end of June," Brown said. 
The restaurant industry and others are looking forward to that. In 2020, the restaurant industry in Oregon had about 1,200 permanent closures and 770 openings, a net loss of nearly 500 restaurants, Brandt said.
"The pathway out of this is getting every Oregonian vaccinated that's willing to get in line and be a part of the solution," Brandt said.  "It's a pandemic that has touched all of our lives and for local restaurants that have been able to survive through it all they can't be more excited to welcome people back."
You can reach Ben Botkin at [email protected] or via Twitter @BenBotkin1.