A hospital industry group criticizes the proposed cuts in Medicaid reimbursement rates following a rough year for hospitals that have seen reduced revenue from elective procedures.
Image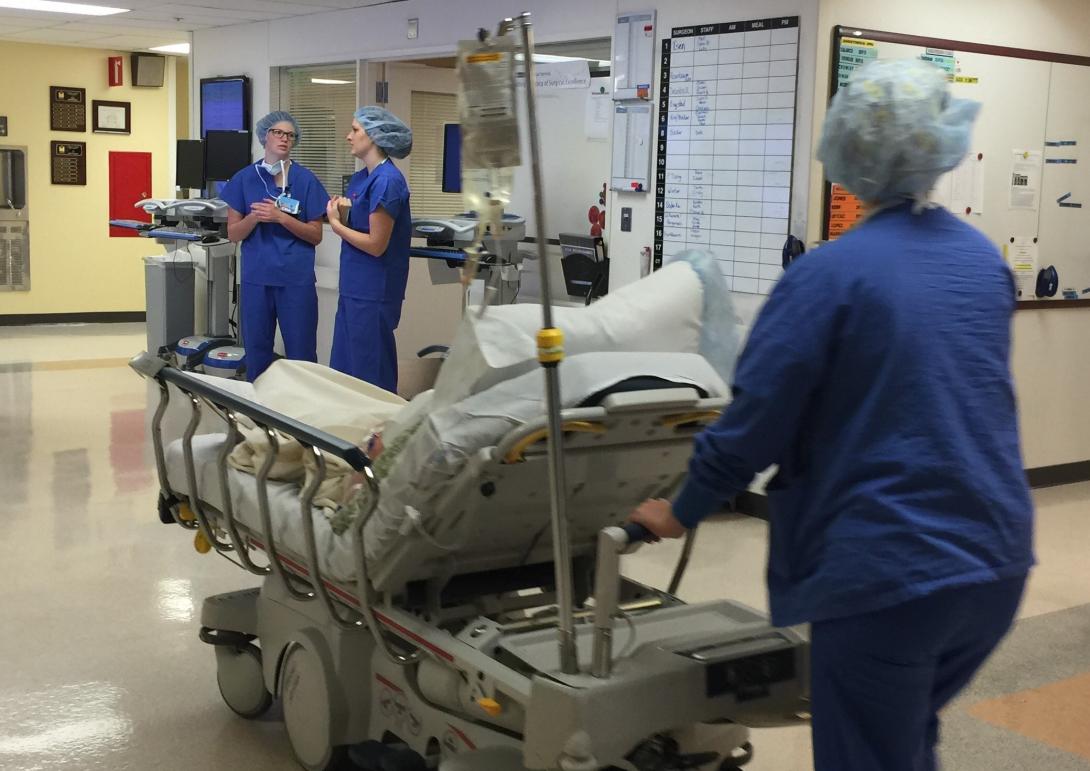 December 1, 2020
Gov. Kate Brown is proposing to cut Medicaid reimbursements to hospitals as she anticipates the federal government will end its emergency COVID-19-related Medicaid funding boost to states, possibly in late 2021. She also wants to trim funding increases to Medicaid insurers.
The pandemic has put added strain on Oregon's Medicaid system, which now insures 1.23 million state residents. Without fixes, the state faces a $419 million budget gap for Medicaid in the next two-year budget period, which starts July 1.
Medicaid enrollment has swelled by about 150,000 since the pandemic started. Each new member costs the state about $6,000 a year, which is covered by state and federal money. Meanwhile, it's unclear how long the enhanced federal funding for Medicaid will continue. Congress started the temporary aid in March. The result: state budget planners have to deal with a looming gap.
The state's hospital industry is concerned about how the proposed cuts would impact health care providers even as they grapple with the pandemic. The proposed cuts also include reducing increased payments to coordinated care organizations, the insurers that serve Medicaid patients, as well as, for example, eliminating a program that helps graduate medical students.
The battle over state health care spending began immediately after Brown released her 2021-2023 budget proposal on Tuesday. The proposal is a starting point that reflects the uncertainties that states across the nation face on whether the federal government will continue its massive, costly COVID-19 aid program to states. State lawmakers will set the budget in the 2021 session that starts in January. The final figures could change based on revenue projections, behind-the-scenes negotiating and federal funding.
"It's a budget built on sacrifice and hard choices," Brown said. "It doesn't go far enough to heal the pain of 2020."
That's especially true for health care. 
Oregon faces a $419 million budget gap in the Oregon Health Plan, which provides Medicaid coverage. Brown's proposal would close that gap in part with cuts to Medicaid payments to hospitals. For example, the proposal would cut the Medicaid reimbursement rates from 80% of the rate paid for Medicare patients, to 76% of Medicare rates at diagnosis-related group hospitals, a group that mostly encompasses larger facilities with more than 25 beds.
Annual Increase To CCOs Would Be Cut
There are other cuts too, such as eliminating the state's graduate medical education program, which helps students prepare to become physicians in Oregon. The budget also would trim the annual increase for coordinated care organizations from 3.4% to 2.9% and reduce the quality pool funding - a type of bonus - that coordinated care organizations receive for hitting benchmarks in how they serve clients. The insurers would likely try to spread the burden of that reduced payment rate on to health care providers.
Becky Hultberg, president and chief executive officer of the Oregon Association of Hospitals and Health Systems, said the group is disappointed that Brown wants to cut funding even as hospitals deal with the COVID-19 crisis.
"The overall magnitude of the reductions did shock us," Hultberg said in an interview with The Lund Report. 
Hultberg said the association is still calculating the impact of the cuts. But it easily amounts to over $100 million for hospitals statewide when factoring in both lost federal and state Medicaid dollars.
"In the middle of a once in a lifetime pandemic, we should not be withdrawing financial support for hospitals," Hultberg said.
Hultberg said the association supports Brown's public health efforts to fight COVID-19, which makes the latest development a disappointment.
The group said net patient revenue for hospitals fell about 21% in the first six months of the year and that the proposed cuts would force hospitals to reduce services. Some observers have said that most hospital systems in Oregon have big investment reserves they could dip into, however.
New Tax On Cigarettes, Vape Products Add Income
The shortfall could have been worse. The hospital association and other medical provider groups backed Measure 108, which increases the tax on tobacco and vaping products. Voters passed the measure in November, which will put about $300 million into the Medicaid budget in the next biennium. 
The group also is concerned about the impact of the reduced funding increase to coordinated care organizations.
Brown said she met with hospitals on Tuesday for a "tough conversation" about her budget proposal and called it a "starting point." She said she wants every Oregonian to have access to health care while keeping the Oregon Health Plan, Oregon's version of Medicaid, on solid long-term financial footing. 
"If the pandemic has shown us nothing else, it's that health care is so critical for every Oregonian," Brown said. 
The governor's proposal banks on Oregon continuing to receive enhanced federal Medicaid funding for a number of months. When the pandemic started, the federal government increased the dollars it gives states for Medicaid. Brown's budget proposal hopes that enhancement continues through September 2021. 
Brown stressed the need for a broad federal COVID-19 relief package to help states with the continuing fallout of the pandemic. Oregon's economic recovery hinges on that aid, Brown said. Congress is currently haggling over the size and scope of any continuing aid..
Like other states, Oregon has relied heavily on federal COVID-19 aid, including health care funding, increased unemployment benefits and help for businesses that shuttered or reduced hours and services. That relief aid stops at the end of this year, but Brown's proposed  budget is built on the assumption that it will continue in 2021.
Brown wants federal aid for health care as well as services like unemployment funding, housing and rental assistance and schools that reopen.
The governor's budget proposal has increases in other areas for health care and other programs tied to public health.
For example, Brown wants $66 million more in the next budget for housing and homelessness programs. She's also asking Congress for another $350 million in rent assistance. 
Brown also wants to put $30 million into public health modernization to  prepare the state for pandemics and other crises.Overall, the proposed budget two-year for the Oregon Health Authority, which runs the Oregon Health Plan and other programs, is $3.2 billion in state general funding, a 15.8% increase. The total health authority budget proposal, including federal dollars, is $27.2 billion, which is a 16.2% increase over what lawmakers approved for the 2019-2021 budget. 
Health Insurance For Unauthorized Immigrants
Other proposed new spending includes $10 million for a health insurance pilot program to expand coverage for uninsured Oregonians who are undocumented and to young adults who have aged out of the state Medicaid program that covers children. 
The budget proposes $16.2 million toward helping Medicaid members access care through a community outreach program and would put $12 million to work with tribal governments on a managed care entity that would help tribes improve the level of care. The budget also recommends nearly $30 million toward better care coordination and provider rates for members of the Oregon Health Plan who are enrolled in the fee-for-service portion of the program.
On behavioral health, the proposal recommends nearly $30 million toward the expansion of  residential services for young adults, to increase the fee-for-service rates for behavioral health services and substance use disorders, for psychiatric residential treatment facilities and to support the Alcohol and Drug Policy Commission's strategic plan.
The budget also would direct $22.5 million toward community-based service and care coordination, with an eye toward reducing the flow of people from the criminal justice system into Oregon State Hospital through aid and assist orders. Aid and assist orders are granted to defendants in criminal cases who need mental health services before they can recover enough to help in the defense of their case.
The budget also puts $200,000 toward ongoing planning to establish a public option for Oregonians and expand affordable coverage. Under the so-called public option, members of the public would be able to buy health insurance equivalent to what is provided to low-income residents for free under the Oregon Health Plan.
Funding Delayed For Measure 110 
Brown's budget proposal delays the funding for Measure 110, which changes low-level drug possession criminal charges to $100 citations and puts existing marijuana tax revenue toward addiction recovery centers. Voters approved the ballot measure in November, which calls for the centers to be up and running in October 2021. A council is to get to work in February on putting the measure in place. 
Brown's budget proposal seeks to delay the shift in marijuana tax revenues to Measure 110 until July 1, 2022.  Advocates of Measure 110 are alarmed about the proposal to delay the shift in funding.
"There is no reason why we can't begin offering the services people need right away, especially during a pandemic, as voters expect," said Richard Harris, retired director of addiction and mental health services for Oregon and a co-founder of Central City Concern, a Portland nonprofit focused on issues like homelessness and health care. "Our providers and infrastructure stand ready to support individuals in starting their unique journey toward health and recovery. We need to turn on the switch by allocating the necessary funding for providers to begin the work. It really is that simple."
In a statement, Charles Boyle, a spokesman for Brown, said the governor agrees that systemic change is needed and plans to work with advocates on a timeline that "works for everyone on implementation." The Oregon Health Authority is already working on the measure, Boyle said.
The measure takes marijuana tax revenues away from other parts of government, like state police and schools. That means the state faces budget gaps in other areas. Boyle said the state cannot fill those funding gaps right way. 
"In the governor's budget we have found ways to fill the funding gaps created for schools, public safety and existing health services in the second year of the biennium," Boyle said. "It wasn't possible to fill those funding gaps immediately while still maintaining critical services during the COVID-19 pandemic."
The state estimates it will receive $182.4 million in marijuana tax revenues in 2021-2023. The measure allows the state to continue spending the first $45 million each year toward any budget needs unrelated to Measure 110, like roads and police.
All revenue beyond the first $45 million each year will go toward funding addiction recovery services.
This means Oregon will put about half of its expected marijuana tax revenues toward Measure 110 instead of other state services if there is no delay in the funding. For example, public schools would lose an estimated $73 million in 2021-2023 without any delay in the funding for Measure 110.
The state also expects savings from Measure 110. The state budget proposal trims the community corrections budget by nearly 11% because of anticipated caseload reductions. Community corrections works with more than 30,000 offenders in Oregon, often those who are on probation or parole.
You can reach Ben Botkin at [email protected] or via Twitter @BenBotkin1.