Clackamas Volunteers in Medicine is relocating to the college campus to expand services for low-income, uninsured and underinsured patients.
Image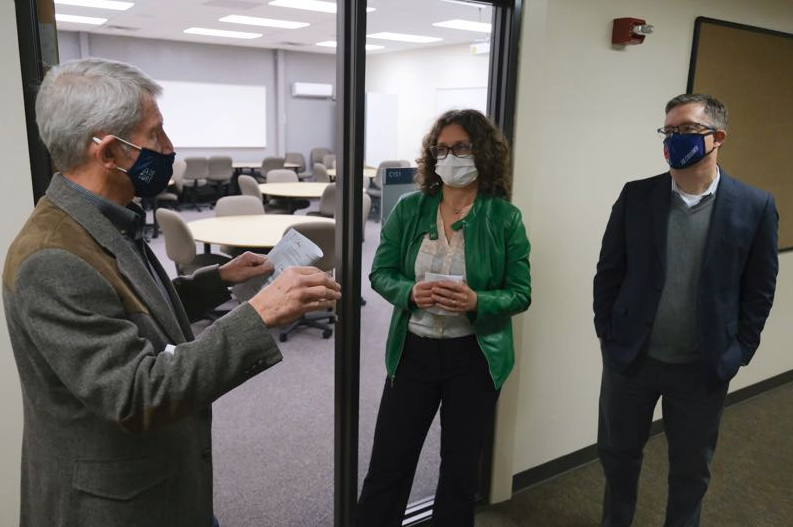 January 11, 2022
Clackamas Volunteers In Medicine's health clinic will be relocating to Clackamas Community College after nearly a decade of providing comprehensive health care services to thousands of residents free of charge. 
Currently located within a renovated warehouse in Oregon City, Clackamas County's only free medical clinic will be moving roughly 2 miles south to CCC's Clairmont Hall, allowing CVIM to expand its health services as well as training opportunities for medical students.
Since opening doors to patients in 2012, CVIM has provided primary care, lab services, optometry and more to over 3,300 county residents, the majority of whom were low-income, uninsured or underinsured according to CVIM Executive Director Martha Spiers. 
"Many of our patients are essential workers who struggle to make ends meet, and if there was no CVIM they would have to make a choice between health care and putting food on the table," Spiers said. 
CVIM Medical Director Dr. Anna Tubman said that beyond just offering patients prescriptions, CVIM strives to recognize the "juncture" between health and social factors related to housing, food insecurity, laundry and other needs, which the organization works to address by connecting patients with Clackamas County service providers specializing in those areas. 
"We're a medical clinic, but trying to be aware of those social determinants of health, especially given we have this moment to be like, 'OK, what do our patients need? What does our community need?'" Tubman said.
The new clinic, which will include seven exam rooms, will not only be easier for community members to access through buses and other means of transport, but will also allow CCC students studying health sciences to access career-development opportunities mimicking what they might see as professional nurses, medical assistants and lab technicians, college officials say. 
"By having CVIM on our college campus, not only will our students have easy access to health care, but students in our health care programs will have access to real-world experience and training at the clinic," said CCC President Tim Cook.
Renovations are set to begin at CCC's campus in February, the same month Spiers said CVIM will celebrate its 10th anniversary since opening services to county residents. 
CVIM thus far has raised approximately $2.3 million toward the $3 million project, with funding issuances including $800,000 in federal American Rescue Plan Act dollars allocated by Rep. Mark Meek, D-Gladstone/Oregon City; Rep. Andrea Salinas, D-Lake Oswego; and Rep. Courtney Neron, D-Wilsonville. The Heatherington Foundation for Innovation and Education in Health Care provided $700,000 in matching funds, and another $650,000 came from a federal community development grant.
U.S. Congressman Kurt Schrader, D-Clackamas County, joined Spiers and Tubman on Friday, Jan. 7, for a tour of the current clinic, followed by a tour of the new location and facilities, which Schrader said will add a "great complement" to the organization's mission and will help "broaden the access" Oregonians have to essential services. 
"This is much more accessible for folks on this side of town, so that will be a big help," Schrader said, noting "great synergy" between partner organizations CVIM and CCC in providing a network of resources for community members in a time of need. 
"The pandemic has shown clearly we have to have more points of outreach to people, so they actually get the care they need in a setting that they're comfortable with and they're going to take advantage of," Schrader said.