In a lawsuit filed Monday, Laura Hanson says she was discouraged from taking protected medical leave and punished when she did. Hanson's case led to changes in how the Legislature handles some workplace complaints.
Image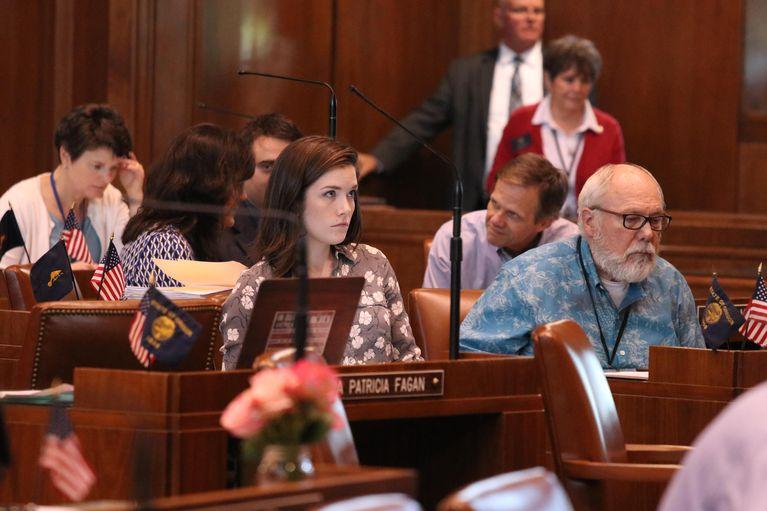 May 17, 2021
A former Oregon Senate aide is suing the Legislature and several lawmakers for discrimination, claiming she was discouraged from taking protected time off, retaliated against when she did and ultimately unfairly fired.
Laura Hanson, the former chief of staff for state Sen. Sara Gelser, D-Corvallis, on Monday, seeking up to $1.2 million. Named as defendants are the Oregon Legislative Assembly, Gelser, a Senate committee that takes up workplace complaints in the Capitol, and the two senators who chair that committee, Floyd Prozanski, D-Eugene, and Chuck Thomsen, R-Hood River.
Hanson's claims revolve around a series of events that began in late 2019, and eventually became the subject of an investigation. Gelser was ultimately cleared by her colleagues of breaching legislative rules after an investigator turned up no evidence she had done so. Hanson says the process was biased in the senator's favor.
In October 2019, Hanson suffered an injury requiring her to take medical leave. Hanson said that when she returned, Gelser "seemed angry" that she had taken leave, and did not support Hanson receiving pay for the time off.
Months later, Hanson took time off for mental health reasons associated with post-traumatic stress disorder and anxiety. Though Hanson says that Gelser knew about her diagnosis, she also claims Gelser discouraged her from taking time off until the senator also planned to be off for the holidays.
"Because Defendant Gelser did not accommodate Ms. Hanson, and punished her for taking days off, Ms. Hanson felt she was having to choose between her job and her health," the lawsuit says.
Gelser said Monday afternoon that she had not seen the lawsuit, and couldn't immediately offer comment. In the past she has denied discouraging Hanson from taking time off or punishing her for doing so. She has suggested Hanson misconstrued efforts to make sure time off was recorded correctly as attempting to prevent Hanson from being paid.
The matter became public after a tense exchange in which Gelser expressed serious frustration about a problem with her official calendar, and complained to Hanson of "consistent errors." Hanson responded by saying she was looking for another job, and telling Gelser the work environment had become "emotionally toxic and abusive."
Under workplace rules at the time, Gelser says, she was required to report Hanson's concerns to human resources. That ultimately led to an official investigation into the matter, after Hanson voiced a belief that Gelser had retaliated against her for taking protected time off. As a result, Hanson was placed on paid leave from January 2020 until she was fired by Gelser following the conclusion of the case in October of that year.
In the lawsuit, Hanson says she felt compelled to participate in the investigation into her allegations, and that "it seemed like Defendant Legislature was investigating Ms. Hanson in retaliation for complaining about her work environment." Jessica Knieling, the Legislature's human resources director, has previously denied telling Hanson she was required to sit down with an investigator.
Over hours of interviews, Hanson has said she felt interrogated by the investigator and that she explained that the process had caused her to think about suicide. Hanson's lawsuit suggests that the investigator, Portland-based attorney Brenda Baumgart, was chosen in part because she has helped employers fend off workplace complaints in the past.
Baumgart has defended her process in the past, saying she carried out a thorough investigation.
The lawsuit folds in the Senate Conduct Committee and its two co-chairs because, Hanson says, the committee held hearings that involved her disabled status without her consent, and declined a request to delay one hearing.
Neither Prozanski nor Thomsen immediately responded to a request for comment on Monday. Neither did Senate President Peter Courtney, D-Salem, nor the Oregon Department of Justice.
Hanson's suit also explicitly targets what's known as Rule 27, the Legislature's frequently criticized policy on harassment, retaliation and discrimination, which, she said, "blatantly targets employees who fall under protected classes with retaliation in the form of public, invasive, investigations and hearings for reporting discrimination or retaliation related to their protected class."
Since Hanson's case came to light, the Legislature has altered Rule 27 in ways that would likely have meaningfully changed how the matter played out. Under the current version of the rule, Gelser would not have been required to report an allegation against herself, and Hanson would have had more say in whether an investigation moved forward.
In all, Hanson's suit includes 20 claims for relief, alleging the defendants illegally discriminated against her because of a disability, retaliated against her for complaining about working conditions, denied her due process and more. Hanson claims the Legislature and individual defendants violated both state and federal laws in the process.
Because she was ultimately fired, Hanson contends she has suffered lifetime wage loss of $700,000, medical costs of $50,000, "and more drastically betrayal, stress, anxiety, shame, humiliation, degradation, sleeplessness, disruption to her normal routines, career interruption, and so much fear and hopelessness that Plaintiff experienced suicidal thinking…" The lawsuit requests up to $1.2 million in compensation for those claims.
Prior to filing the suit, Hanson first pursued relief through the state's Bureau of Labor and Industries. She withdrew the complaint before an investigation was completed, signaling an intent to file a lawsuit. Hanson's attorney, Meredith Holley, said Monday that filing a BOLI complaint was merely a step required to preserve all of her client's options.
This story was originally published by Oregon Public Broadcasting.