OHSU forecasters say the flu will likely put more people in the hospital this autumn than COVID-19.
Image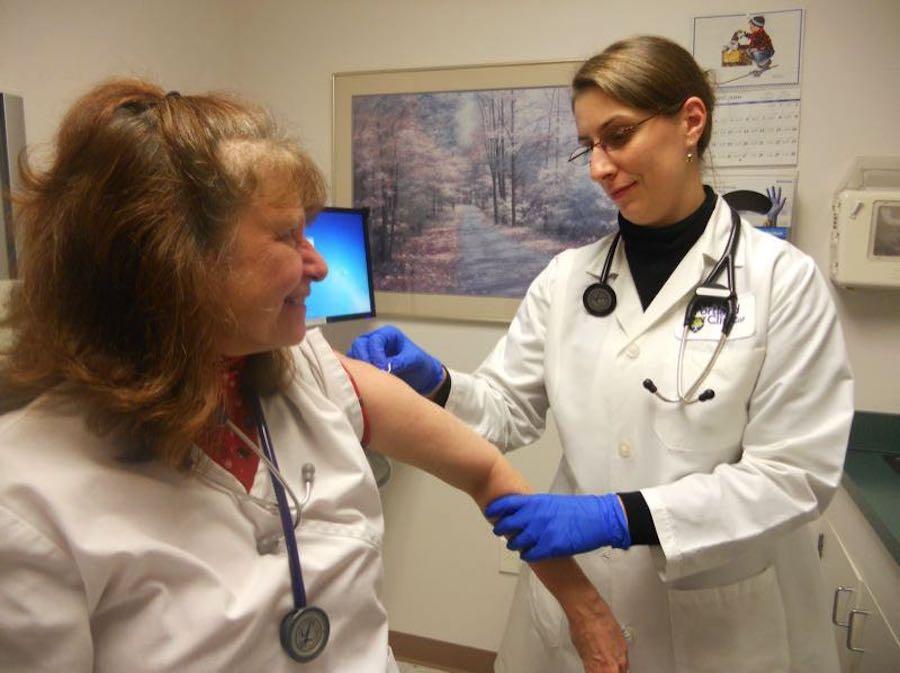 September 17, 2022
This article was republished from Oregon Capital Bureau.
After more than two years of record lows, influenza — the flu — is making a comeback in Oregon, state researchers say.
The latest COVID-19 report from Oregon Health & Science University, released on Friday, Sept. 16, showed the omicron variant of the virus remained active but controlled.
But it's likely that the drop-off in masking and social distancing as the pandemic has moved into a less virulent stage has allowed for a resurgence of influenza. That combined with what's likely lower levels of vaccinations for the flu have the OHSU forecasters saying the flu will likely put more people in the hospital this autumn than COVID-19.
"Your flu vaccine is extremely important this year — and certainly more than it has been in the last two years when we had virtually no flu that was circulating," said Peter Graven, director of the OHSU Office of Advanced Analytics, in an email. "The flu is probably going to be at least as important this year as COVID."
The new forecast shows a steady decline of severe COVID-19 cases in Oregon, with 253 people in hospitals around the state testing positive for the virus as of Sept. 14.
OHSU projects those totals will continue to fall through the end of October before likely turning back up in November as immunity from earlier vaccinations and exposure wanes and gatherings are more frequently indoors in colder weather, where the virus can infect people who are together in enclosed settings.
OHSU researchers have been tracking flu rates in the southern hemisphere, where the seasons are reversed. Respiratory illnesses, such as flu and COVID-19 tend to spread faster during autumn and winter.
Twice a year, Earth passes through a vernal equinox — a day when the hours of light and dark are equal. In Oregon and the rest of the northern hemisphere, Sept. 22 will mark the transition from summer to autumn. In the southern hemisphere, it marks the change from winter to spring.
Graven cited relatively high rates of influenza starting early in some areas of the southern hemisphere, where "flu season" peaks between April and October.
A favorable side effect of the public wearing masks, limiting who they met with indoors, and other social distancing efforts during the pandemic is that the same safeguards worked against spread of the flu.
Dr. Dawn Nolt, professor of pediatric infectious diseases at the OHSU School of Medicine, said the state is experiencing the downside of those pandemic safeguards now. As people have been more willing to endure a possible exposure to the highly contagious but less debilitating omicron variants of COVID-19 this year, the flu can hit harder because of the lack of exposure that gives the body practice in fighting off influenza.
"In normal years, lots of people are exposed to the flu, which provides a natural boost to their immune response," she said. "We haven't seen much flu at all in the past three years. That makes it really important to get yourself vaccinated against flu this season."
Flu vaccines are currently available at pharmacies and health care centers throughout the state. People who are getting the new bivalent booster targeting the currently dominant BA.4 and BA.5 omicron variants of COVID-19 should also get a flu shot, health officials said.
Gary Warner is a reporter for Oregon Capital Bureau and can be reached at [email protected]. This article is used with permission of East Oregonian Media Group. Read more at www.oregoncapitalinsider.com.